Women step up protests against child abuse
Istanbul Women Assembly organised an action claiming rights for children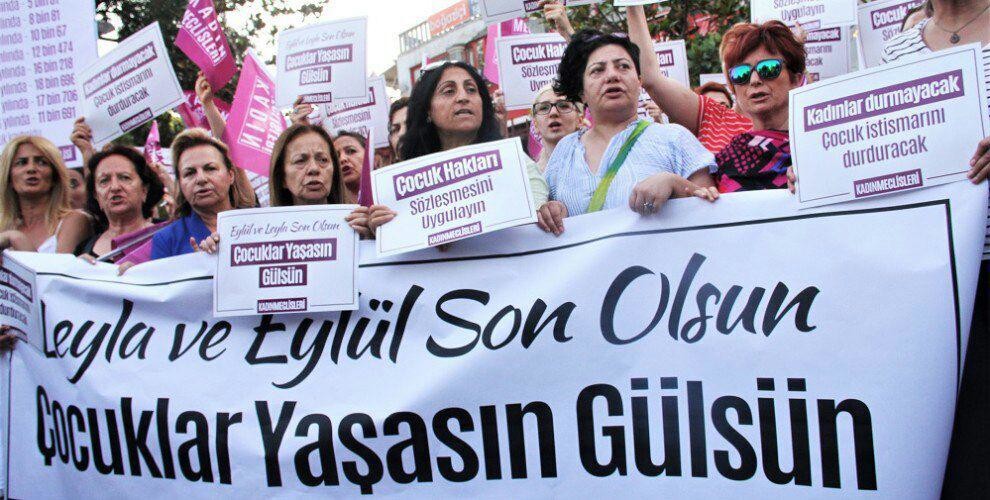 The Istanbul Women's Assembly staged an action in front of Beşiktaş Hakan cake shop, to protest against the abduction of two little girls, Eylul and Leyla, whose bodies were found last week. 
The women carried banners and chanted slogans pointing the finger at the AKP ruling: in the last 8 years of AKP government in fact 104,531 children were missing. 
Different women delivered speeches and comments. Gülsüm Kav, the Representative of the Platform to Stop Women Killings said that "a country where children go 'missing' should be ashamed. Indeed we want children to live and be safe. This is what nature wants. We cannot accept those who talk about sexually abusing or killing kids as being natural. There is nothing natural about abusing women." 
These issues must be addressed in the open, said Kav, not covered up. 
CHP Beşiktaş Women Branch chair Ferhunde Şirin stressed that abuse, rape and killings of children are on the increase and pointed out that this is due also to the lack of answer to crimes like the murders of Eylul and Leyla. 
Şirin recalled that the AKP government in fact closed and persecute women's associations, and added: "They should know that even under the most adverse conditions, the women's movement can not be silenced." 
Yaşar Saltürk spoke on behalf of the Progressive Women's Association. She said that this country is waking up every day with the news of violence against children. 
"It is the responsibility of the society to protect children from any kind of abuse" she said and added: "We must immediately take the necessary measures to stop this." 
Fidan Ataselim, a member of the Women's Council, said that the death penalty and chemical castration proposed by the government as a solution is in fact only a palliative. 
"The most radical thing to do to stop child abuse is to demonstrate political will, take concrete steps and carry out a policy that is consistent." 
Five requirements
Ataselim listed five requirements to protect children:
"1- All our universal rights should be protected, children's rights conventions and the Istanbul conventions must be implemented,
2 - The state should perform its duty; the Coordination Strategy Document in Child Protection Services prepared in coordination with ministers should be implemented,
3 - No reduction in penalty should apply for sexually related offences and there should be no justification for such crimes,
4 - Castration as well as death penalty are against human rights. Applying methods that are contrary to human rights while not implementing the existing laws does not solve the problem,
5 - Two separate ministries should be established for women and children. A policy based on children's rights should be developed and children should not be separated because of their gender."