Zilar Stêrk: No dominant system can cope with organized women
KCK Presidential Council member Zilar Stêrk, noted that no dominant system can cope with organized women and explained the basic parameters for an organization to turn into a system.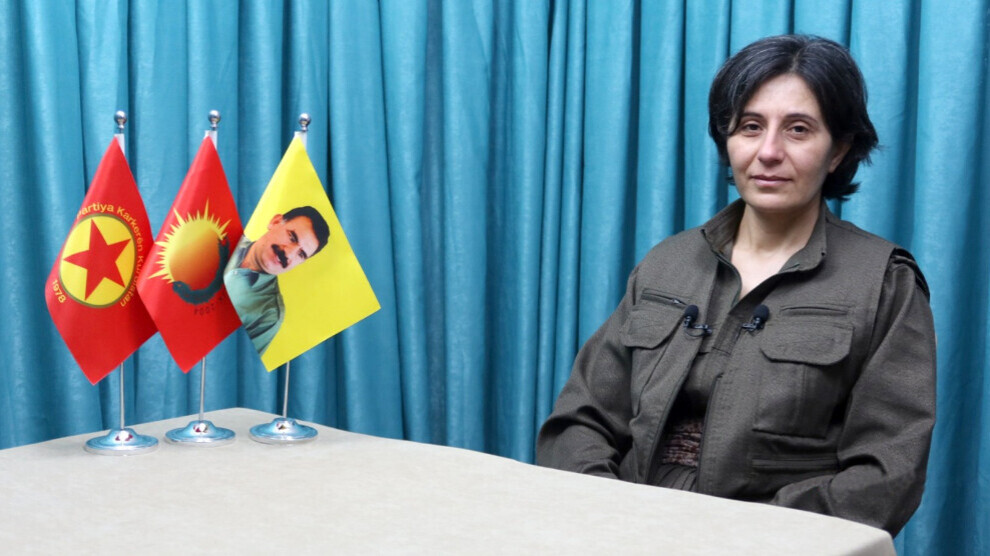 KCK Presidential Council member Zilar Stêrk said that they can no longer tolerate the aggravated isolation against Kurdish people's leader Abdullah Öcalan and added that they attach importance to the meeting of the Council of Europe Council of Ministers in early December.
Stêrk pointed out that Turkey has experienced a serious political, economic and social crisis due to the isolation system that started in İmralı and spread throughout Turkey, and said that the key to the solution of all these problems is in İmralı.
Stêrk said that the organized struggle of women, who do not submit to the dominant system, opened a breach in the ideology of the male-dominated system. She underlined that the women's struggle is not only a struggle for rights but also a struggle for freedoms, noting that in order to further develop and deepen the freedom dimension of the women's struggle, they need to expand their organization both locally and globally.
Stêrk said that the PKK is a hope for freedom that is gradually spreading to the world, and also evaluated the changes that the PKK has created in Kurdish society.
Here are some excerpts of the interview given to Medya Haber.
State-based systems did not recognize the right to life for women. Against this, women took part in resistance and organization, albeit in separate places. Tomorrow is 25 November. How did women become organized to counter violence against them?
We are nourished by the spirit of freedom and democracy of the Mirabal sisters. We see it as a historical heritage for ourselves and we continue to carry their flag proudly as the Kurdish freedom movement.
Of course, women's struggle is not limited to the history of organized struggle. Even in processes where women were not sufficiently organized, women never bowed their heads to the male-dominated system, to the violence of men. They have always been in a position of resistance against them, albeit at an individual level. No woman has accepted dominance. There is a very serious historical struggle against this. However, the struggle history of the last two hundred years is a more organized struggle. As a result of this organized struggle, women have gained some rights around the world. They succeeded in obtaining some political rights, some rights in the field of education, some social rights. However, it has become increasingly clear that women's struggle is not just a struggle for rights. It is a struggle for rights and freedoms. It is necessary to further develop and deepen the freedom dimension of women's struggle. Developing and deepening this depends on women's growing their organizations both on a global scale and locally.
How to do so?
First of all, women need to expand their organizations on a global and local scale. In other words, no dominant system can cope with organized women. Likewise, it has been sufficiently shown that if unorganized women try to struggle as individuals, they are not very successful. Out of organization comes struggle. Out of organization comes the will. In this sense, women need to develop their existing organization at a local and universal level wherever they are. There are women's organizations in every country. We can define these as small female struggling islets. They are coming together at congresses, conferences, workshops and start to develop their efforts to transform women's power into a great synergy. This is a great development and it plays an impressive role in world politics.
Second, circles that fight for women's rights and freedoms need to have continuity in the struggle. What is continuity in a struggle? It is necessary to consider the women's liberation struggle in the form of links in a chain from a holistic perspective and framework. In other words, the fact that every woman has rights and freedom depends on the achievement of all women's rights and freedoms at a universal level. But universal women's attainment of rights and freedom depends on individual women gaining freedom. In this regard, women's struggles need to establish the link between the particular and the universal in a very clear way. This has started to develop in recent years. For example, the development of the Kurdish freedom struggle, the Kurdish women's stance in the Rojava Revolution, and the women's freedom stance inspired the world women's freedom struggle. At regional level as well as at global level. Today, the situation of Afghan women emerges as a factor that directly affects the situation of women in the world and women in the region. Therefore, the world women's movement should base the struggle on continuity as a principle.
Third, women should develop their own defense power. In other words, they must develop the power to defend themselves against the injustice and violence that are being carried out against them. Self-defense is also about organizing. It takes continuity in the struggle and develops mechanisms to defend yourself. There are also various campaigns carried out by Kurdish women on the issue of self-defense. These can be used. There are many aspects that women of the world can benefit from. Women should be able to judge the man who perpetrates violence against them and the monopoly institutions of men. They should also be able to develop mechanisms to hold men accountable. In other words, women should establish mechanisms for freedom.
Fourth, women need to further develop their own free-thinking space. In other words, the women's liberation struggle of the last two hundred years has revealed a great power of thought around the world. I once again greet the leading female personalities in the person of Olympe de Gouges, Clara Zetkinler, Roza Luxembur, Sakine Cansız, Zeynep Kınacı and Gülnaz Karataş. These leading women have achieved great things and have left a great legacy of freedom on the path of women's struggle for rights and freedoms. Women need to further deepen their achievements in the field of thought, or rather the level of thought they have revealed. They have made great progress in this area.
During the last two hundred years of struggle, the women's freedom struggle, which has been carried out both in the west and in the east, as well as in Kurdistan, has revealed a high quality of thought. This, of course, sheds light on women's world struggle. Women's liberation ideas have emerged and been made available to all women, whether they are in the public sphere or in political struggle, in a social struggle, involved in the organized structures of women's struggle, or whether they are living as a domestic worker in their own home. In this field, too, women need to deepen their theoretical, intellectual, and ideological paradigm.
Because as women, we are faced with a huge dominant male mentality. The dominating male mentality stands in front of us and it is highly organized. It is a paradigm, an ideology. We are discussing the fight against violence against women. Violence is a male monopoly. It is the ideological monopoly of men. Against men's monopoly of ideological violence, women also need to create their own paradigm. Against the male-dominated paradigm, women also need to develop a paradigm of freedom. We can easily call this the women's paradigm. What is in the women paradigm? There is democracy, there is the ecological idea, there are rights and freedoms. Peoples and societies have a stance of free thought and free life.