"Belkî Sibê: A Journey Through War and Revolution"
"We believe that this documentary will tell many stories that need to be told, contextualizing the involvement of many parties in the struggles of Northern Syria over the past few years."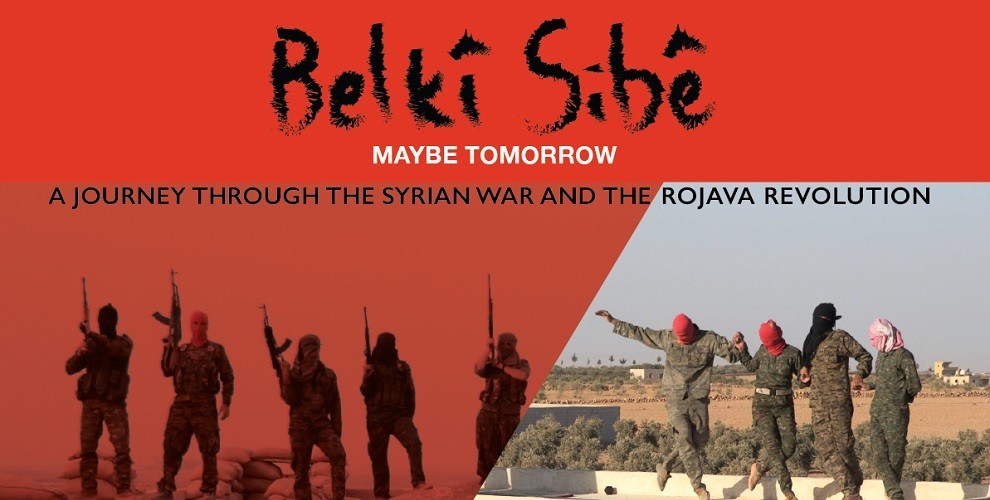 "Belkî Sibê (Maybe Tomorrow): A Journey Through the Syrian War and Rojava Revolution" is a planned documentary film by Alexis Daloumis and the Shadow Crew, about the war against ISIS in Syria, and the Rojava Revolution.
It covers the period from the battle of Manbij (Summer 2016) until the liberation of Raqqa city (October 15, 2017) and the destruction of the Islamic Caliphate and the December 2, 2017 elections.
It has been produced by an internationalist volunteer (Alexis Daloumis) and all the people that helped in many ways along the way (The Shadow Crew).
In this documentary there will be no main character. There are instead many voices from a multitude of places that come together to create a collective and dialectical narrative, that seek to illuminate both military and civil/political aspects of the situation that is still unfolding in Northern Syria, from both internationalist and local perspectives.
It contains footage from operations and defensive battles where the director has fought (Manbij, Raqqa province, Tabqa, Raqqa city), as well as from the everyday life in the rear, special occasions, celebrations and ceremonies. Moreover there is large number of interviews from people of all backgrounds: High ranking officers, simple soldiers, politicians, civilians, Kurds, Arabs, Internationalists, Turkmen, Syriacs etc…
The makers of the documentary said the following in a written statement:
"We believe that this documentary will tell many stories that need to be told, contextualizing the involvement of many parties in the struggles of Northern Syria over the past few years.
Our hope is that the documentary will inspire and inform many across the world, spreading the same lessons learned by those who experienced these historic events in person.
But beyond the film itself, the usefulness of this material can vastly exceed the potential of one feature length documentary. The Syrian War and the Rojava Revolution are historical events of great significance in our period of time. The entirety of the material will become valuable historical archive footage, an anthology of oral history, recorded as it was happening. We want to have the opportunity to process all of it and make it available for posterity. After this it will be released under a Creative Commons or similar license.
Finally, this film is not a commodity. It will not be sold, it will not get commercial cinema or television distribution. It will be circulated in as many festivals as possible around the world and released, freely accessible on the internet."