Costa Rican director Miranda prepares for a Rojava feature
Costa Rican director Luis Miranda protested the isolation imposed upon Öcalan and said, "I want to tell Europeans about his ideas and the Rojava Revolution through a feature film."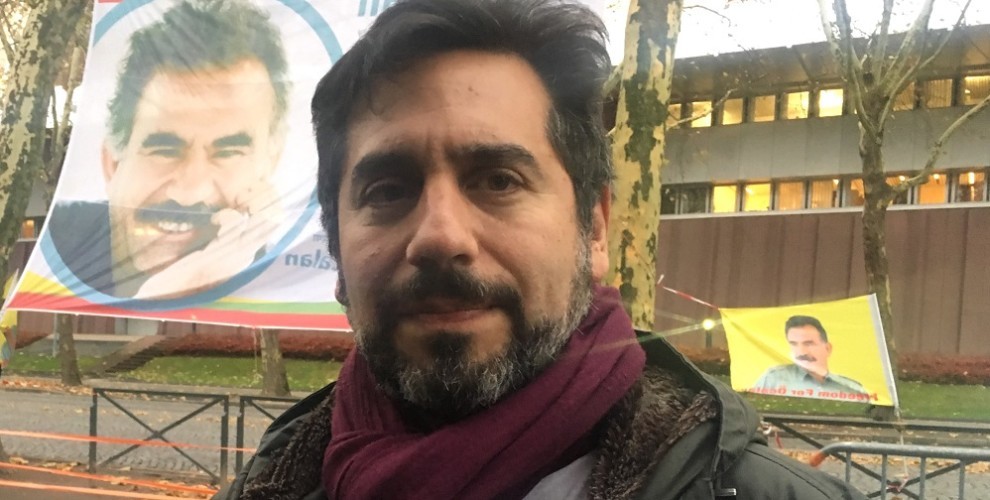 Costa Rican director of the documentary "Öcalan and the Kurdish issue" Luis Miranda said the leader of a people with a population over 40 million can't be held under these conditions.
Director Luis Miranda visited the Kurds continuing their demonstration in front of the Committee for the Prevention of Torture (CPT) and the Council of Europe (CoE) in Strasbourg. Miranda said he was a great fan of Abdullah Öcalan and joined the call to lift the isolation.
"GREATEST THINKER OF OUR DAY"
Director Luis Miranda stated that he got the chance to know Abdullah Öcalan better during the shooting of the documentary "Öcalan and the Kurdish issue" for French-German television network ARTE. Miranda added: "I got to know his life and his political history in a more detailed way during the documentary I made for ARTE. I was impressed. I was interested in his politician side, and that is what I wanted to show in the film. To me, he is the greatest thinker of our day. His ideas should spread throughout the world. Even though he has been in prison for a long time, his ideas reach millions and these millions of people accept them. What happened in Rojava is a source of hope for the Middle East and the world."
"ISOLATION IS UNACCEPTABLE"
Miranda said the conditions Abdullah Öcalan is under are worrying and added: "Today the matter is very concerning. A political prisoner, especially one who is the leader of a 40 million strong people, can't be treated this way. The isolation is unacceptable."
"EUROPE'S STANCE IS UNFORTUNATE"
Miranda said the silence of European politicians for economic profit is unfortunate and continued: "Europe must take action and protect universal human rights. I hope that the European leaders realize that a democratic and egalitarian Middle East is possible through Öcalan's freedom. If there is stability in the Middle East, Europe's future will also be safer. And the ones to manage this are the Kurds. Political movements in Europe don't spend enough effort for the freedom of the Kurdish people. Everybody should support the Kurds' struggle for freedom."
THE ROJAVA REVOLUTION FILM
Luis Miranda said he has a project about the Kurds' struggle and the Rojava revolution: "It is difficult to convince big TV producers to make something about Kurds. The only channel interested in this issue is the French-German ARTE. I personally will continue my projects about Kurds over Öcalan in particular. The documentary I made about Öcalan and the Kurds is the only film to be screened in Europe. I would like to continue with that, but it does seem really difficult. I have a feature film project. I want to appeal to a wider audience. I especially want to introduce the revolution in Rojava today to Europeans who don't know Öcalan or the Kurds. With this film they would get to know both. I am preparing the screenplay now."