Dengbêj performance at Kurdish Cultural Festival in Paris
The Kurdish Cultural Festival in Paris continued with a Dengbêj performance and a special children's programme. Dengbêj singing is the most important part of traditional Kurdish musical culture.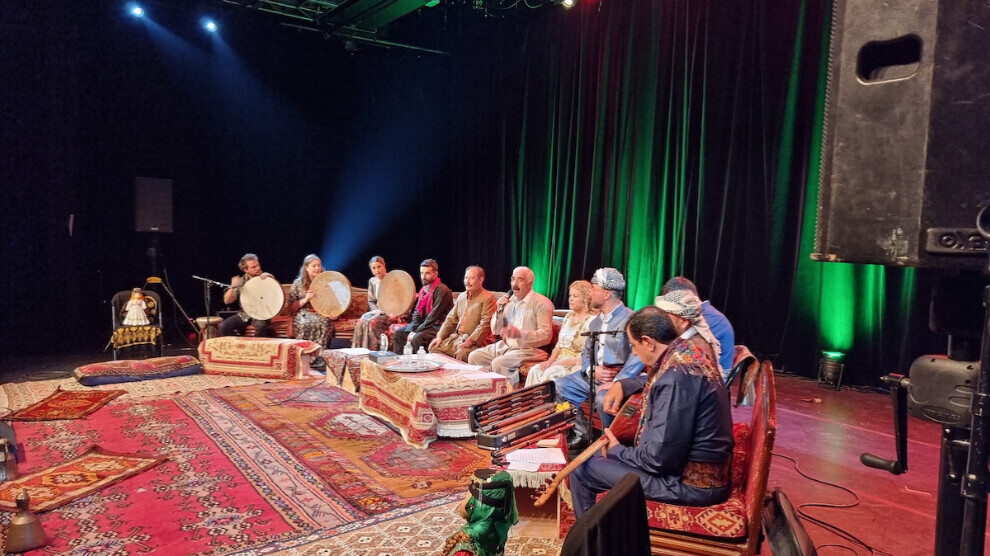 The 2nd Kurdish Cultural Festival has been taking place in Paris since Saturday. The festival is organised by the Kurdish umbrella organization in France, CDK-F, in partnership with the Institut de Réflexion et d'Études sur le Kurdistan (IREK), the association Arts et Culture du Kurdistan (ACK) and the Fondation Danielle Mitterrand and supported by the municipalities in the 10th arrondissement of Paris, Sarcelles and Bobigny. The events do not only take place in Paris, but also in other regions of Île-de-France. This year's festival is dedicated to Evîn Goyî (Emine Kara), Mîr Perwer (Mehmet Şirin Aydın) and Abdurrahman Kızıl - the victims of the attack of 23 December 2022 on the Kurdish community in the Rue d'Enghien in Paris.
On Tuesday, a Dengbêj performance was on the programme in Bobigny. Dengbêj singing is the most important part of traditional Kurdish musical culture. This name is given to singers who render poems, epics and historical events of oral Kurdish literature in the form of songs. The word is derived from deng (voice) and bêj (to say, to speak). For the Kurdish people, oral literature is regarded as the autobiography of society, which is why dengbêj are also considered historians.

The event began with a welcome by the CDK-F and a speech by the district mayor Abdel Sadi, who described the festival as a cultural enrichment for Bobigny and thanked the organisers. Afterwards, Kurdish musicians performed, including well-known names such as Hozan Şemdin, Maruf, Tava Afrine, Diyar and Hozan Serhat, as well as young artists from the Kurdish cultural movement TEV-Çand. In the hall, carpets and other art objects from Kurdistan were exhibited, and Kurdish food was offered.
Today's programme was dedicated to children and took place at the Kurdish Community Centre in Paris. With performances of painting and singing, the Kurdish language was taught through playful methods. At the end, the participating children gave a small concert.
Thursday is reserved for exhibitions around the theme "Jin, Jiyan, Azadî" (Woman, Life, Freedom), the slogan of the Kurdish women's movement, which is also the slogan of the revolution in Iran. The festival will close on Friday with a big concert featuring the band Bajar, singer Ruken Yılmaz and singer Mehmet Atlı.