Eyşe Şan documentary play opens in Cologne today
Eyşe Şan is a cry against multiple oppression - both cultural and as a woman under patriarchal structures. The Kulturbunker Cologne will present the world premiere of a documentary play about the singer's life on Friday.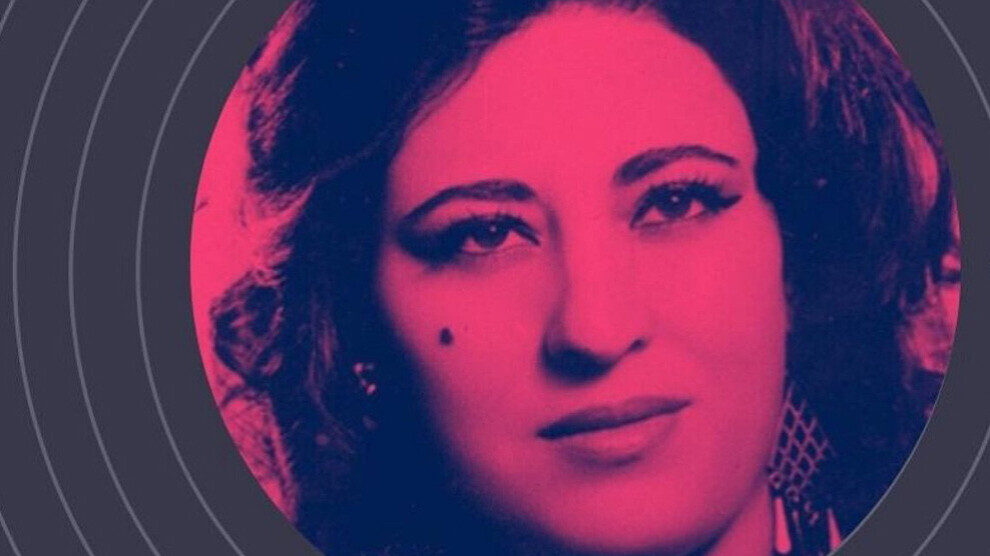 The Kulturbunker Cologne will present the premiere of the documentary play "Ich bin Eyşe Şan" ("I am Eyşe Şan") today. The work, penned by Mîrza Metîn, founder of the Şermola Perfomans collective, is about the most famous Kurdish Dengbêj singer Eyşe Şan, who is considered one of the pioneers of Kurdish music. Berfîn Zenderlioğlu will play the artist.
Eyşe Şan was a woman who dedicated her life to music. For her, music was freedom and resistance at the same time. In a patriarchal and feudal society, as a woman and artist, she fought her way free, which was full of challenges and obstacles: the ban of the Kurdish language, censorship and state pressure. With her voice and her beauty, she was always on the spot, but that also caused problems. Nevertheless, she did not give up and mastered an impressive path for her music.
Eyşe Şan was born in 1938 in Amed into a Dengbêj family. She made her first public appearances in 1958. Her family did not accept this. She then separated from her husband, to whom she had been married against her will, and her brothers and sang in Turkish for a radio station in Gaziantep. In the meantime, she earned her living as a seamstress. In 1963 Eyşe Şan went to Istanbul. She gave several concerts, singing mainly in Kurdish, and brought out the famous song "Ez Xezal im". More songs followed. Her songs dealt with political as well as personal issues - the pain of the Kurdish people who were prevented from using their mother tongue, the suffering of persecution and oppression. Although these songs were great commercial successes, due to an unfavourable contract, she hardly benefited from the proceeds of her records.
After the military coup in Turkey in 1971, Eyşe Şan's songs were banned. At the time she went into exile, she lived in Munich for three years, where her only daughter Şehnaz died at the age of eighteen. Badly hit by this tragedy, the artist withdrew for several years. In 1979 she went to Iraq, where she sang Kurdish songs on Radio Baghdad. In the same year she performed for the first time in South Kurdistan, together with artists such as Mihemed Arif Cizîrî, Tehsîn Teha and Nesrîn Serwan. She wanted to go back to Amed, but her family wouldn't allow her. She was also refused a final visit to see her mother, even though she was on her deathbed. The artist then dedicated the song Xerîbim Dayê (I am alone, mother) to her. Eyşe Şan settled in the Turkish coastal region of Izmir. She earned her living in a post office. She died in solitude on 18 December 1996 of cancer. The brothers left her last wish, to be buried in her native city of Amed, unfulfilled.
"I am Eyşe Şan" listens to the artist's voice. The research piece is a theatrical narrative in documentary style, which makes use of videos, songs, recordings, photos and excerpts from the life of Eyşe Şan. For the process of writing and staging, author Mîrza Metîn researched the biographies "Prensesa Bê Tac û Text - Eyşe Şan" by Kakşar Oremar and "Ez Eyşe Şan im" by Zeynep Yaş in the personal archives of both authors.
Mîrza Metîn also made use of visual and audio material available online about Eyşe Şan, the personal biography of Berfin Zenderlioğlu and the anti-colonial works of writers such as Ngugi wa Thiong'o, Franz Fanon and Steve Biko.
Information and dates
The performance "Ich bin Eyşe Şan" in Kurdish with German subtitles opens today at 8 pm in the Kulturbunker Cologne (Berliner Str. 20, 51063 Cologne, Tel. 0221/61 69 26. Admission is 15 €).
Registrations can be made at info @kulturbunker-muelheim.de The 2G rule applies in the Kulturbunker: Proof of complete vaccination or recovery.
For more information visit the website here
Further performances are scheduled as follows:
Cologne: 18 December // 8:00 pm // Kulturbunker Cologne
Dortmund: 22 January // 8 pm // Theater Fletch Bizzel
Frankfurt: 24 January // 8 pm // International Theater
Berlin: 1 February 1st // 8 pm // TAK Theater