Young musician from Afrin pursues her dreams in a refugee camp in Shehba
Young musician Baryana Sîdo from Afrin, who fled with her family to Shehba after the Turkish occupation of her hometown, now lives in a refugee camp and defies the adverse living conditions marked by attacks and embargo through her music.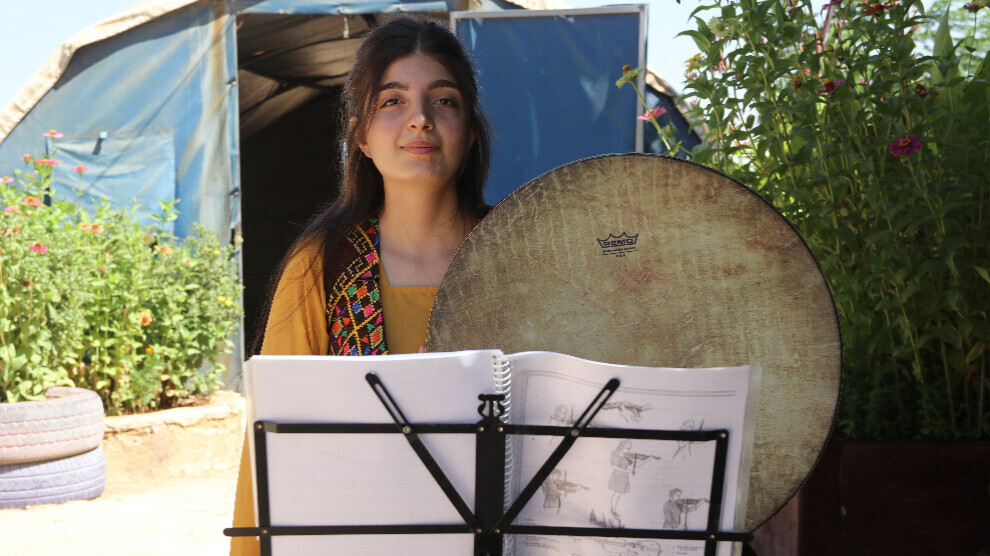 Baryana Sîdo was born in the village of Çolaqa in Afrin's Jindires district. After the occupation of Afrin on 18 March 2018 by the Turkish state, she fled with her family to the neighbouring canton of Shehba and now lives in the Serdem Camp. The 16-year-old has dreamed of becoming a good musician since she was a child. All other childhood dreams were destroyed by the Turkish invasion.

Baryana Sîdo comes from a family of musicians. Speaking to ANF, she said that her father, elder brother and elder sister also sing and make music: "Because I come from a family of artists, I was interested in music from an early age. When we lived in Afrin, I was still small and went to school. So, I only became intensively involved with music here in Shehba. I was in a children's group and sang. Even then, I wanted to learn how to play the guitar, but there was no one who could teach me. My sister gave me violin lessons. I learned to play the violin from her. If you can play the violin, you can learn all the other stringed instruments. So, later I also learned to play the guitar. Through the support of my family, I have developed musically and am now a member of the women's cultural movement Hîlala Zêrîn. I play both violin and guitar and want to develop my musical skills despite the attacks of the Turkish state and the embargo of the Syrian regime."