Canal opponents in Istanbul: There is life between the seas!
There have been protests in Istanbul against the construction of a canal between the Sea of Marmara and the Black Sea. The demonstration took place on the route of the planned mega-project.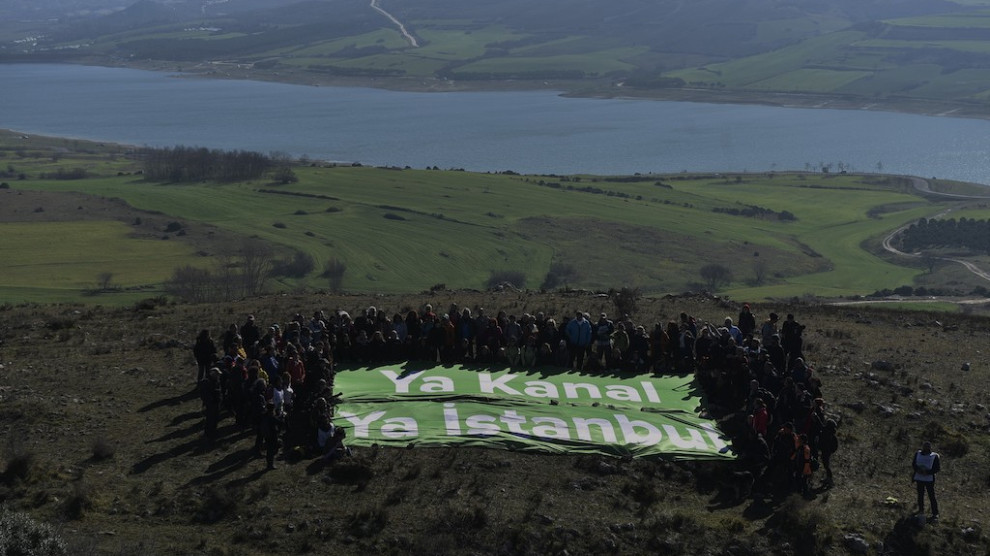 A demonstration took place on the route of the planned Canal Istanbul from the Sea of Marmara to the Black Sea. The activists went by bus from four meeting points to the village of Sazlibosna, where a forum was held before the demonstration started.
Seda Elhan from the initiative "Either Canal or Istanbul" referred to the ecological and economic consequences of the mega-project and explained: "When we say that we are committed to Istanbul, we are actually committed to life". Afterwards several people took the floor and explained their thoughts on Erdoğan's new prestige object.
Then a demonstration set off, which ended after twelve kilometres of marching in the village Şamlar. The participants carried signs that read "Istanbul is common heritage" and "There is life between the two seas".
The mega-project " Canal Istanbul"
The Turkish President Tayyip Erdoğan wants to push through the "Canal Istanbul" against a large protest movement. The canal planned by the Turkish government for shipping will run parallel to the Bosporus and connect the Black Sea with the Sea of Marmara. According to government circles, the intention is to relieve the intensive shipping traffic on the Bosporus and avoid accidents. Opponents argue that the AKP government wants to secure its retention of power with this large-scale destructive project, which is intended to be completed in 2023 on the centenary of Turkey's founding. Scientists predict devastating effects for the environment if the canal construction is realized.
According to an environmental impact assessment (CED) report by the Environment and Urban Development Ministry, which had examined the construction project and assessed it as "positive", the cost of the canal will amount to almost 11.5 billion euros. The " Canal Istanbul" will virtually create a new island between the canal and the Bosporus in the 16-million metropolis. In the surrounding area, new residential areas are to be created on 453 million square meters. According to the Istanbul land registry office, 30 million square meters of land along the planned canal route have already been sold as cheap farmland. After the canal construction, it would mutate into the most expensive building land. The speculators come from the Arab world. The three largest companies are from Qatar, Kuwait and Saudi Arabia. The mother of the Qatari Emir Sheikh Tamim bin Hamad Al Thani, Sheikh Musa bint Nasser al-Missned, has founded a company in Istanbul with 100,000 TL capital and has already bought large areas of land right along the route of the canal. This alliance between AKP and Qatar is already known from the joint support for jihadists in Syria.