HDP delegation pays visit to flood-ravaged Sinop
HDP delegation visited Sinop's Ayancık district, where a flood disaster occurred, and spoke with victims and listened to their difficulties.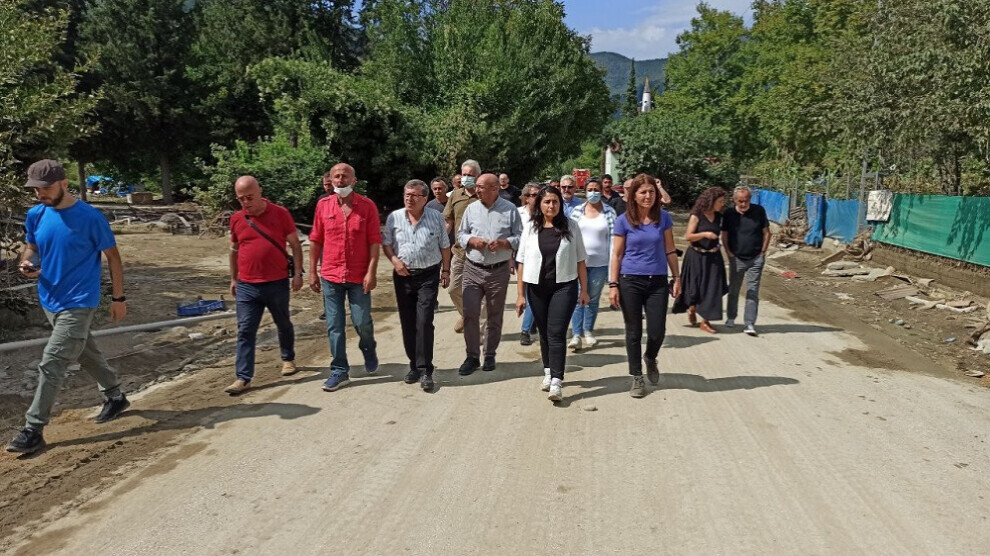 Peoples' Democratic Party (HDP) MPs Alican Önlü, Züleyha Gülüm, Murat Çepni, HDP Black Sea Region Co-Spokespersons Hüseyin Taka, Nuray Bedirkurum, members of the Party Assembly, Ecology Commission members, and party provincial administrators led a delegation to Sinop's Ayancık district, which was devastated by flooding on August 11.
The delegation first went to Babaçay village, where 40 buildings were devastated by the water, and then visited Cevizli neighborhood in the district centre. The team that met with the disaster victims listened to their concerns and vowed to bring them up in Parliament.
A local citizen who informed the HDP delegation about his flood experience could not hold back his tears. The resident said that his house had been demolished and they had been placed in a dormitory, not knowing when they would be able to return to their home.
Following their talks in the region, the delegation made a press statement in Babaçay village.
Menekşe Kızıldere, Co-Spokesperson of the HDP Ecology Commission, stated that the flood calamity in Ayancık was caused by the climate issue. Noting that floods could be permanent in this region, Kızıldere stated, "When we arrived and observed here, we saw that the reason behind the flood was the fact that some government institutions had plans that were counter to geography. For example, the log warehouses in Babaçay exacerbated the flood's impact. Again, zoning permits were granted in places where they should not have been. Unfortunately, state officials blame the structures on the citizens. However, it is vital to look at those who have made these areas available for development. People are already aggrieved and they should not be targeted with an accusing rhetoric."
Kızıldere stated that credit promises were made to the people instead of healing their wounds as soon as possible after the disaster. She continued, "They are going to create sites where people's houses and lives are destroyed. As a result, there is no planning or aid in accordance with geography or people's needs. We must not abandon the citizens in the aftermath of this calamity. Because of the climate issue, these tragedies will occur on an annual basis. We must stand by the people even if no one does."
Naci Sönmez, Co-Spokesperson of the HDP Ecology Commission, urged that pressure be put on administrators in the Black Sea region in response to the flood disasters. "The only way to take safeguards against the current climate problem is to establish an ecological life," Sönmez said and continued, "We face the challenge of living a better life in the future through conserving the ecosystem, and not simply for our own sake. As a party, we have undertaken an ecological and democratic struggle. If we are elected to the government in the next years, we will not allow any projects that are not environmentally friendly. We shall continue to fight capitalism."