Parties and organizations in Van call for participation in protest march to Mount Cudi
Several non-governmental organizations and parties in Van province called for participation in the protest march to Mount Cudi to be staged on September 17.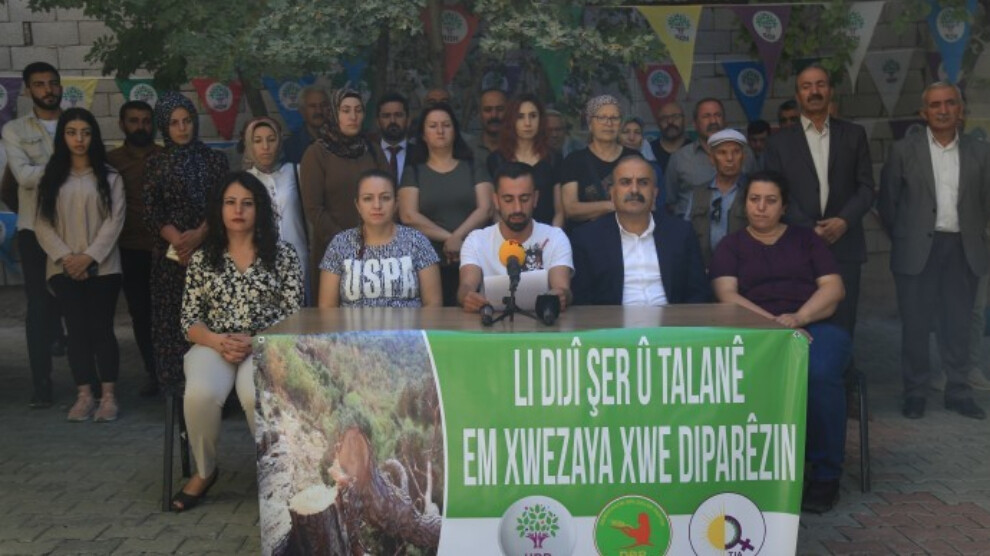 A press conference was held at the headquarters of the Peoples' Democratic Party (HDP) Van Provincial Organization to protest the ecological destruction in Kurdish territories. Numerous people attended the press conference, displaying banners reading "Defend nature against war and plunder" in Kurdish.
Mesut Bor, spokesperson of the Ecology Commission established in the city for the protest march to Mount Cudi in Şırnak on September 17, read out the press statement.
"Attacks on our history, culture and nature have reached the most brutal levels, and the Kurdish people have been made a target through policies designed to destroy the memory. As a result of the war policies, the ecosystem is being destroyed by forest fires that have been going on systematically for years. Aside from the official indifference to the forest fires, citizens who want to fight them are prevented," Bor said.
NATURAL LIFE IN DANGER
Pointing to the deforestation carried out in Şırnak for many years now, Bor said that the ecological destruction in the region was not covered because of "racist motives". Remarking that the state was plundering nature due to its security policies, he continued, "The deforestation work carried out by village guards to build military outposts on Mount Cudi has reached the suburbs in the city. This approach towards the forests leads to major concerns. Deforestation shatters ecological balance and destroys natural life. The destruction of trees that have grown over hundreds of years also endangers the habitat of the people of the region."
Bor called on the public to participate in the protest march from Cizre to Cudi on September 17 in protest at deforestation and ecological plunder.
SIGNATORIES
The parties, associations and non-governmental organizations that have endorsed the statement are as follows: DBP, HDP, TJA, ÇEVDER, TUHAYDER, BASKDER, MEBYADER, SERHAT GÖÇDER, ARYEN Sanat, Şanoya Mencel, ARSİSA, ÖHD, TMMOB, KESK, Peace Mothers Assembly and Chamber of Restaurants and Drivers.