Surp Sarkis Armenian Church defies destruction
Surp Sarkis Armenian Church, which is located in the historical borough of Sur in Amed, defies destruction.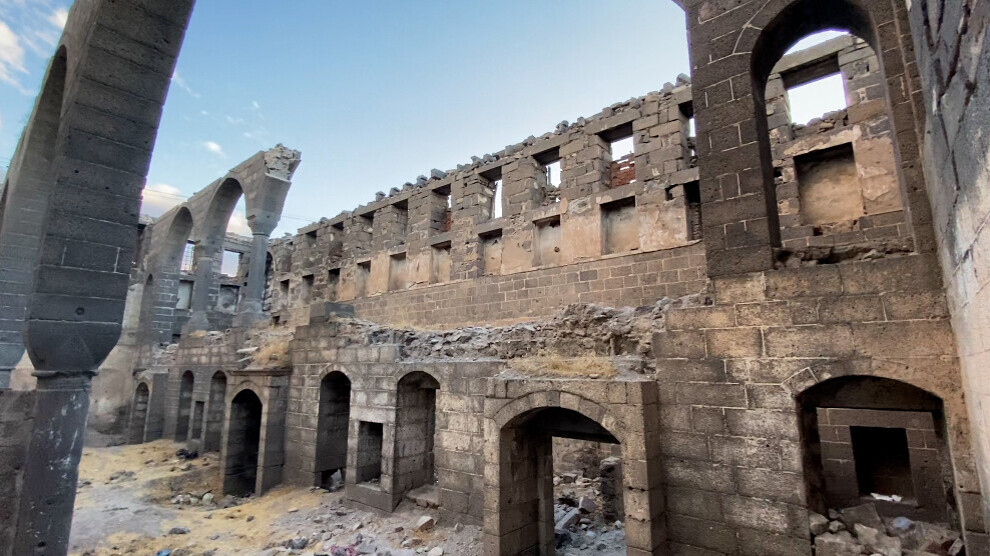 One of the most striking indicators of the efforts of the current AKP-MHP government to literally pour concrete on history and culture is the borough of Sur in Amed, which has been demolished and razed to the ground.
After the domination of the Hurrian-Mitanids until 1260, many places of worship were built in Amed, which was home to Assyrian, Arami, Urartu, Scythian, Med, Persian, Macedonian, Roman, Mervani, Hamdani, Seljuk and many other civilizations.
One of the places of worship that has survived to this day is the Surp Sarkis Armenian Church, which has a 500-year history. While basalt stones, iron and lime were used in the construction of the church, it is possible to see that basalt stones were also used in the arch, door, buttress and windows. Surp Sarkis Church, located in Alipaşa and built in the 16th century, was used as a granary during the Armenian Genocide, before being transformed into a rice factory. The church, which started to collapse over the years, is about to disappear. Many of its stones have been stolen and the church has been plundered. The government wants to erase it from memory.
Resisting in Sur
The historical building, also known as Hızır Ilyas Church, defies destruction. Although some parts of the church have been demolished, holes enough for a person to pass through, and many of the inscribed or embroidered stones inside the walls have been removed and stolen, the church is determined to resist the ongoing cultural genocide and war. In fact, it has managed to survive despite the destruction pursued by the state.
Genocide continues
In the borough of Sur, where many historical houses have been destroyed, new buildings have been built to erase the memory of the area. Attacks on the culture and belief of peoples whose houses were destroyed and who were expelled from Sur with blood and tears continue. While tens of people lost their lives in Sur, whose 6 neighbourhoods were destroyed during the curfews, it is clear that those who demolished the five-thousand-year-old memory sites and poured concrete on them wanted to hide the crime against humanity and tried to destroy the historical and cultural memory.