Campus Witches make "purple chain for life" in Izmir against misogynistic AKP-MHP politics
Campus Witches formed a "purple chain for life" in Izmir against misogynistic politics and called on people to vote and make Erdogan lose in the second round of the presidential elections.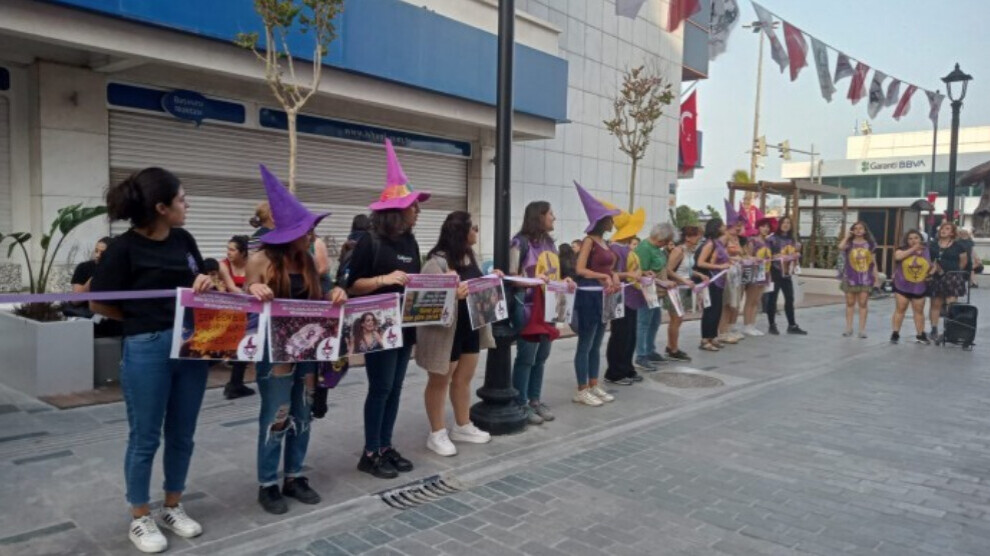 Campus Witches organized a "Purple chain for life" in Izmir against the misogynistic politics implemented in the country. The women formed a chain holding the photographs of the murdered women, and chanted slogans such as "The murdered women are our rebellion", "We do not keep silent, we are not afraid, we do not obey" and "Women will hold the AKP accountable".
'Erdogan will lose'
Zilan Kubat from Campus Witches said that "despite all the cheating in the 14 May elections, Erdogan got 49.5 percent of the votes and added that this showed that the AKP is losing."
Kubat stated that "the AKP built a system that controlled the lives of women, impoverished people, hindered freedom of thought and expression, arrested thousands of people unjustly, rewarded murderers of women and rapists during its rule."
'Building a new life is in our hands'
Kubat said that the AKP-MHP government attacked the rights of children and women the most for 22 years and added: "Women were targeted in almost all the rallies of the People's Alliance during the electoral campaign. We will not stop raising our struggle against organized misogyny. As young women, we will continue to raise our struggle against those who want to deprive us of our future. Our answer will be to struggle. This dark fascist government, which makes our lives difficult, is not invincible. It is entirely in our hands to build a new life and to increase our gains. We can do that after the elections on 28 May."