Kurdish politicians call on people to go to the polls on Sunday
Two days before the run-off vote for the presidency in Turkey, Kurdish politicians called on people to go to the polls, saying: "If the AKP and Erdoğan win again, society in Turkey will continue to be deprived of the air to breathe."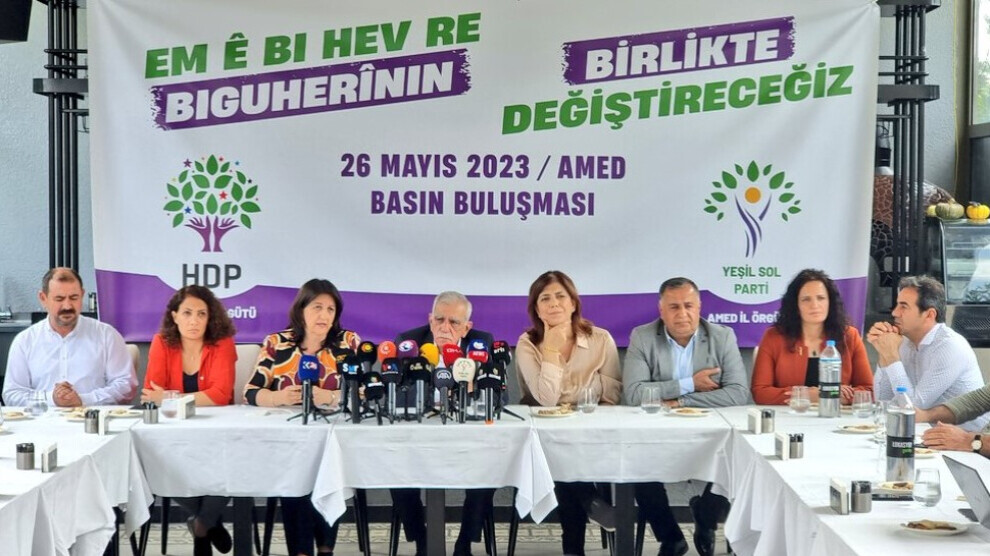 Two days before the run-off election for the presidency in Turkey, politicians of the Peoples' Democratic Party (HDP) and the Green Left Party called again at a press conference in Amed (tr. Diyarbakir) for an end to the Erdoğan era and a new democratic beginning. HDP Co-Chair Pervin Buldan, Kurdish politician Ahmet Türk and Green Left Party MPs Meral Danış Beştaş, Cengiz Çandar, George Aslan, Sevilay Çelenk and Mehmet Kamaç attended the press briefing.
Pervin Buldan started by pointing out that the elections on 14 May did not take place under equal conditions and in a democratic environment, and that the People's Alliance (AKP-MHP) used all the means of the state. She remarked that, despite these obstacles, the Green Left Party achieved success and Sunday's run-off election is important for the democratic future and peace in Turkey, for the future of young people and women.
Noting that the HDP and Green Left Party had already announced the day before in Ankara that they would stick to their strategy in the first round of the elections, Buldan continued: "If the AKP and Erdoğan win again, society in Turkey will continue to be deprived of the air to breathe. That is why Erdoğan must go. I believe that society will breathe a sigh of relief after Erdoğan's leave, because we know that the AKP government, together with the MHP, has left Turkey breathless. We have all seen that all kinds of lawlessness, hostility, oppression and violence have emerged in this country. There is not a crumb left of democracy. There is a pronounced hostility towards the Kurds, at the same time there is misogyny and hostility against peace. For all this to stop and for Turkey to breathe a sigh of relief, Erdoğan must lose in this election. It depends on this election to create an environment in which these problems can be solved and democratic steps can be taken. Only in this way can Turkey achieve peace, tranquillity and prosperity. Therefore, I would like to express my conviction that democratic paths can be opened by voting Erdoğan out of office. I would like to emphasise that the decrees that Erdoğan will issue in the event of his victory again will be disastrous for Turkey. There is no need to enumerate one by one what will happen if Erdoğan wins again. What we have experienced in recent years is a clear indication of this. We will resist again, we will fight again, but society will run out of steam. That is what worries us the most."
The second round of voting is a "referendum between fascism and democracy" and will decide the fate of Turkey, Buldan stressed, appealing to the Kurds and all people in the country: "It is in our hands to change the fate of Turkey. Let us once again contribute to this change and transformation by going to the polls on 28 May, and let us approach this election knowing that we are voting for our future and determining our tomorrow. I wish everyone good luck and success and hope that on 28 May we will get the result we want. It is not about the People's Alliance or Mr Kılıçdaroğlu, it is about the future of Turkey, and we are voting for the future of Turkey. I call on the people of Turkey once again to protect the ballot boxes and cast their votes."
Speaking after, Ahmet Türk said: "We are going through an important phase and experiencing the pains of change and transformation. Of course, our election is not about individuals. We are fighting for the future of the Kurdish people and the future of Turkey, and we are making our choice accordingly. Of course, the recent nationalist debates have caused resentment among our people. From here, I would like to give the following message to our people and youth in particular: Do not be fooled; protesting and not going to the polls is grist to Erdoğan's mill. You must go to the polls with this awareness. We had two options in front of us. As our co-chair just said, there is a mentality that wants racism, fascism and monist understanding to prevail in Turkey. On the other hand, there is another understanding that is based on the rule of law, which at least gives confidence in a democratic environment in which our people can breathe. We have to choose one of these two options. Of course, we will give preference to democracy, human rights and the free future of the Kurdish people. The struggle we have been waging for years is for a democratic future, for the meeting of peoples on the basis of common democratic values, for the free future of our people.
We know that many of our demands may not be met. Nevertheless, we will continue our struggle in the way we believe. But what I wanted to say from the beginning today is this: Dear people, we are faced with two choices: Either we support fascism, or we support an option against it that at least allows our people to breathe. One of these two options is Kılıçdaroğlu, and we will make our choice in favour of Kılıçdaroğlu. We see that there is resentment among our people due to the nationalist discourse of recent times, and we also feel this resentment. But we should not be deceived. We must go to the polls as a whole in these elections and protect our votes until they go to the election board."