Balance sheet from Deir ez-Zor: 31 jihadists killed
SDF announced that at least 31 Islamists have been killed in the past 24 hours in the final phase of the "Cizire Storm" offensive in the Deir ez-Zor region.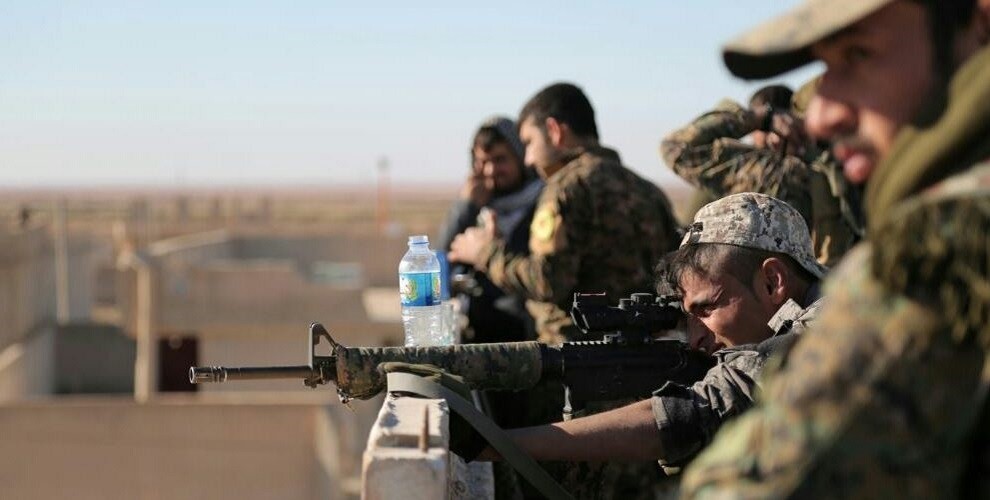 The press center of the Syrian Democratic Forces (SDF) released a statement on the final fight against ISIS terror in Deir ez-Zor (Dêra Zor) region at the Syrian-Iraqi border area in northeastern Syria. SDF reported continued heavy fighting on fronts Al-Baghouz and Hajin fronts.
The statement said the following:
Al-Baghouz-Front: This front again witnessed ISIS attacks with heavy weapons and explosive-equipped vehicles. Two of the vehicles could apparently be destroyed from a distance, but the explosion of the blast injured two SDF fighters. Three more car bombs were destroyed by an air raid by the international coalition. During the battles in Al-Bahgouz area 8 members of the jihadist militia have been killed.
For tactical reasons, the SDF had initially withdrawn from their positions where ISIS groups got stationed afterwards. These positions of the mercenaries were bombed by the coalition aircraft and all the terrorists there were killed. Our forces retook an area from where they had withdrawn, and got stationed in three more locations.
Overall, the SDF advanced another kilometer forward on this front, and engaged in armed confrontations with the terrorists.
After long hours of clashes, our forces got deployed at 6 more locations, while an ammunition depot and two vehicles of the terrorists were destroyed by the coalition aircraft.
On the other hand, a leading member of ISIS was killed and two bomb-laden vehicles of the terrorists were destroyed. Explosion of a mine left a fighter of ours wounded.
Hajin Front: Fighting erupted between our fighters and ISIS terrorists stationed in a tunnel. The attack of two suicide bombers could be prevented by the intervention of our fighters, and the two assassins were killed.
Subsequently, SDF units took the tunnel under control, and began to clean explosive traps both in the tunnel and in the surrounding area.
SDF units also destroyed two mines placed in a house and seized a DShK machine gun and two Kalashnikov rifles of the terrorists.
On this front, SDF established 5 more new positions and neutralized 13 mines.
SDF units are moving very cautiously due to the explosive devices set by the ISIS.
According to SDF Press Office, 31 Islamists have been killed in the past 24 hours. The international coalition has carried out 12 air strikes, 17 new positions have been built in the area. A machine gun (DShK) and two Kalashnikovs were confiscated, an ammunition dump, a mortar shell, five bomb-laden vehicles, two cars and a tunnel were destroyed. Three SDF fighters suffered injuries."