Dams are a danger for Kurdistan 
Fifty villages and historic sites to be submerged when Silvan Dam is finished.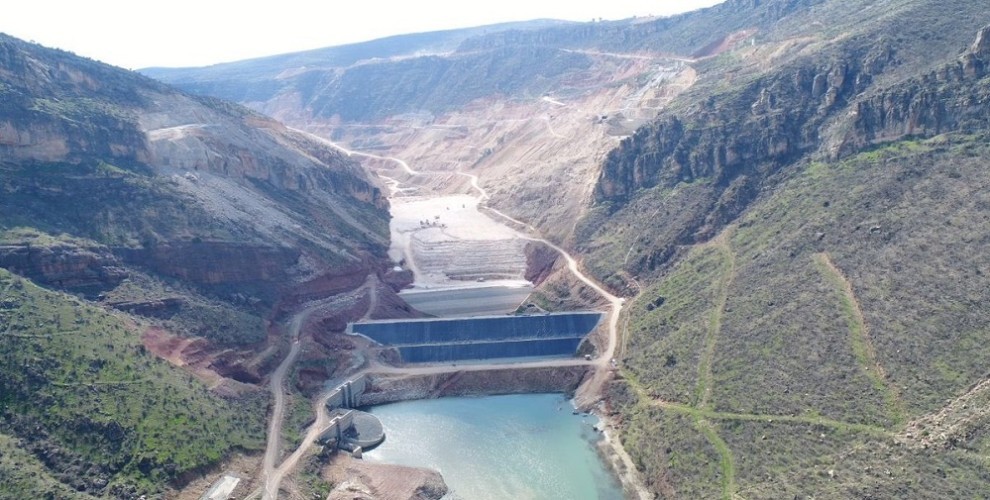 Kurdistan geography is destroyed by dams and HES. 
Despite the countless protests the AKP government continues to work to destroy the historical, cultural heritage and nature of Kurdistan's geography. 
Within the framework of the Southeastern Anatolia Project (GAP), 80 percent of the construction of the Silvan Dam planned in 2009 is now completed. 
Eight dams and hydroelectric power plants with 23 irrigation facilities, will begin to collect water in two years.
Silvan Dam, which is 175,5 meters high, is also the biggest dam in the region, after the Atatürk Dam. 
While 16 more security dams are planned to be built in Kurdistan, 95 percent of the Ilisu Dam in Hasankeyf, one of the most controversial and protested against project, has now been completed.
Güner Yanlıç, a member of the Hevsel Protection Platform, explained the purpose of the dams built in Kurdistan: "This policy implemented in the 1940s came to light under the name of the Southeastern Anatolia Project. Eleven large-scale security dams were planned under this Southeastern Anatolia Project".
This project, said Yanlıç, can be considered both an "extension of the security policy, as well as a project to create cheap workers in big cities by cutting off social communication and forcing people to migrate".
Turkey has been implementing an energy security policy for over 50 years, said Yalnıç.
"Since the first day, the authorities have said that they are building dams so that the water necessary for agriculture can be obtained. But although the people have mainly accepted this rethoric it us clear that in the irrigation area salting occurs in the soil due to excessive evaporation".
According to Yalnıç there are more than enough evidences proving that the energy production through the dams is actually destroying fields and making agriculture difficult. Evidence of this is that "we have to import products as potatoes, onions, wheat, in other words very basic products from other countries as we cannot produce them anymore", said Yalnıç.
50 villages to end up under water
Yanlıç reminded that Kurds have always protested against these projects. 
He pointed out that the historic Geliyê Godernê, located between the provinces of Silvan, Lice, Kulp and Hazro, will be submerged by water once the Silvan dam, the second biggest dam in Kurdistan, is completed. 
He pointed out that this historic place together with its natural habitats will be completely inundated.
He said all of the districts would be affected by the dam, and that about 50 villages would be under water.
In the end, said Yanlıç, it is clear that the government is not interested in cultural and historical heritage. It has proved it with the Ilisu Dam which submerged the historical site of Hasankeyf. 
Furthermore the government is not interested in people and has no problems in forcing thousands of citizens to migrate, to abandon their life style as well as their homes.