Death at the hands of the KDP- Part Two
Rabia Weqas, who lost her brother and nephew in the attacks carried out by the KDP, said that "thousands of young people were killed. I do not regard those who do nothing for the Kurdish people as Kurdish."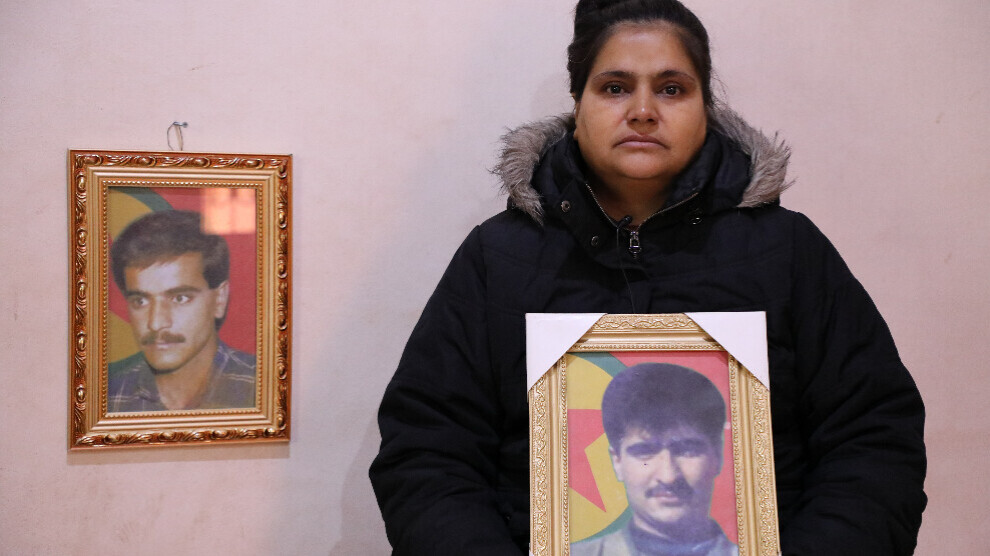 Families of guerrillas from Rojava, who were killed by the KDP betrayal that has continued for more than 30 years, said that the struggle should be increased in order to put an end to the KDP and its treacherous policies. Families speak about the KDP betrayal, and the prices paid for that.
Rabia Weqas from Afrin lost her brother and nephew in the KDP attacks. Her brother Nûrî Mustafa Weqas, (nom de guerre Dersim Silvan), was born in 1968 in the village of Kaxur in Afrin. Weqas joined the Kurdish Freedom Struggle in 1991 and fell as a martyr, killed by the KDP forces in Metina on 14 November 1995.
His nephew, Arif Xelîl (Diyar), was born in 1975 in Afrin. He joined the Kurdish Freedom Struggle in 1994. He fell as a martyr killed by the KDP forces in the Kurê Jaro region of Zap in 1997.
Knowing Öcalan's ideas
Rabia Weqas spoke to ANF about her brother Nûrî's participation in the Kurdish Freedom struggle. "Nûrî was introduced to Öcalan's ideas before he enlisted in the military. When he came back, we asked, 'Will you continue your school?'. He replied 'I heard about a movement when I was in the military. The Kurds are oppressed, our revolution has begun. I will join that revolution'. We were sitting with my other brother and cousin. Both said that they would not do military service to the enemy. 'If we are going to do military service, - they said - we will do it for the Kurds. We will join this revolution'. In 1991, they all joined the Kurdish Freedom struggle.
When Nûrî joined the revolution, his friends and family were very impressed. My brother Nûrî was the first martyr of our family. My nephew Arif also fell as a martyr in 1997. Nûrî inspired our family and the entire neighbourhood. After my brother's martyrdom, my uncle's daughter also joined the revolution. Everyone in our family participated in this revolution."
Father's advice
Rabia Weqas spoke about her father's advice to her children when they joined the struggle. "Be worthy of this revolution. We are proud of you. Stand up for the Kurdish people against the enemy," the father told his children.
Poem about betrayal
Weqas also talked about her nephew Arîf Xelîl, who was murdered by KDP forces in 1997. "He called me aunt even though I was younger than him. We were playing together. We grew up together. He had a passion for culture and art. One day, Arîf told me 'Let's write a poem together against oppression and betrayal'. It is a poem that explains why the Kurds have been persecuted until now."
'They saddened thousands of families'
Weqas said: "Unfortunately, they fell, killed by Kurds. This offends us. Thousands of young people were killed by them. They saddened thousands of families."
Weqas addressed the Barzani family and pro-KDP people. "Why does the Barzani family spill so much blood? Your hands are covered with the blood of so many young people. Why does the KDP ally with the Turkish forces? I do not regard those who do nothing for the Kurdish people as Kurdish."
Weqas added: "I am speaking to those who follow in the footsteps of the Barzani family: get to know yourself and them; get rid of them. They have done no service to humanity or the Kurdish people. Turn back while there is still time. Their betrayal will hit them back one day. They will drown in their own betrayal. As the families of the martyrs, we follow in the footsteps of our guerrillas. They will not be able to destroy us. We are millions. There are millions who have dedicated themselves to this revolution."
Part 1 can be read here