Elfriede Jelinek and Konstantin Wecker: Peace is more than a dream
"The warlords and politicians of this world cannot forbid our dreams, nor can they permanently prevent our attempts to make them a reality. Neither in Ankara nor in Tehran, neither in Moscow nor in Washington, Beijing or Berlin."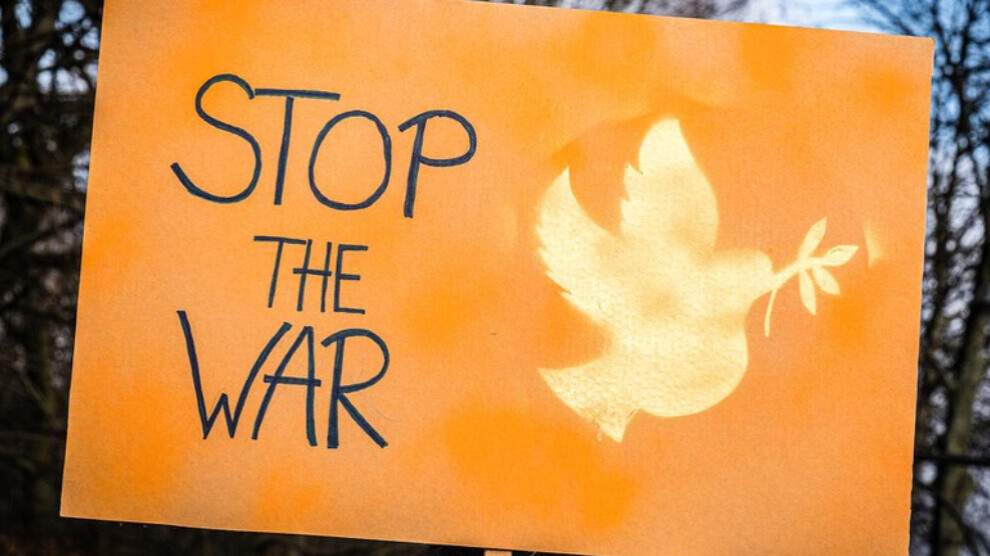 On the occasion of Anti-War Day on 1 September, we publish the appeal of the Austrian Nobel Prize for Literature laureate Elfriede Jelinek and the Munich singer-songwriter Konstantin Wecker to desert from all wars of aggression.
This text is published in solidarity with the International Kurdish Cultural Festival on 9 September 2023 in Frankfurt am Main in German, Kurdish and Turkish.
"Suddenly, at night, we heard screams, as if a person was suffering terrible pain. Then it was quiet. Someone must have been hit to death, we thought. After an hour, we heard screams again, and now it didn't stop. All night a person was screaming. All day a person was screaming. More and more plaintive, more and more helpless. (...) He screamed like an infant screams, naked, without words. He screamed for four days and four nights. For us, it was four years. We stuffed paper in our ears. It didn't help. Then it became quiet.
Not the enemy. The human being. Man screamed. (...) In such hours, when one, how shall I put it, descends to the groundwater, one asks oneself: Why all this? What is it all for? Would you ask the same question?
In all countries, people pondered the same question. In all countries, people gave themselves the same answer. For gold, for land, for coal, for nothing but dead things, people die, starve, despair, was the answer. And there and there the bravest of the people stood up, shouted their hard no to the blind, wanted this war to stop and all wars, fought for a world where all children would have it good.
This story from the First World War, "which happened, which I was there for", is what the writer Ernst Toller had his protagonist Karl Thomas tell in his play Hoppla, wir leben! Only six years later, on the day his books were burned in Germany, Toller wrote: "In the tornado of war, which threatens to announce itself with rising armaments stocks, Europe is plunging into the abyss of suicide. (...) To be honest, one must know. To be brave, one must understand. To be just, one must not forget."
Killing every day
Russia's war of aggression against Ukraine, which violates international law, has already lasted almost 20 months. People are being killed and maimed every day. Just as in all imperial wars such as that of the NATO state Turkey against the people in Kurdistan and in the self-governing regions of Rojava in northern Syria or the war of Saudi Arabia in Yemen, as well as in past wars such as those of NATO against the Republic of Yugoslavia in 1999, against Afghanistan in 2001 or in the war of the US-led "coalition of the willing" against Iraq in 2003.
The prospects for an early end to the war against Ukraine are poor; the war has become a "war of attrition". It will not be won, but, as so often in world history, will end far too late. We should understand in order to act.
These imperial wars must end immediately: the war against the people in Ukraine as well as the war against the Kurds in Turkey, in Northern Syria, in Iran. Likewise, the threat of even bigger wars must be prevented. As long as people around the world can still manage it. We have not forgotten what the Austrian author Karl Kraus wrote in 1917: "When the word 'peace' was spoken for the first time, a panic arose on the stock exchange. They cried out in pain: We have earned! Let us have the war! We have earned the war!"
A better life for all people in our world is possible - to dream about it, to write about it, to sing about it, to insist on it and to commit to it together, that is what we all want to do individually and together: on Global Anti-War Day on 1 September, and everywhere and every day worldwide.
We will never stop dreaming of a world free of domination, without wars, fascism, racism, patriarchy, without the destructive exploitation of people and nature.
As artists, as a writer and a musician, we insist on what Ernst Bloch formulated in his work The Principle of Hope: "It is important to learn to hope. (...) The effect of hope goes out of itself, makes people wide instead of narrowing them (...). The work of this effect requires people who actively throw themselves into the becoming, to which they themselves belong. (...) How richly people have always dreamed, dreamed of the better life that would be possible."
The uprising in Iran after the murder of the Iranian Kurdish woman Jina Mahsa Amini has given rise to hope for a global feminist perspective: Jin, Jiyan, Azadî - Woman, Life, Freedom! This visionary position has a long history in the Kurdish feminist movement for gender justice.
The warlords and politicians of this world cannot forbid our dreams, nor can they permanently prevent our attempts to make them a reality. Neither in Ankara nor in Tehran, neither in Moscow nor in Washington, Beijing or Berlin."