Gergerlioğlu: This victory is a victory for the people
HDP deputy Ömer Faruk Gergerlioğlu was released from custody following a ruling by the Constitutional Court. "I resisted together with society. This victory is a victory for the people."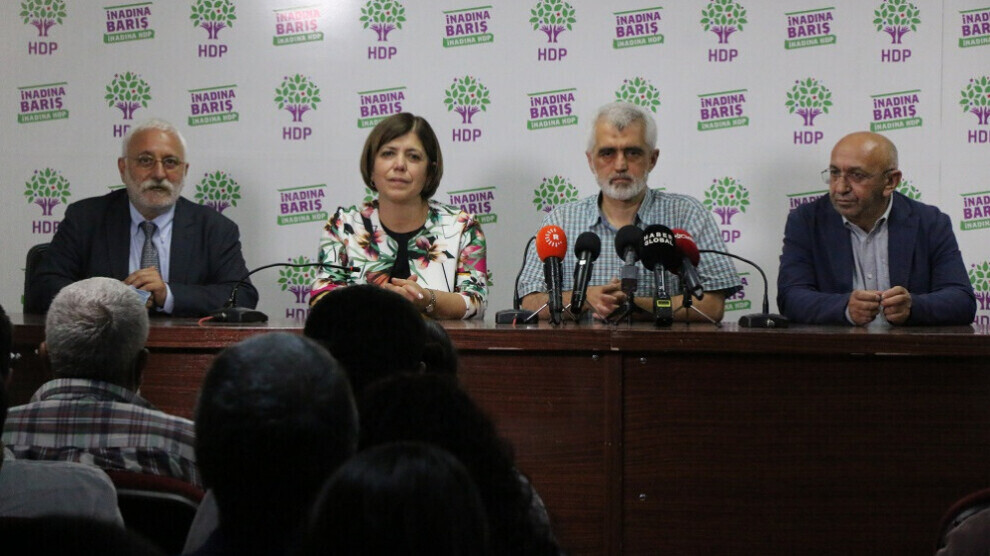 After the Turkish Constitutional Court upheld a lawsuit filed by imprisoned HDP deputy Ömer Faruk Gergerlioğlu last Thursday against the withdrawal of his parliamentary mandate, the politician was freed on Tuesday evening. After his release from Sincan Prison, a press conference was held at the main headquarters of the People's Democratic Party (HDP) in Ankara. The police surrounded the building.
"For us life means resistance"
The MP began his statement with the words "Where were we?" And continued: "We said that for us life means resistance and living resistance. We have said long live the brotherhood of peoples. These words mean a lot. I left Parliament with these words and I will return with the same words. When we left Parliament, we said that in the end we will be proven right; we are strong and we will win. We are strong because we are right. They said we were very weak at the time. They said we were finished and sent us to jail. But I trusted two things: we were extremely right, legally speaking, and the public conscience was on our side. We won with the resistance. When I was beaten and dragged out of my house, my last sentence was 'This story doesn't end here'. We do not take a step back; we will resist until the end because we are right. I owe this victory primarily to the people. Yes, I resisted, but the people also fought with me."
"My fate stands for millions"
Gergerlioğlu said: "This is what our party and hundreds of victims actually experience. I am a person who was fired from the public service as a medical doctor five years ago because I wanted peace. Incredibly, illegal decisions have been made. There was also no fair ruling by the Supreme Court, and the decision was upheld. Who should we trust in Turkey? What a remarkable situation. Countless people have experienced the same thing in the past five years. After losing in the proceedings before the district court and the court of appeal, this decision was read out in parliament. The only place we could turn to was the Constitutional Court. I thank the Constitutional Court as it quickly made a decision on 1 July."
"We win; we are here"
Gergerlioğlu continued: "I was elected to parliament as a representative of the people. But my mandate has been withdrawn. But we won and we are here. Let these people smile. I thought of these people most of all in prison. These people do not deserve what is happening. Believe me, like a warm rain, love and support came from all over the world. I knew I was right and that has now been shown very clearly. We experienced great sadness in prison. Our friend Deniz Poyraz was murdered. We were determined, full of sadness and in spite of this we said: 'No, we will win.' I spent three months in prison full of optimism. I protected myself physically and kept myself up mentally. It was all very good for me. They didn't get what they wanted. We never withdrew, our motivation was very good. We often exchanged letters with our friends. We followed what was going on in Parliament from within. I never felt like I no longer had a mandate. I was never cut off from developments. You can't push us back, we are really strong and right. And that's why we succeed."
Gergerlioğlu said: "They retaliated against us for three months. When I tried to put my shoes on at home, they surrounded me and pushed me. They cursed and insulted me in the police car. We said that human rights apply to everyone. We said we would not go. When I told the police that I would take legal action against them, they replied, 'Are you threatening us?' I replied, 'Yes, I am threatening you with the law.' Knowing that we are representatives of the people, we have acted, and as I said before, this victory is the people's victory. Being set free means that our other friends will also be freed. It is a message that the closure lawsuit against our party will not succeed."