Girê Sor: A Temple of Resistance - III
Baz was the first martyr in Girê Sor, which of course had an influence on his companions, but also instilled in all of them a sense of vengeance. Everyone understood that Baz was not the first or the last martyr.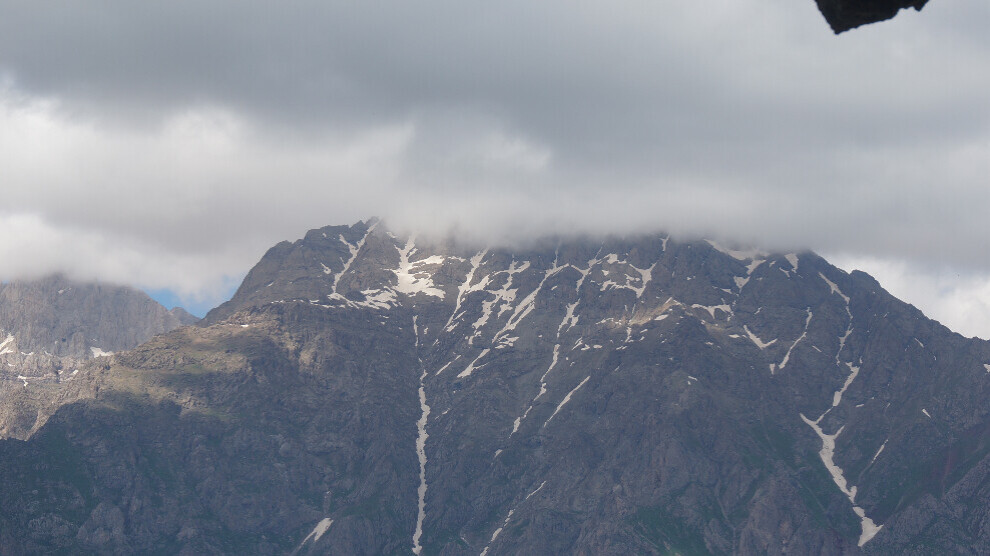 Every four days, a fire was lit. To comfort his friends, Botan used to say, "It's pointless to overeat in order to gain energy. At the end of the day, our body gets as much it needs whether we eat with a plate or a spoon of food." There was just half a bag of rice, a few handfuls of flour, and a half bag of beans left. That was the extent of the supplies, nothing else.
ANF compiled the 80-day Girê Sor resistance from the narratives of Mizgîn Dalaho, Armanc Simko and Têkoşîn Devrim who took part in the resistance. Here is the third part:
NO ONE AGREED TO LEAVE
Following the closure of the summit, a general review was conducted with the participation of all of the guerrillas there. Botan stated that the situation could worsen, that there was a supply deficit, that they would not leave the hill even if the supplies ran out, that they would manage even if it was only with sweetened water, and that anyone who was not prepared for these situations should tell them in advance.
Botan was already considering the exclusion of a group due to the lack of supplies. Those who wish to leave can speak up, he said. Nobody was going to give up the hill. They all took turns speaking, declaring that they would resist until the end and expressing their commitment. Everyone vowed again after reaching an agreement. Botan, after all, did not send anyone away when he observed their tenacity. Botan wanted to send Delal away because she was new, but no one wanted to leave, so she stayed there until the last day.
THE POISONING AND MARTYRDOM OF BAZ
There was a plan to reopen the Çarçela gate and take action there, but the ground was continually shifting, making it difficult to dig. On July 6, Delal was on guard at the Çarçela gate. She came to report after hearing the troops' footsteps. Baz and Serhildan ran upstairs with their rifles in hand. The enemy carried out a detonation just as Baz approached the barricades and sought to listen. Baz was affected only by the pressure and gas. With the blast that day, the enemy also used chemical gas. This gas had a bleach odor and was white in color.
Baz wasn't too bad at first; he merely lost his appetite and couldn't eat, but he was fine overall. But he couldn't sleep at all, and his chest was wheezing heavily as he inhaled. Baz was having trouble breathing after 10 p.m., and it was like he was suffocating. The healthcare professional Armanc was called. His heart was racing. His pulse was strong, erratic, and quick. Baz recovered a little when Armanc gave him an injection. He wanted to get up at around 5:00 a.m., but he couldn't get up no matter how hard he tried. It was too much for Özgür and Mizgîn as well. He just drank too much water. He had consumed a large amount of water up until two hours before his martyrdom. Armanc was called once more when Baz became unwell. The guerrillas were all assembled there. Baz collapsed before Armanc reached him. Mizgîn slapped him a few times to awaken him, but all they could see was yellow foam spilling from his lips and nose, and a lot of noise coming from his chest. Baz had fallen a martyr by the time Armanc arrived. He applied CPR several times but there was no reaction. His pupils had become dark, and his pulse had stopped. Armanc was both performing CPR and crying nonstop. Despite the fact that he had passed, he continued to apply CPR for ten minutes without a break. Botan tried to put a stop to it by saying, "Armanc! Baz fell a martyr!" Armanc and Baz's friendship was different, and in Süleyman they were as accustomed to one another as they were alone there. That's why he found it very difficult to accept.
THE LOCATION NAMED AFTER HIM
They were deeply saddened by Baz's death, and quietness reigned in the camp for a week, but they strove to overcome it. The guerrillas planned to bury Baz outside, on the ground near the main gate, but the enemy might spot him or the plane might hit him. Then they decided to bury him in a different location, which was named after him, as 'Martyr Baz Emplacement'. His name and surname were written on a box which was placed at the tip of his head. It was expected that if the occupying troops departed or the situation improved, he could be taken from that area.
HE WAS WITH MAM ZEKI WHEN HE DIED
Baz came from Gever (Yüksekova district of Hakkari). The young fighter was trained in Zap and stayed in Shengal with Mam Zeki. He was injured in the attack that resulted in Mam Zeki's martyrdom. He was trained and brought to the mountain after treatment. He was an experienced guerrilla fighter.
When he returned to the mountain, he settled on the Basya front, on Süleyman Hill, and stayed there for two years. Suleyman Hill was the province's border hill. There was no coming and going; perhaps once a year, someone from the administration would come. It was too far away from the province, yet Baz claimed this hill with very small units in conditions that not everyone could rapidly adapt to. Even when one sees Baz, one can get uplifted and can discuss and share anything with him. He was always open to discussions. Most notably, despite immense challenges and impossibilities in Süleyman, Kartal, and, most recently, Girê Sor, he put out an unrivaled effort and saw it through to the top.
NEITHER THE FIRST NOR THE LAST MARTYR
Baz was the first victim in the cave, which, of course, had effects on his companions, but instilled in all of them a feeling of vengeance. Everyone understood that Baz was neither the first nor last martyr. Their hearts had been hardened, their anger had grown, and everyone wanted to move and strike the enemy. Botan was there for them all, trying to keep emotional outbursts to a minimum.
The Çarçela gate was completely reinforced. It was assumed that explosions would no longer have an effect on it. In any case, the enemy didn't conduct a detonation there until the very final day. The following days were relatively calm. When the enemy conducted an explosion on the summit, there was no response from there. They didn't get involved too much. They might also have destroyed it completely because nobody went to the summit after that section was closed. The dominance on the summit did not exist anymore. The dominance over the enemy diminished once the Çarçela gate was closed.
Later, on July 13, the enemy employed extremely lethal chemicals through the Çarçela gate, and despite various attempts, the gas did not escape the passageways for about an hour. It smelled and tasted like sugar, exactly like the previous time.
THE SHOUTS COULD BE HEARD FROM THE TUNNELS
After the guerrillas closed the Çarçela and the peak gate, the enemy moved to the front line facing Govende. The sound of soldiers could be heard from the summit, but they wouldn't be able to proceed from there. Because they needed to hang down from there with ropes. One day, it was noticed that one soldier from the outside was directing another soldier. One soldier was trying to send explosives inside. It suddenly smelled like chemicals. They set off the explosion, but because their ropes were insufficient, they could not go in, and the guerrillas were not affected very much. Then they made their way to the position tunnels on the middle floor. It was a tunnel, but it was shaped like a position. A tunnel, for example, had 6-7 windows. The guerrillas who built the tunnels made a window that allowed them to observe each outpost. One overlooked Leylek, another the Xapûşkê, another the Helikopter, and another the Govende. These gates had been struck by jets previously. Their explosions were becoming more and more powerful. They occasionally used explosives weighing 50 pounds. The guerillas frequently used grenades to hit the enemy. The enemy was ambushed there, and the explosives would be detonated when footsteps were heard. The enemy was stationed in Martyr Tekoşîn's location. The guerillas were firing bombs at the enemy from the side facing the Leylek area, hoping to halt their positioning. They could easily do it with sweeping fire. The troops' shouts filled the tunnels every time a bullet or bomb was fired.
ARMANC WAS THE FIRST TO GET INJURED
One day, Armanc and Serhildan were on duty from 10:00 to 12:00. The enemy's voice could be heard coming through the Martyr Tekoşîn gate. They went there because they had the possibility to get out through the Leylek position. They went outside, dropped bombs, opened fire, and went back inside to draw the enemy's attention. Girê Sor was being watched by those on Leylek Hill because they regularly came out and shot from there. They carried out an explosion after Armanc stood there for a bit. The tanks were assumed to have hit there, but Armanc pushed himself inside, uninjured. Serhildan threw a bomb and opened fire to respond after the explosion. "The enemy is outside seeking your corpse," Serhildan said to Armanc, half-jokingly, as he returned inside. Armanc was on the cliff, and the enemy had detonated an explosive just as he was on the precipice. While the enemy assumed Armanc had fallen, thanks to his agility, he threw himself inside, only one of his shoes falling down the cliff.
When the enemy arrived at the spot, there were frequent explosions. Armanc suffered the first injury. The 20th of July was the date. He was injured as a result of the enemy's explosion while on his way to check the positions. Têkoşîn and Özgür rushed up to him. The pressure ripped all of Armanc's clothes in pieces. We escorted Armanc to a spot, and when he found it hard to move in the hallways, Têkoşîn picked him up and carried him to the squad. His eye was swollen, bruised, and in poor condition. He was always tried to be cheered up.
SERHILDAN WAS INJURED TWO DAYS LATER
Two days later, the guerrillas would make a mine similar to a grenade and throw it towards the enemy. Serhildan planned to throw the mine, while Mizgîn would detonate it. Just as they were going to do this, it was discovered that the enemy had planted explosives in the sacks and had roped them to the Leylek gate. Serhildan cradled his head in his arms and threw himself to the ground when an explosion occurred and left him injured. Têkoşîn and Botan carried him to a location. There was a large yellow cart nearby. That cart had long turned into an ambulance. Whoever was hurt was loaded onto that cart and taken to the squads. The person driving the cart was making an ambulance noise and shouting "first aid, first aid" in the corridors. Despite the injuries and pains in Girê Sor, success was demonstrated to increase morale, even in the midst of all the negativity. As a result, the injuries had little effect on their psychologies. Serhildan was wounded in several parts of his body. He had multiple deep wounds, the most serious of which was the never-ending bleeding on his arm. For a long period, he couldn't stand up, but he was conscious and able to talk. This was the second time someone had been injured. Serhildan could not recover quickly because he had lost a lot of blood, and he lay on the ground for a long time.
The enemy had begun to achieve results from the explosions in this position, and the guerilla no longer used that side as much. The number of guerrillas on guard decreased when Armanc and Serhildan were injured. Because the wounded were in poor condition in the early days, one of them stayed with them. There were some challenges after Serhildan was injured. They were exhausted. When they went to the wounded, they were smiling and talking, but it was clear that they were exhausted. Because two male guerillas were injured, the female guerrillas bore most of the burden. They did not even manifest their troubles for a single day.
BOTAN WAS INJURED BY A MISSILE
Botan was on his way to check the position a week later when the enemy launched a missile from Leylek Hill and hit the Leylek gate. Botan challenged his fear and jumped roughly 10 meters down, collapsing on the wall. Botan, he was strong to the core. He came back himself before the others could catch up with him in his injured state, so they wouldn't come to take him. "I'm alright, leave me alone," he told those who approached him. He got up and went to the squad. He was really strong-willed, he never gave up. He knew that the guerrillas were gaining strength from him and that he needed to recover immediately. Separate food was served for the wounded, but Botan did not accept it. This 'special food' was flour halva with some tea poured in it, so that it would not be too heavy for the injured. We said, "This is special food for the injured." Botan didn't even want that. He had a ruptured ear and was having a lot of trouble with his chest, but he soon recovered. Now that he was forbidden to stay on vigil, they were teasing him like "Comrade Botan, the enemy missed you this time." And he replied, "They couldn't do anything for 12 years, and they can't do it now."
BOTAN WAS EVERYTHING TO GIRÊ SOR
They were all affected when Botan was injured because he was the war's vanguard. This injury had a negative impact on everyone's mood. Botan, on the other hand, recovered soon and rejoined with the same zeal and passion. Botan had been injured before. He had a knee injury, was blind in one eye, and was missing two fingers on his right hand. He was hurt practically everywhere on his body. He didn't stay inactive even for a day. "I've got to be among my comrades," he said. He was the area and the top commander, as well as a cook and a health worker at times. In short, he was everything to Girê Sor. He was in every task, and all of the guerillas were there to help him in any way they could. For example, when the sounds of troops were heard, Botan was always the first to move and drop bombs on the enemy.
He would not let the guerillas leave, but he was always on the move. "You give the commands but you do them yourself. You are our commander, if something happens to you, we cannot take this," the guerrillas said to him, to which he replied, "You are all Apoist militants, you all have remarkable willpower. You'll do it again even if something bad happens to me. Whatever happens, we must not impede ourselves, for the enemy is so cowardly that even if he hears a friend breathing in these tunnels, he will be unable to approach us."
HALF BAG OF RICE, A LITTLE FLOUR AND ONE BAG OF BEANS
After Baz fell a martyr, the Çarçela gate was fortified and was rarely used. It was well known that in such a cave, the enemy could not assault all the floors at the same time. Because the middle level positions were cliffs, the soldiers were unable to enter or exit; instead, they began to detonate explosives with ropes. Botan and Delal were usually on the middle floor and never slept. They were continually taking food, and communication was open 24 hours a day. They were in charge of everything pertaining to the guerrillas. They were referred to as "our war coordinators." "This area is under our control. If the troops go down to this floor, we will seize them by the feet and pull them down; this floor is now a question of honor," they said. Delal was young and saw the enemy for the first time, yet she was eager and assertive.
Every four days, a fire was lit. There were no supplies to be found. In order to comfort his comrades, Botan used to say " It's pointless to overeat to gain energy, etc. At the end of the day, our body gets as much it needs whether we eat a plate or a spoon of food." Botan took care of the logistics. Only half a bag of rice, a few handfuls of flour, one and a half bag of beans remained. That was the extent of the supplies, nothing else. Rice soup was being prepared, but with a lot of water. He was eating something merely to stay afloat and keep an eye on things. No one ate to be full. Sugar and salt were non-existent. We got used to how all the dishes were salt-free. When the beans were cooked, they were not boiled much, Botan said it was enough "as long as it's eatable" and put some tomato paste in it. Only the injured ones were advantageous. We used to cook pilaf for them from the little bulgur spared for them.
ALL THE GUERILLAS GOT STRENGTH FROM HIM
Botan always stated, "Even if something happens to us here, the organization will commemorate us and tell other guerillas that we lived and resisted with the spirit of Kemals and Zîlans." I would never want my friends to be trapped in this enemy circle, especially without food, but stand tall thanks to the organization's evaluations." He wasn't just stating these things to excite the guerrillas; he truly believed them and was quite passionate about it. Because he believed in it, the guerrillas were more devoted to him. All the guerrillas got strength from him. The shortage of supplies was no problem. Nobody was concerned, and no one said they couldn't hold out without supplies. A small amount of whey was kept aside for poisoning cases. Food was already very little, and no one could get enough of it, but they were trying to encourage themselves, drinking the whey for ayran. Botan had become a life instructor, disproving all the notions that people thought to be true. His commitment, passion, and perseverance enabled him to do the seemingly impossible. He was extremely intelligent and was always mentally active.
ÖZGÜR'S INJURY
A short time after Botan's injury, the enemy's density decreased. The enemy was now concentrating on positioning at the hill, trying to seal the balcony entrance. The majority of the airflow was provided through that gate. Every day, the enemy piled up soil there, and the guerrillas went there every night to open it. When the enemy detonated an explosive on Martyr Tekoşîn side, the gate was opened. The guerrillas said that they would not close that gate again and that if they arrived, they would be welcome. They wanted to carry out actions there anyway. The contact with the upper fronts was lost after the summit was closed, and it was unknown what the enemy was doing.
While Özgür was trying to follow the enemy on 20th of August, an explosion occurred just as he was stretching his head. The pressure trapped him beneath the bags. Due to the dust, nothing could be seen, and Botan arrived when the bags on him were being lifted. "Don't make a sound so that the enemy doesn't know you're injured," he said. Guerrillas had placed tomato paste boxes in the position to make a sound when the enemy arrived. Those boxes sprang all around with the pressure of the explosion and Özgür's head was severely damaged by a part of those. His entire face was blackened and burnt. Özgür was once again placed in the famous ambulance and transported to the general unit known as the first aid unit. The mood of the injured was the thing that kept them going in such situations.
The guerrillas had little experience with the enemy's use of explosives. Many were injured until they became accustomed to the tactics of the enemy. They didn't have a lot of medical supplies with them. They were pulling tarps from squads, sewing them with cables, and using them as bags. Whoever went downstairs to keep guard had to sew bags. There were numerous explosions occurring in the emplacements, and this was the time when the most injuries occurred. Medical supplies were in short. All of the supplies were used when Serhildan was hurt. Due to the scarcity of supplies, they cut and used the undershirts piece by piece to clean the wounds and use them as bandages.
To be continued…