Heyva Sor calls for emergency rescue for earthquake victims
The Heyva Sor a Kurdistan (The Kurdish Red Crescent) has called for emergency rescue due to the earthquake in Bakure (North) Kurdistan.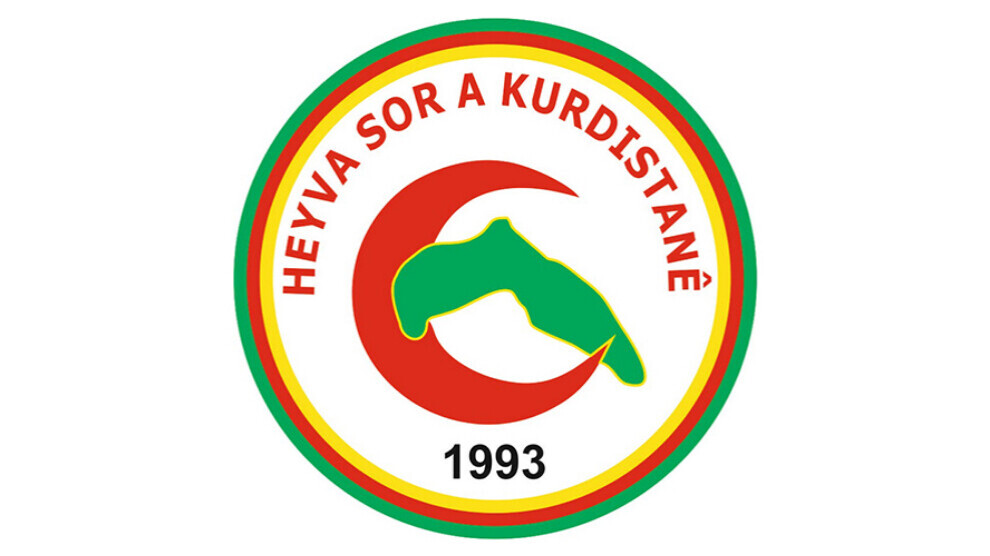 The Heyva Sor a Kurdistan released a written statement:
"A 7.8 magnitude earthquake occurred in the Pazarcik district of Maras city in North Kurdistan today (February 6). Later, a second earthquake with a magnitude of 6.4 occurred in the Nurdağı district of the city of Gaziantep. Furthermore, a third earthquake with a magnitude of 6.5 hit the Îslahiye district of Gaziantep.
The earthquake was strongly felt in many regions of North Kurdistan, especially in the cities of Amed, Malatya, Sanliurfa, Adiyaman, Gaziantep in Edene, Hatay, Kilîs, Osmaniye and Kayseri in Turkey, and in Cizre, Euphrates and Shehba Regions in North and East Syria. It is reported that the earthquake also affected the neighbouring countries. Hundreds of citizens lost their lives, and thousands were injured. Moreover, thousands of people are still under the rubble. Many houses and buildings were destroyed. Winter conditions negatively affect search and rescue operations.
Our institution has decided to send emergency aid to earthquake victims.
The Heyva Sor a Kurdistan only collects financial aid and will deliver it to families in need of urgent help in a short time.
We call on the people of Kurdistan and countries in Europe and other continents to help earthquake victims."
ACCOUNT INFORMATION FOR FINANCIAL AID
Heyva Sor a Kurdistanê e. v.
Wilhelmstr. 12
53840 Troisdorf
Kreissparkasse Cologne
IBAN: DE49 3705 0299 0004 0104 81
BIC/SWIFT: COKSDE33XXX
www.paypal.me/heyvasorakurdistane
The statement also shared the bank accounts and addresses of the partner institutions as follows:
FRANCE
Association Humanitaire Soleil Rouge – RojaSor
Tel: +33 (0) 180 89 42 67
E-mail: [email protected]
CIC TROYES HOTEL DE VILLE
IBAN: FR7630087335000002074770150
BIC/ SWIFT: CMCIFRPP
www.rojasorfrance.com
SWITZERLAND
Kurdistan Roter Halbmond Schweiz (Croissant Rouge du Kurdistan Suisse)
Rue des Savoises 15, 1205 Geneva
Banque Cantonale Vaudoise (Cantonalbank)
Conto N°: 10-725-4
IBAN: CH62 0076 7000 L543 3416 5
BIC/SWIFT: BCVLCH2LXXX
www.heyvasor.ch
HOLLAND
Stichting Koerdische Rode Halve Maan (Heyva Sor a Kurdistanê)
Fokkerstraat 539 Links, 3125 BD Schiedam
Email: [email protected]
www.stichtingkrhm.nl
SWEDEN
Insamlingsstiftelsen Kurdiska Röda Solen
(Roja Sor a Kurdistanê)
Ankdammsgaten 33, 171 67 Solna
Tel.: +46 (08)-27 36 85
Email: [email protected]
org no. 802481-5782
SWISH:123 40 138 68
BANK GIRO: 5589-7672
IBAN: SE04 5000 0000 0537 4106 6753
BIC: ESSESESS
www.rodasolen.se
AUSTRIA
Roja Sor a Kurdistane
Brünner Straße 130-134/3/8, 1210 Wien
Tel: 00 43 (0) 676 9126884
BAWAG
IBAN: AT751400003010314274
BIC: BAWAATWW
Account Number: 030 103 14 274
BLZ: 14 000
rojasor-osterreich.org
ENGLAND
Kurdish Red Moon (Heyva Sor a Kurdistanê)
Fairfax Hall 11 Portland Gardens London N4 IHU
E-mail:[email protected]
Registered Charity Number: 10 93 741
Company No: 42 85 714
The Co-operative Bank
Bank Sort code: 089299
Bank Account Number: 65863091
IBAN: GB55 CPBK 0892 9965 8630 91
BIC: CPBK GB22
www.heyvasoruk.org/
NORWAY
Kurdiske Røde Halvmåne Norge (Heyva Sor a Kurdistanê)
Hausmanns gate 6 0186 Oslo / Norge
Tel: 0047 98 46 33 28
Organisasjonsnummer: 009124. 84734
VIPPS: 21957
DNB BANK ASA OSLO
Account/Account/Credit Number: 1503 40 52953
IBAN: NO 15 1503 4052 953
BIC/ SWIFT: DNBANOKKXXX
ITALY
Mezzaluna Rossa Kurdistan Italia ETS (Heyva Sor a Kurdistanê)
Via Forte dei Cavalleggeri,53 Livorno
Banca Etica
IBAN: IT53 R050 1802 8000 0001 6990 236
BIC/ SWIFT: ETICIT22XXX
www.mezzalunarossakurdistan.org
BELGIUM
ASBL Croissant Rouge du Kurdistan-
Koerdische Rode Halve Maan VZW (Heyva Sor a Kurdistanê)
Gospertstr. 78
4700 Eupen
Telf:0032 (0) 470 94 64 19
Numéro d'entreprise:465 073 725
BNP PARIBAS FORTIS
IBAN: BE04 0013 2448 9631
BIC/SWIFT: GEBABEBB
www.koerdischerodehalvemaan.be
JAPAN
Kurdistan Red Moon – Heyva Sor a Kurdistanê – ( クルディスタン 赤月)
Saitama ken kawaguchi shiba shinmachi 8-22 Sanko build 501
( 埼玉県川口市芝新町8ー22 三幸ビル 501)
Telephone: +81 90 2149 9979
JP BANK
Count Nr:10100 – 56545271
https://www.facebook.com/Heyva.Sor