International Initiative: Celebrate Öcalan's birthday with us
On April 4th, 2020, the revolutionary Kurdish political leader, thinker and political prisoner Abdullah Öcalan will turn 71 years old.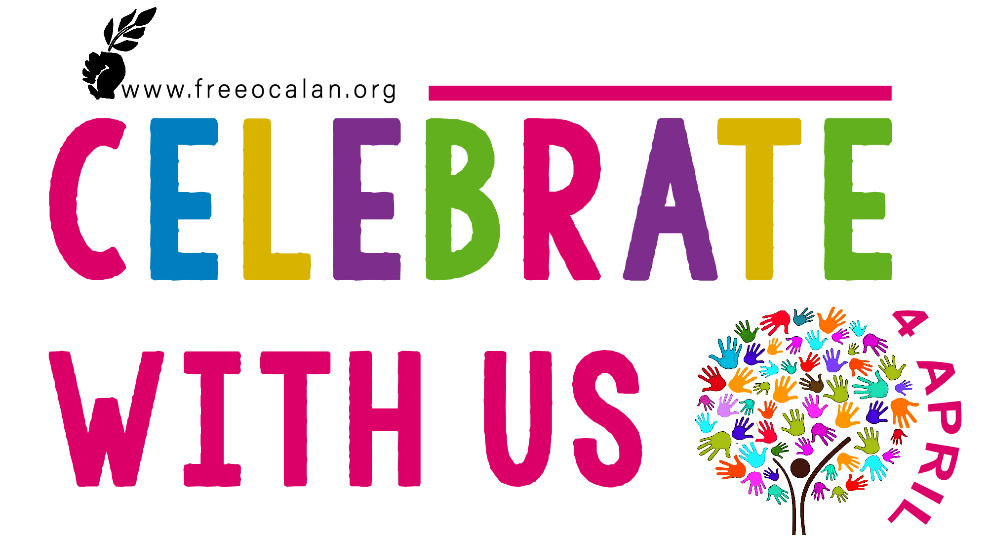 The International Initiative "Freedom for Öcalan - Peace in Kurdistan" has launched a campaign on social media to celebrate the 71st birthday of the Kurdish political leader. 
The hashtag for the campaign is  #FREEÖCALANFREETHEMALL.
The statement with wich the International Initiative invites everyone to celebrate Öcalan's birthday, says: "In his work, Öcalan often speaks of having been born three times. With his physical birth in his hometown Riha (Urfa), he first encountered the realities of Kurdistan. His second birth as a revolutionary came with the formation of the Kurdistan Workers' Party (PKK), which soon turned into a mass social movement. Finally, his third birth the paradigm shift toward democratic civilization, as articulated in his manifesto penned in İmralı Prison Island."
The statement continues: "Öcalan's and the other three prisoners' continued aggravated isolation is more than just a violation of their fundamental human rights. It is also an aggressive obstacle to justice and peace through a political solution to a decades-old conflict. Moreover, it constitutes the criminalization of a revolutionary whose ideas resonate with struggling peoples and communities around the world. His ideas have raised entire generations of young struggling Kurdish people, who insist: "Freedom or Freedom!" On a daily basis they mobilize communities in North and East Syria against occupation and for radical democratic self-determination through new concepts of togetherness. They also helped develop one of the most powerful, organized women's movement's in the world."
The statement reminds that "due to his imprisonment and ongoing isolation on İmralı Prison Island, we cannot physically celebrate his birthday with him. This year in fact, the Coronavirus pandemic has put a big part of humanity into some state of isolation and quarantine. In Öcalan's spirit, we believe that we can turn this moment into the momentum necessary to imagine more radical and meaningful horizons than what capitalist modernity has to offer. In this sense, celebrating his birthday means appreciating his person through his ideas and proposals through creativity, collectivity and solidarity."
To encourage more people to engage with his thought, the International Initiative invites everyone to participate in our #FreeÖcalanFreeThemAll campaign, launching at noon on 3 April, Friday.
The name of the campaign is inspired by the historic campaign to free revolutionary black political prisoner Angela Davis and all the political prisoners in the 1970s. "Similarly, - said the statement - hundreds of thousands of people used the slogan "Free them all" to demand the freedom of Basque politician Arnaldo Otegi and all political prisoners. The Coronavirus has recently become yet another occasion for people to rally around the cause of political prisoners from India to the American continent, from Turkey to Iran, Basque to Catalonia and everywhere around the world for those who are freedom fighters; seeking truth, justice and liberation."
The statement adds: "To this end, we want Öcalan's birthday to become a day of demanding freedom for all. We want to promote discussions on Öcalan, his prison conditions and the state of political prisoners around the world, wherever we are — whether in our family homes or in online video discussions."
The International Initiative invites everyone to share their activities using the hashtag 
#FreeÖcalanFreeThemAll
and send them to:
Several free downloadable books can be found at https://ocalanbooks.com