Joint appeal for international investigation into Turkey's use of chemical weapons
"As Iraqi Kurds, we have been victims of chemical weapons before.We lost nearly 10,000 of our people during the 1986-1990 period.Our people are still suffering from the complications of these weapons.Now, Turkey is doing the same atrocities on our lands."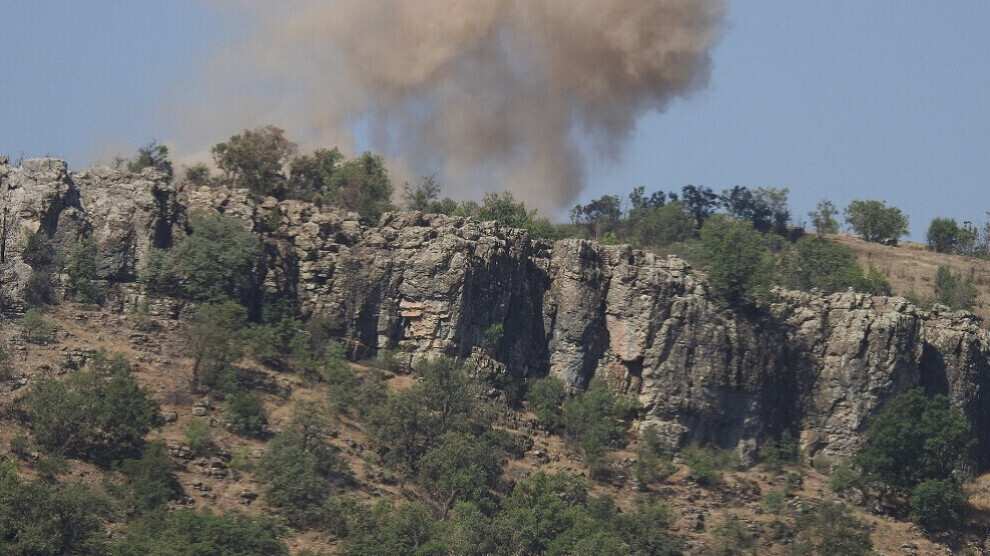 Over a hundred MPs, journalists, intellectuals, women's rights activists, human rights activists and civil society members from South Kurdistan have penned a letter calling for immediate action by international authorities in the face of the Turkish state's use of chemical weapons in its ongoing war against the guerrilla forces in southern Kurdistan, northern Iraq.
The letter is addressed to the Secretary General of the United Nations, António Guterres, members of the Executive Council of OPCW (Organization for the Prohibition of Chemical Weapons) and the UN office for Disarmament Affairs. The signatories call on the mentioned authorities to urgently send an independent commission and conduct investigations in the affected areas.
"We believe that conducting such an investigation is not only your legal and institutional obligation but also a moral and human duty," says the letter, which reads as follows:
"The Turkish army has been conducting cross-border military operations into Iraqi territory since 1983. The last phase of these operations, which began on April 23rd, 2021, marks a new phase of Turkey's regional policies and aims at occupying large swathes of Kurdish land within Iraqi territory. Recent military operations have specifically concentrated in the areas of Avashin, Zap, and Metina which are the rural and mountainous areas of Amediye and Duhok. As a result, most civilians have fled the area, turning it into a no-man's-land. The PKK guerrillas which have been in the area for nearly 40 years have hindered the Turkish army's advance. Unable to break the defense lines of the guerrillas, the Turkish army has indiscriminately been using chemical weapons, affecting both the guerrillas and the civilian population.  There are claims that the Turkish army is deploying weapons prohibited by the OPCW. These claims are increasingly being supported by video footage and various reports and personal accounts which have been circulating in the media for months. 
As Iraqi Kurds, we have been victims of chemical weapons before. We lost nearly 10,000 of our people during the 1986-1990 period, under the Saddam regime. Our people are still suffering from the complications of these weapons. And now, the Turkish state is doing the same atrocities on our lands. We don't want to frivolously elaborate on the reasons and agreements behind the prohibition of such weapons. You are already experts on this matter.  Our heart breaks and we are cut to the bone as we witness the death of people and the destruction of our natural life on a daily basis. You may question the validity of our data and reports, so we invite you to come to the area to collect your own data and write your own report.
We, as MPs, journalists, intellectuals, women's rights activists, human rights activists and civil society members would like to call on you to urgently send an independent commission and conduct investigations in the affected areas. We believe that conducting such an investigation is not only your legal and institutional obligation, but also a moral and human duty." 
Signatories:
Professor Mewlud Ibrahim Hasan, Salahaddin University, Irbil, Iraq
P.D. Meriwan Omer Hassan Dewlet, University Of Sulaimani, College Of Language-Kurdish Department, Sulaimani - Kurdistan Region, Iraq
Dr.Rafiq Sabir, Writer and poet, Uppsala, Sweden
Asos Hardi, intellectual and journalist, Suleymaniyeh, KRI, Iraq
Gasha Dara Hafid, Former MP in Kurdistan parliament, Member of Freedom Organisation, Suleymaniyeh, KRI, Iraq
Ari Abbas Qadir, University Lecturer, Polytechnic University of Suleymaniyeh, Iraq
Sirwe Nasreddin Majeed, University Lecturer, Suleymaniyeh, Iraq
Hakim Abdulkarim Abdulraheem, Politician, Derbendikhan, Iraq
Latif Mustafa Emin, Lawyer, Rights activist, Suleymaniyeh, KRI, Iraq
Nabaz Khalid, Rights activist, Suleymaniyeh, KRI, Iraq
Dr. Kamaran Mantik, writer and university lecturer, Irbil, Iraq
Hawzhin Mela Amin, University lecturer, Suleymaniyeh, KRI, Iraq
Mutassam Najmaddin, writer and journalist, Suleymaniyeh, KRI, Iraq
Tariq Fatih Hasan, Hawlati newspaper editor-in-chief, Suleymaniyeh, KRI, Iraq
Pishko Najmadin, Writer and researcher, Stockholm, Sweden
Dr. Bizhar Osman Ahmad, University lecturer, Irbil, Iraq
Dr. Sherko Hama Amin, Former MP, university lecturer, Suleymaniyeh, KRI, Iraq
Ali Karimi, writer, Britain
Dr. Jaafar Ali Rasoul, Former MP in Kurdistan Parliament, Suleymaniyeh, KRI, Iraq
Dr. Mohammed Mustafa Ibrahim, USA
Beyar Mulazim Omar, Political Activist, Sulaymaniyah, Iraq
Adnan Kerim, Writer, Australia
Dr. Osman Ismail, the Editorial Board of Digest Journal of Academic Studies
Fatah Zakhoyi, Civil rights activist, Canada
Mihemed Abdullah Aul Muhammad, Freedom Movement Co-Chair, Suleymaniyeh, KRI, Iraq
Namo Rostamzad, University lecturer, Irbil, Iraq
Rebwar. Rashed, Civil Seevant, Stokholm
Kwestan Davodi, Nurse Assistant, Stokholm
Hunar Jaffar Hama, physician, Suleymaniyeh, KRI, Iraq
Sabah Yasin, Writer and researcher, Suleymaniyeh, KRI, Iraq
Nawzad Shuani, Senior Economic Advisor to the Iraqi Council of Representatives, Baghdad, Iraq
Dr Kirmanj Gundi, Writer, USA
Seevan Saeed; Associate Professor in Middle East studies; Shaanxi Normal University-China
Dr. Kamal Mirawdali; Writer and poet; London, England
Jani Diylan, international broadcaster, journalist, artist, USA
Kamal Chomani, Journalist, Germany
Dr. Salar Basira, Germany
Ali Mahmoud, Rights activist, Irbil
Qadir Nadir, Rights activist, Sweden
Goran Gharib Mustafa, Rights activist, USA
Hiwa Naseh, Activist and Journalist, Switzerland
Diyar Aziz Sharif, Writer, France
Kazhal Hama Rashid, Human Rights and Women's Rights activist,  Toronto, Canada
Simko Rashid, Political Activist, Suleymaniyeh, KRI, Iraq
Hunar Tewfiq, Writer, Suleymaniyeh, KRI, Iraq
Adil Aziz Shukur, Journalist and artist, Suleymaniyeh, KRI, Iraq
Abdullah Mela Nouri, Former MP in Kurdistan Parliament, KRI, Iraq
Latif Fatih Faraj, Writer, Chamchamal, KRI, Iraq
Hemen Mamend, Rights activist and journalist, Suleymaniyeh, KRI, Iraq
Niaz Hamid, Political observer, Canada
Aram Ahmed Ali, Political observer, Netherlands.
Peykar Osman Ahmad, Writer, Finland
Dashti Suleyman Barzewari, Writer and social researcher, KRI, Iraq
Karim Ghafour, Journalist and film maker, Suleymaniyeh, KRI, Iraq
Hawraz Mihemed, Researcher and film maker, Suleymaniyeh, KRI, Iraq
Nihad Jami, Writer and theatre actor, Poland
 Hawar Mistefa Khan, Film maker
 Talib Rasoul, Teacher and artist, Britain
  Nabaz Abdullah Rasoul, Artist, Kolhn, Germany
  Hemide Yosēfî, Grafîst, Irbil, KRI, Iraq
Luqman Zindani, Jounralist and former political prisoner, Suleymaniyeh, KRI, Iraq
Khalid Abdulkarim, Journalist, Suleymaniyeh, KRI, Iraq
Luqman Hassan, Artist, Suleymaniyeh, KRI, Iraq
Kawa Nadir Qadir, Writer and Journalist, Irbil, KRI, Iraq
Nihad Al Kadi, Nederland
Babakir Direyi, Political activist and lawyer, Suleymaniyeh, KRI, Iraq
Saman Abu Bakir Ali, Writer and political observer, Stockholm, Sweden
Aso Goran mohammed, Political Activist, London
Bekes Berwari, Teacher and political activist,  Norway
Ibrahim Muhammad Faraj, Political Activist, Suleymaniyeh, KRI, Iraq
 Karwan Said, High school teacher, Sweden
 Majeed Dilniya, Writer, Germany
Faraydun Kunjrini, Journalist and civil rights activist, Germany
Jabbar Ahmad Ismail, Engineer, Irbil, KRI, Iraq
Ali Mawloud, Political Activist, Suleymaniyeh, KRI, Iraq
Tara Huseyin Muhammad, activist, Suleymaniyeh, KRI, Iraq
Omed Ali Hama Rahim, Journalist, Suleymaniyeh, KRI, Iraq
Yasin Sabir Amin, Writer, Hannover, Germany
Dersim Rahman Farhan, Interpreter, Denmark
Mano Barzanji, Writer, Amsterdam, Netherlands
Jawhar Mirawdali, Writer, Karitas employee, Norway
Dewen Mariuf, Writer, Suleymaniyeh, KRI, Iraq
Kawa Ibrahim, Physician, Canada
Gona Sirwan Mihemed, Teacher, Suleymaniyeh, KRI, Iraq
Soza Salar Majeed, Teacher, Suleymaniyeh, KRI, Iraq
Barzi Barham Abbas, Artist and student, university of Suleymaniyeh, KRI, Iraq
Barham Abbas Qadir, employee, Suleymaniyeh, KRI, Iraq
Bahar Huseyin Qadat, Suleymaniyeh, KRI, Iraq
 Idris Ibrahim Soryani, Economist, Stockholm, Sweden
Naghada Hassan, High school teacher, Sweden
Rashad Huseyin Hassan, teacher, Suleymaniyeh, KRI, Iraq
Jabbar Ahmad Ismail, Engineer, Irbil
Abdullah Pola, Former Peshmarga, California, USA
Adil Osman Muhammad, political activist, Suleymaniyeh, KRI, Iraq
Shahla Hafid, Uppsala, Sweden
Aram Haji, Researcher and lawyer, Suleymaniyeh, KRI, Iraq
Aras Rafik, Self-employed, Canada
Pshdar Akoyi, teacher, Germany
Hasan Hama Amin Marif, Dentist, Suleymaniyeh, KRI, Iraq
Hama Sai Bapir, Writer and artist, Suleymaniyeh, KRI, Iraq
Ako Qadir Hama, Social Researcher, Darbandikhan, Iraq
Jamal Hamid Karim, teacher, Darbandikhan, Iraq
Salahaden Sophy, tockholm Sverige gräningsvägen
Alwan Abdullah Hasan, Women's rights activist, Suleymaniyeh, KRI, Iraq
Farhad Younes Abdullah, teacher, Chamchamal, KRI, Iraq
Reshan Muhammad Abdullah, Lawyer, Suleymaniyeh, KRI, Iraq
Tishna Muhammda Abdullah, Civil Manager, Suleymaniyeh, KRI, Iraq
Rojbin Muhammad Abdullah, Student of Medicine, Suleymaniyeh, KRI, Iraq
Omar Muhammad, Journalist, Suleymaniyeh, KRI, Iraq
RELATED NEWS: