Karayılan: We are ready for Shengal when needed
People's Defense Center General Command Commander Murat Karayılan sent a written message to the YBŞ General Command on the 4th anniversary of the Shengal Genocide.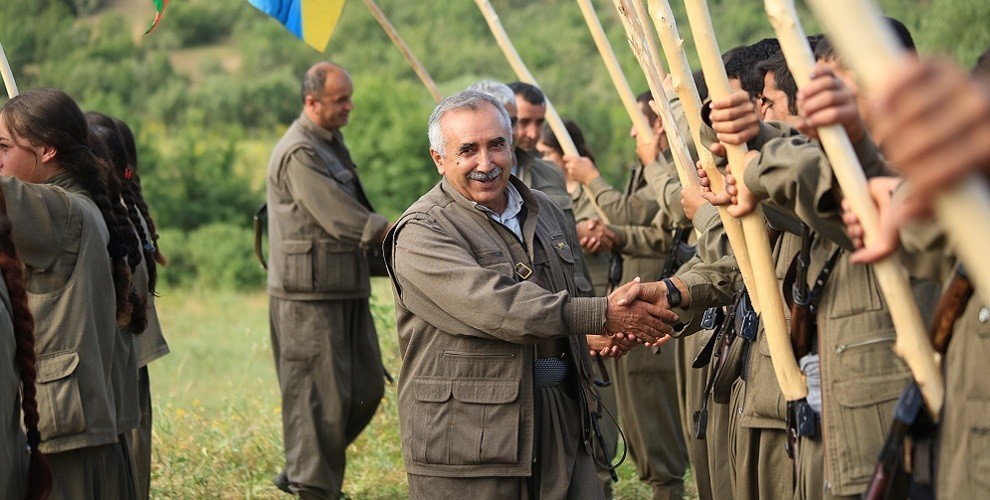 Shengal Resistance Units (YBŞ) General Command held a ceremony on the 4th anniversary of the Shengal Genocide with participation from organizations in Shengal.
People's Defense Center General Command Commander Murat Karayılan's message was read in the ceremony.
In his message, Karayılan said: "Our main duty in this genocide is to prevent the genocide ever happening again."
Karayılan called the people who lost their lives in Shengal "martyrs of the Kurdistan Freedom Struggle" and stated that the Shengal resistance has been the leader in the struggle against ISIS barbarism in Iraq and the Middle East.
"OUR FUNDAMENTAL DUTY IS TO PREVENT IT EVER HAPPENING AGAIN"
Karayılan said: "First, we salute your command, all YBŞ members and all the people of Shengal. We wish you success in all your efforts.
On the 4th anniversary of the 74th genocide, we remember with respect and gratitude all the martyrs of the firman and the martyrs of the Shengal resistance. We bow in respect in front of their memory and repeat our promise to all martyrs for the martyrs of the genocide and the Shengal resistance. Martyrs of Shengal are also martyr of the Kurdistan Freedom Struggle. Their name will live on in the peoples' struggle for freedom.
On August 3, a genocide was implemented by ISIS. We strongly condemn this genocide. But for us revolutionaries, just condemning is not enough. We must hold the perpetrators of this genocide to account and take necessary precautions so the firman never happens again. Our fundamental duty is to prevent the genocide from ever happening again.
"YBŞ IS A SACRED RESISTANCE AGAINST THE GENOCIDE"
August 3 is the day our people were subjected to a genocide. Thousands of our people were violently murdered and thousands of Yazidi women and children were enslaved. For us, for our people, August 3 is a dark day. But there is another side to this day. This day is also the day when a sacred resistance against genocide and darkness started in Shengal. In the course of this sacred resistance, your YBŞ forces built themselves under conditions of war. YBŞ was founded not at tables but in the battle field. YBŞ-YJŞ were founded to stop the genocide and to protect the people. This is a sacred organization. This is a source of pride for all YBŞ-YJŞ members. You displayed a historic resistance against genocide in the light of Leader Apo's philosophy and you built your own organization. You put up the flag of resistance and liberated Shengal.
"STOPPING THE GENOCIDE OF THE CENTURY"
There is no doubt that the Shengal resistance stopped the genocide of the century. If it wasn't for this resistance, ISIS gangs would have murdered tens, hundreds of thousands of Yazidi Kurds in Shengal mountain and implement an even greater genocide. The Shengal resistance prevented that. Not only did it prevent a great massacre, but it also sparked the resistance against ISIS in Iraq and Syria. The Shengal resistance also has a historic role and mission. Not everybody admits to it, but until August 3, 2014, there was not a single force that fought ISIS and won. In this sense, the Shengal resistance led the struggle against ISIS barbarism in Iraq and the Middle East.
"TURKISH STATE IS BEHIND 74TH GENOCIDE, THREAT CONTINUES"
We are glad that Raqqa is no longer a capital of Raqqa, and that a victory of the revolution has emerged there. We are glad that Iraqi forces have rescued Mosul and other regions from ISIS and that ISIS has been ended in Iraq. But we are certain that ISIS is not completely over. Their state project has failed, but ISIS hasn't ended yet. ISIS didn't carry out the Shengal attack on its own. They had the Turkish state's attacks behind them. Now the Turkish invasion is active in Southern Kurdistan, Iraq and Shengal with the alliance of the AKP-MHP, Ergenekon and remnants of ISIS, and its threatening Iraq and Shengal. So the danger is not completely over yet. Turkish President Erdoğan sees himself as Sultan Abdulhamid, and wants to take Iraq and Syria under his control. In this context, he is acting in a new concept. The attacks against Afrin have been done completely within this extent. For that, the threat is not over just yet. All revolutionary and democratic forces must organize themselves against fascism and racism and form their units.
"YBŞ CAN PROTECT ITSELF AND THE PEOPLE"
We are certain that you as the YBŞ will fulfill your role and mission for the development of Shengal's autonomy with your allies and friends in Iraq and the region and the protection of Federal and united Iraq and Southern Kurdistan. We are glad that you as the YBŞ are at a level where you can protect our people today and to organize yourself on this foundation. You have displayed a historic resistance following the path of the heroic martyrs to date, and you were able to organize. We believe you will fulfill your duties in the future as well.
"IF THERE IS AN ATTACK AGAINT SHENGAL WE WILL BE YOUR DEFENSE"
Because you have reached the level necessary to defend yourselves and don't need our forces any more, the
Kurdistan Freedom Movement saw it fit to have our HPG forces withdraw from the area. Yes, we have withdrawn from the area, but we rest easy knowing that you control the positions there. We will be there again, ready, when there is a need. All the Yazidi society must know that we as the Apoist movement are behind you at all times, on orders from Leader Apo. If the enemy attacks the Yazidi society, we will be your defense forces. The Yazidi society must know that you are not alone. You have the defense force YBŞ. If there is a need, all our movement is behind you. Esteemed friends, know this very well and believe in it.
We are certain that the YBŞ-YJŞ will fulfill the necessary role and mission for the people of Shengal and all the region, under the lead of our heroic martyrs Berxwedan, Dilgeş, Avesta and Genco. We remember all sacred martyrs of the firman and the Shengal resistance and salute all who follow the path of heroic martyrs, all YBŞ-YJŞ members and ally forces. We wish you success, and salute you with respect and love."