KCK's Avesta: Lands of South Kurdistan are turned over to Turks
KCK Executive Council Member Sozdar Avesta said the South Kurdistan authorities have officially handed over the lands of South Kurdistan to the Turkish state and called on the people to stand against the invasion.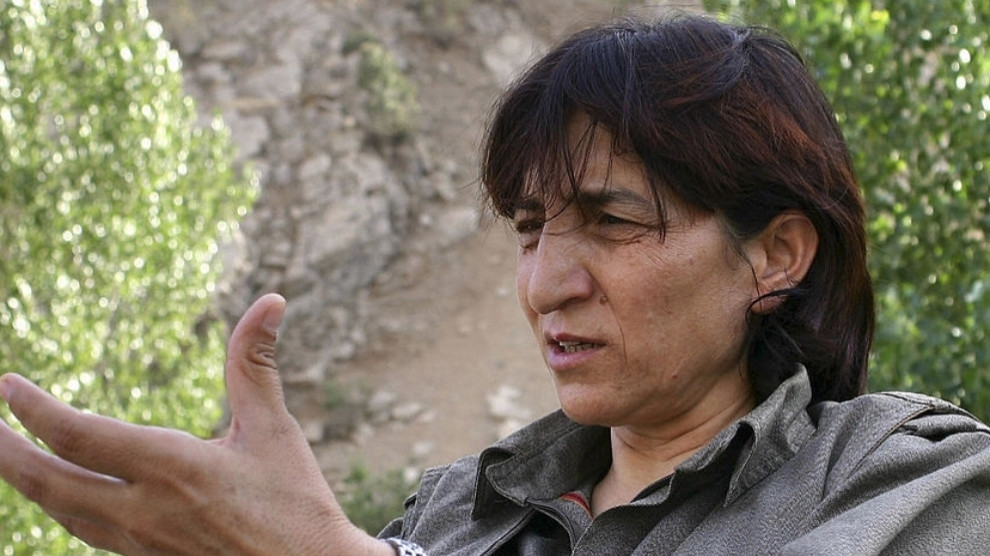 Kurdistan Communities Union (KCK) Executive Council Member Sozdar Avesta spoke to Sterk TV about current developments.
Avesta said Kurdish People's Leader Abdullah Ocalan was able to meet with his lawyers and family due to the resistance that developed under the lead of the hunger strikes and death fasts against the isolation and added the following:
"It is not clear whether these visits were used for the elections or not. But with the meetings, the atmosphere in Turkey changed. The Kurdish and Turkish peoples breathed more easily. Talk of democracy, freedom and defending rights as well as a search for justice emerged again. When there are meetings with Leader Apo, when Leader Apo's conditions are improved, when Leader Apo intervenes, it has been seen that it is easier and faster to resolve problems."
"OCALAN IS THE HEAD ACTOR"
Avesta continued: "Leader Apo is the head actor. He has a philosophy, he has science and he has a project. He has 50 years of experience in Middle Eastern politics. If the state is to stop approaching things in terms of daily interest, if they want to resolve issues, these meetings should continue. Not only these meetings, conditions where Leader Apo can act freely should be ensured. Leader Apo should be included in the process and the new perspective should reach the public more."
"LEADER APO'S STATEMENT IS CRYSTAL CLEAR"
Avesta said the academic Ali Kemal Ozcan being sent to meet with Ocalan a few days before the elections had "ulterior motives" and continued:
"Leader Apo's perspective is clear, and we know it well. Leader Apo's paradigm is the third way. Leader Apo has insisted on this for years, and has written several books about it. They wanted to make it look like nothing had been said, nobody knew anything of it, like it was a new thing. The Freedom Movement is Leader Apo's movement. Democratic forces were able to comprehend what Leader Apo meant correctly. Even if it was distorted, the meddlers failed. Leader Apo's statement was clear. They wanted to create chaos with bad intentions."
Avesta said the HDP had a strategic approach to the Istanbul elections and said, "We will defeat fascism in Turkey", and added: "This approach defeated the fascist bloc on March 31."
FALL OF AKP-MHP INEVITABLE
Avesta said: "AKP and MHP have fallen on their heads in the election, nobody can stop their downfall now. Democratic forces should fortify themselves after the election, produce projects and not allow the AKP-MHP to recuperate. The alliance in Istanbul should continue. Everybody saw that the Kurdish people are a fundamental actor."
"SOUTH KURDISTAN AUTHORITIES GIVE A HAND TO ERDOGAN"
Avesta said the Turkish state has been attacking to invade southern Kurdistan and added that it is neither the first time or anything new, and that the Turkish state has attempted to invade South Kurdistan several times before. Avesta added that the freedom movement and the guerrilla fought against the invasion attempts every time and defended the lands of South Kurdistan with human shields.
Avesta saluted the HPG and YJA Star guerrillas who "formed a wall against the invasion and fought the invading Turkish state from Haftanin to Xakurkê". Avesta commemorated the martyrs of the struggle and said, "They defend human dignity."
Avesta pointed to South Kurdistan authorities' responsibility in the invasion attempt and said, "Since Erdogan came to power, whenever his government is stuck or defeated the authorities in the South have given them a hand. They have frequently tried to join forces and trick the Kurds in elections." Avesta said; "It is the PDK (Kurdistan Democratic Party, KDP) officials who act this way the most."
"BARZANI HANDED OVER SOUTH KURDISTAN IN ERDOGAN VISIT"
Avesta said various powers and Kurds had an expectation from Nechirvan Barzani as he assumed the Prime Ministry that he would have a different stance than other administrators, and continued:
"Now they are setting up a Barzani dynasty in South Kurdistan. This is how this should be seen. At a time of all these attacks, Nechirvan Barzani went to Istanbul during an election campaign and met with Erdogan. We see that this was not just as a support for elections. This meeting was the official handing over of Kurdistan's lands to the Turks. One day after the visit, 6 hills were handed over to Turkish soldiers in Metina. This time in Zakho, these facts must be seen."
CALL ON THE PEOPLE: DON'T LET THEM
Avesta called on the people of South Kurdistan, the Kurdish people, students, women and patriots, and witnesses of the Halabja massacre, to not let the Turkish state settle in Kurdistan.
She called on MPs in the Iraqi and South Kurdistan Regional parliaments and said: "If they truly have a loyalty to their homeland, they should ask questions to the President of South Kurdistan."
Avesta called on all peoples of Kurdistan and all Kurds abroad to stand up against the Turkish state invasion.
KCK Executive Council Member Sozdar Avesta called on Nechirvan Barzani and stressed that the current situation is unacceptable. She said, "The calamity that the Kurdish people have suffered is enough already."
Avesta called for a return to the national unity and national congress efforts and said: "If he wants to be the president of the Kurdistan Regional Government he should do that. Nobody else can save themselves outside of this stance."