Lawyer Uysal: Öcalan is a litmus test for the Turkish judiciary
Newroz Uysal, lawyer for Kurdish people's leader Abdullah Öcalan, speaks about the isolation of her client and the legal, human rights and universal dimensions of Imrali.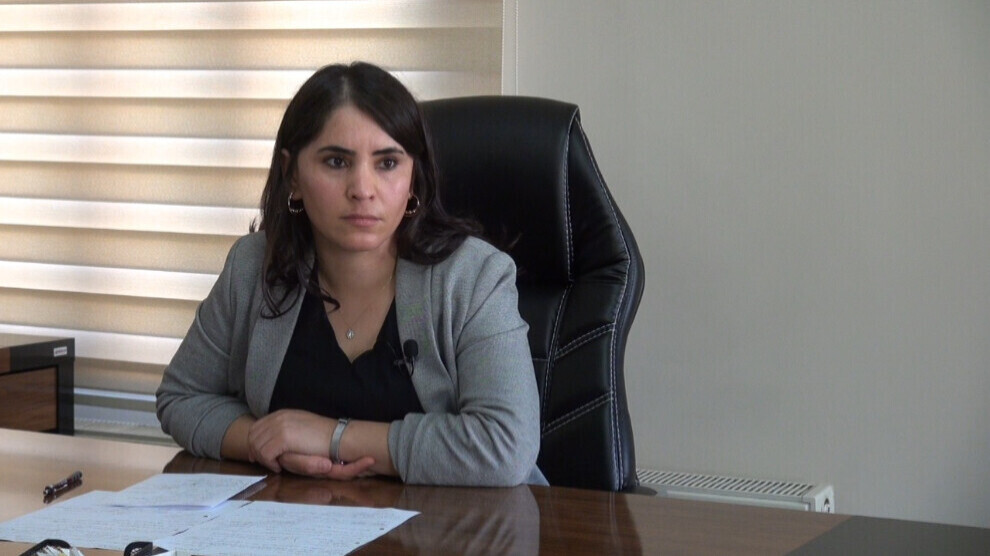 Kurdish people's leader Abdullah Öcalan has been kept in total isolation in the special prison on the island of Imrali for more than 21 years.
Isolation has only been broken through massive protest actions in recent years. After a worldwide hunger strike, Öcalan's lawyers were able to visit their client a few times in 2019.
The visits, however, ended in August 2019. Since then, Öcalan has been under total isolation again. The special laws and regulations that affect Öcalan and thus the representatives of millions of Kurds are the yardstick for the Kurdish policy implemented by the Erdoğan regime.
The legal office Asrin, which represents the Kurdish leader, labels these regulations "Öcalan's laws". Lawyer Newroz Uysal was able to visit Öcalan several times in 2019.
Newroz Uysal, lawyer for Kurdish people's leader Abdullah Öcalan explained the meaning of the isolation imposed on Öcalan in this interview with ANF.
The Kurdish Question and Imrali
Uysal saw parallels with Nelson Mandela's isolation on Robben Island and the unlawful status of Guantanamo: "These comparisons are partly correct, but on Imrali there is a very special situation. Throughout history, leaders in national liberation struggles have always faced repression and have also always resisted against it. Alongside this resistance from individuals, movements have fought for their rights. As a result, developments have been taking place in the respective regions and around the world.
As to the situation of Mr Öcalan, it can be said that the Kurdish question is still hot in both the Middle East and Turkey. There is no political force in the world that is inclined to find a democratic solution to the Kurdish question. On the contrary, we are in a process characterized by an anti-democratic tendency, which tries to impose a solution through the integration into capitalist modernity. From this point of view, unfortunately, we cannot speak of a development process with regard to Mr Öcalan similar to those which occurred with the other examples of political prisoners. There is no development in which a peaceful solution can be found and ultimately his release achieved. In fact, even if we assume that this possibility existed in the peace process developed between 2013 and 2015, it is still doubtful that sufficient political preparation or legal basis existed."
Mr Öcalan's freedom is possible
Uysal pointed out that Öcalan's detention has political reasons and, unlike in similar cases worldwide, the legal dimension hardly plays a role. "We have been saying for 22 years that Öcalan's detention conditions have a political foundation and that the legal system is used as a political tool. Even if the detention conditions lacked any legal basis and should not exist legally, they would continue due to political decisions. Therefore, a parallel political process is necessary." The lawyer added: "This was the case in all examples worldwide. There has been a change in law due to a revolution, a coup, or the strength a struggle has attained. When Mr Öcalan was sentenced to death, the law changed and his sentence was commuted into an aggravated life imprisonment. After 2014, a ruling by the European Court of Human Rights should have revised the life sentence. With a change in the law, it would be possible at any time to create a control mechanism and release Mr Öcalan. To do this, however, there must be a political force that creates a basis for it. Unfortunately, there is no such thing."
What are the "Öcalan's Laws"?
Uysal describes the complex of "Öcalan's laws" with these words: "With the arrest of Mr. Öcalan, a process began in which the law has been completely ignored. His capture, imprisonment on the island, the lack of status as a detention center for a single-person prison on Imrali and a whole series of illegal practices are part of what we describe as the 'Öcalan Laws'. This process has led to changes in legislation over time. It is a conglomerate of legal violations that we describe as 'Öcalan's Laws'. For example, some of the laws only apply to Imrali. The 2005 ban on lawyers on Imrali is an example of this. Until the attempted coup in 2016, the ban on lawyers was only used against Mr Öcalan. The tapping of the inmate's conversations also officially took place for the first time on Imrali. Much of today's prisons violations were first put in practice in Imrali and then spread to all other prisons. The laws that apply formally to everyone but only apply to Imrali are called 'Öcalan's laws'."
13 months without any answer to requests for visits
Regarding the breaking off of contact with Öcalan since August 2019, Uysal said: "Even before the hunger strike in 2019, there were consecutive six-month visiting bans imposed from 2016. But after our last visit on 7 August 2019, all of our applications were simply ignored until September 2020. That was also a first in the history of Imrali. We received no response for 13 months. Afterwards, a six-month ban on lawyer's visits has been imposed again. The ban is justified with disciplinary sanctions against Mr. Öcalan dating back to 2009. The same applies to the ban on visits by relatives."
Human rights activists are silent
Lawyer Uysal also spoke about the role of human rights organizations in Turkey and North Kurdistan and criticized their attitude. "Regardless of the political role that Mr Öcalan takes as a representative of a people and leader of that people, he is legally a prisoner. This applies to both penal legislation and the rules governing the execution of sentences. If we start from his capture and kidnapping and consider his 22-year isolation, then we can only speak of a very suspicious situation. There are people and institutions who consider Mr. Öcalan's legal position and who oppose this one-sided legal interpretation that disregards the law with a 'but'. These include the Council of Europe's Committee for the Prevention of Torture and the Council of Europe itself. Campaign against Guantanamo have taken place around the world. Guantanamo is referred to as a 'black hole' in court judgments. However, the same institutions that protested against Guantanamo are silent on Imrali, the prototype of Guantanamo.
There are many examples of prisons in the reports issued by the Council of Europe, but nothing on Imrali. This leads one to think that in fact, this is a conscious political decision. Mr Öcalan's political position has not weakened in the last 22 years, on the contrary. He himself carried out a well-founded intellectual analysis of the problem from his position in prison and worked for a concrete solution on a democratic and peaceful basis. He himself describes this phase as a 'continuation of the communication process'. This role as contact person has motivated many people and institutions, especially in the human rights field, to object to this illegal situation. There is no moral, ethical or legal justification for his situation.
Precisely because there were practically no or only inadequate protests, the practice carried out in Imrali has eventually extended to all prisons during the State of Emergency. One injustice inevitably leads to another. Mr. Öcalan is a litmus test for the Turkish judiciary - this crucial role of Öcalan is undeniable."