"Mehmet lives in the collective memory of every Kurdish family"
In an interview with ANF, documentary maker Nikola Ivanovski talks about his motivations to make a film about the last few months in the life of Mehmet Aksoy, who died as a member of the YPG Press Center in an ISIS attack in Raqqa.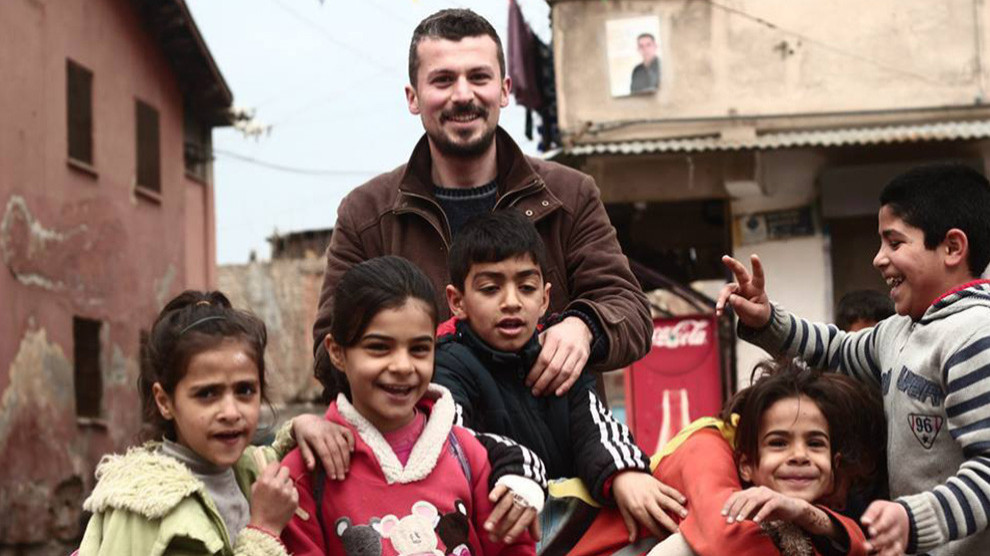 "Looking for Mehmet" is the title of a film project by the Macedonian documentary maker Nikola Ivanovski about the last months in the life of the journalist Mehmet Aksoy (Nom de Guerre: Fîraz Dağ). Aksoy was a member of the YPG Press Center and accompanied the offensive against the so-called "Islamic State" (ISIS) for the liberation of the northern Syrian city of Raqqa. On September 26, 2017, he died in an ISIS attack while working on a documentary about the offensive.
For "Looking for Mehmet", Ivanovski will go on a trip to Rojava with Mehmet Aksoy's mother Zeynep and his sister Gonca to study the time of the journalist in the region through interviews with related persons and archive footage he made on the ground. together. In an interview with ANF, director Nikola Ivanovski talks about his motivations for the film.
Did you know Mehmet personally?
I didn't get a chance to know Mehmet personally while he was still among us but we were moving in similar circles and had a number of friends in common. We probably bumped into each other at some events but never formally met. I was aware of him and his work.
Mehmet is not the first person from Europe or England to join the YPG and lose his life. What makes Mehmet so special that you want to make a documentary about his life?
It is true that there are many other people that joined the fight against the IS and were martyred. What drew me to Mehmet's story were a number of things. I have become aware of the Kurdish issue later in my life through my studies in politics and I've been trying to find a way to make a film that tells the Kurdish story for a good number of years. When I heard about his tragic death I spoke to his uncle and he told me that he was in Rojava making a film about the Kurdish fight against ISIS. I enquired what happened with the material he filmed, and I was told not much is done at the moment. I asked permission have a look at this footage, thinking this person started something that I wanted to do so it would be good to finish his work and through that pay tribute to a fellow filmmaker who gave his life doing a story that I wanted to do. Then I attended his funeral and filmed it and realised that there is a lot more to the story that I originally thought.
There were some 6000 people attending his funeral, from all over the world and all walks of life, MPs, trade union leaders, volunteers calling from Rojava, academics, rabbis, priests, activists…He was a great character, charismatic, handsome, intelligent, talented, popular and had everything going for him. He had touched the hearts and lives of so many people worldwide. What makes a person like that leave everything behind and go fight with a camera for a land he never knew but felt was his home. What are those values? This fascinated me infinitely. But what really shocked me at the funeral is the realisation that his family didn't really know just how popular and important their fallen son was. So the idea matured over the next few months, as I was getting closer to the family. I felt their grief and pain and felt through this film I can give them closure with his untimely death and leave a lasting legacy to the important work he was doing, both for the family and for the Kurdish communities worldwide. As I researched more and more about his life I came to realise then that the tragic story of Mehmet is the embodiment of the tragic story of the Kurdish struggle for recognition and autonomy, which is one of the greatest political tragedies of the 21stcentury. And by telling the story of Mehmet's life I am telling the story of the Kurds to the world.
On a personal level I find a lot of similarities between our stories. We both with grew up with multiple identities. Mehmet was born Turkish-Kurdish, grew up British, only to discover his Kurdish identity in his teens. I was born Yugoslav, when I was 7 I was told I'm Macedonian and then I left and lived around various European countries eventually settling in Britain. We were both journalists then filmmakers and we shared the same political values. On a wider political level, the story of the Kurds was the story of the Macedonians until 1944 when Josip Broz Tito gave Macedonia status within the federation of Yugoslavia. Before that Macedonia didn't formally exist as a country thanks to the political machinations of the great powers (Britain and France) following the Balkan wars. The Macedonians, much like the Kurds, were divided among Serbia, Greece, Albania and Bulgaria and persecuted. While the Macedonians got a country in 1944, the Kurds never did. So I could understand and relate to the Kurdish political plight.
During the fight against the so-called Islamic State Mehmet was particularly active after the ISIS raid on Shengal in August 2014 at a fast pace to inform and organize the Kurdish population and the European public. Many people were influenced by his actions. Could the gap he left be filled?
Mehmet held a very valuable role in the Kurdish fight against IS and the wider Kurdish movement. His importance of spreading the word about what is happening in Rojava as well as serving as an inspiration cannot be emphasised enough. He was also a community leader, bringing people together, always ready to discuss and debate and from what I gather always had time to speak to anyone. Sadly, people like him are rare and it will be difficult to fill his shoes. But what can happen is that people find inspiration in his life and legacy and continue his important work. Ideally, his sacrifice would serve as a multiplier and would spawn many new Mehmets.
A speech made at Mehmet's funeral in London included; "Mehmet has managed to solve the Family / Fight dilemma in which every Kurdish teenager in Europe lives and has shown the courage to join the liberation struggle." Was the Kurdish youth in the UK influenced by Mehmet's involvement in this struggle?
I would like to believe that yes, he definitely serves as an inspiration to the Kurdish youth in the UK. His name lives on in the collective memory of every Kurdish family in the UK. However, let's not forget that his resolution of the dilemma leaves a bereaved family behind. It is an interesting conflict, very particular to the Kurds having to leave scattered around the world and on their land in Iran, Iraq, Turkey and Syria but without rights and recognition. On the one hand he is a hero and a martyr to the movement and his mother, much like every other Kurdish mother who has lost a son or daughter for the struggle is proud. But on the other hand, on a personal level, his family lost their son and brother. Nothing can replace that. So it is an interesting and unique aspect I find among the Kurdish community that I am interested in exploring via this film. And let's not forget that there are thousands of other Mehmets around the world among the Kurdish diaspora. And the story of Mehmet represents all these stories.
With your documentary you want to describe the last months in the life of Mehmet. Are you also planning to address the emotional conflicts of the Kurdish youth in Europe and the values that were crucial to Mehmet's journey to Rojava?
Through Mehmet's journey from a filmmaker to a revolutionary, from Mehmet Aksoy to Firaz Dag, I will undoubtedly touch upon the emotional conflicts of many other Kurdish youths worldwide. Mehmet had to make difficult choices in his short but rich life. Not telling the closest family about his decision, leaving behind a love story because he couldn't reconcile his love for Rojava with the demands of a normal relationship. There are so many topics that will resonate with the Kurdish youth around Europe that I believe many will recognise their dilemmas and issues through Mehmet's story. And this is why it is very important to make this film.
This documentary will be about the life of a person who grew up in Europe and has been very successful in many different areas of life. As an outsider you might think that Mehmet was a 'well integrated' young man with Kurdish roots. How do you want to handle the change in Mehmet's life through the Kurdish liberation struggle? How do you interpret this situation as a director? Is Mehmet's rebellion an inspirational drama or a real phenomenon that requires revolutionary courage in which everyone can find a part of themselves?
Whilst on the surface, Mehmet was a well-integrated young Kurd in British society deep inside he was unsettled. As he was developing his political values in his teenage years he was more and more feeling like an outsider in the UK. He found British society to be too capitalist, too materialist. And when the civil war in Syria started and he saw what was happening in Rojava, particularly after the siege of Kobane, he idealistically saw the chance of a new and better world, one based on values he treasured, such as gender equality and direct democracy, come within the realm of possibility. And it is this journey from a well integrated young British Kurdish man to a revolutionary (From Mehmet Aksoy to Firaz Dag) that the film will be primarily deal with, the discovery of that journey through the eyes of his family as they travel around the world to meet the people he worked with as a way to understand why he did what he did and what it all meant. In the film I will also be paying close attention to some of the fiction films he directed, particularly the early work, stories of being a young immigrant growing up in London as well as his latter work, the film he made on the border between Turkey and Rojava in 2014 during the siege of Kobane. Mehmet's story is both an inspirational drama that lends itself compellingly to the big screen but at the same time a real and somewhat unique phenomenon for the Kurdish community. And I feel the themes within the story (love, loss, sacrifice, solidarity, revolution, family) are universal both for Kurdish audiences and general audiences worldwide which is what makes his story great for a film.
Would you make this movie if you were not a friend of Mehmet and if it was the story of someone else?
As I said, I didn't know Mehmet personally only peripherally. But the fact that I didn't I feel puts me in a good position to be objective as a storyteller as I am unburdened by a direct pain and trauma were I to be his close friend. However, I am in a good position to utilise the story to help with family and community heal their pain through making this film.
Are the crew members also friends of Mehmet?
None of the crew-members are friends of Mehmet. But many of his friends will appear in the film as contributors. I feel it is important to separate the professional and the personal in order to focus more objectively on the story and be able to persevere when the difficulties in the production process arise.