'Navda achieved everything she set out to do'
Navda Dinç (Beritan Amed Evren) was buried five years after her death. Her mother Sebahat said that her daughter always achieved what she set out to do.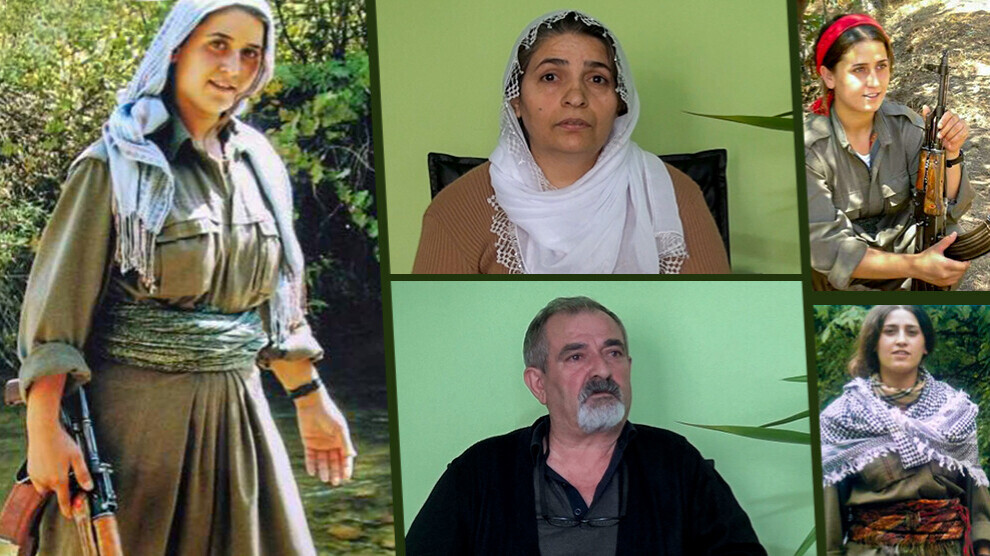 The family of Navda Dinç, who joined the Kurdistan Freedom Struggle at a young age and fell as a martyr during the autonomous government resistance in Gever in 2016, was able to get their daughter's body after five years.
The family told ANF about Navda's childhood and teenage years.
Navda Dinç (Beritan Amed Evren), from Amed, left the house one day while she was living in Istanbul and never returned. She sent a message to her family about her whereabouts a few moments later. Her family, on the other hand, was anxiously awaiting news, but once they learned about her, they were relieved that she was alive and chose her own path.
She was both working and politically active
Sebahat Dinç, Navda's mother, told anecdotes about her daughter's childhood. Navda was 16 when she left home. She was determined and confident even as a child. She refused to have anything imposed on her. Navda began working at a young age in order to help her family. She worked in a variety of jobs. She worked continuously in both Amed and Istanbul and spent a lot of time doing textile work. Soon Navda got involved in political activities.

Involvement in young people activities
Sebahat Dinç said: "After coming home from work one night, she told me that she wanted to participate in youth work. She'd already made up her mind. All we had to do was offer our assistance. My only concern was that she would get tired quickly because she would do several things at once. I told her that, but she said she would do it all for free and would never get tired of it. She made significant progress in youth activities. On a winter night, it was bitterly cold. We gathered around the stove. When Navda returned home, she wanted to say something but couldn't. She was walking around the room all the time. When I asked her what was going on, she told me that she needed to spend a few months in another city. 'You can go, but it would be better if you were here in front of our eyes,' I said, but she said she had made her mind up and would leave. I was only able to tell her that if she had made up her mind, there was nothing I could do.'"
Life in the guerrillas
Sebahat Dinç underlined that her daughter Navda achieved everything she set out to do. That's why, when she made a decision, she always got her request accepted through dialogue. She describes her daughter's participation in the guerrillas with these words: "We were all living in our relatives' homes as we were painting our house. I went to see my uncle. I invited Navda to join me. 'Better not,' she answered. I couldn't understand what she was saying, so I told her to come and left the house. She didn't show up that evening nor the other day. We looked everywhere but couldn't find her. You know that Istanbul is a huge metropolis, quite unsafe for women."
The fact that they couldn't find Navda terrified the family. Every day, the family was gripped by fear that something had happened to her in Istanbul. Three days after their daughter had gone missing, the family received a phone call informing them that Navda is in the mountains. Sbahat Dinç says that they respected their daughters's decision and hoped her future would be bright.
Martyr in Gever
Navda was a member of the guerrillas for 16 years and carried out her tasks in several locations. She joined the self-government resistance in Gever in 2016. There, she primed. However, she fell as a martyr during the clashes.
The bodies of YPS and YPS-Jin fighters were buried in Erzurum's cemetery on the nameless without informing their relatives. Among them was Navda's body.
Despite numerous attempts, the Dinç family was unable to obtain their daughter's body. Only recently, father İsmet Dinç was able to carry his daughter's body to Amed and bury her.
We were looking for our daughter's remains
Father Dinç fought for his daughter's body for 5 years. He walked the streets of Erzurum several times. None of the meetings he had with the police, gendarmerie, prosecutors, or other officials resulted in anything; he did not obtain the remains of her daughter.
Father Dinç said: "We learned that Navda had died from the television. Of course, there were banned areas back then, and we couldn't travel. We went to Malatya after a few days of waiting and were told she wasn't there. Then we went to Erzurum, where they advised us to go back to Malatya. We said we came from there and she wasn't there either. They tried to dismiss us by saying, 'We don't have her either'. We started to wonder whether she was caught injured."
The remains of Navda delivered after 5 years
Just as they were beginning to believe that their daughter was still alive, an employee called them as they were leaving the Erzurum Forensic Medicine Institute (ATK) and said: "You haven't heard this from me, but they took the bodies of about 12 people to the morgue and buried them in the cemetery of the nameless." Following this, the family travelled to the prosecutor's office and begun negotiating to clarify the issue.
Father Dinç said: "When we headed to the prosecutor's office, we were accompanied by two soldiers. They were, I believe, commanders. I described the situation to them, but they seemed uninterested. They told me to go outside and wait. I knocked on the door again after approximately an hour and entered. They scolded me and asked what did I want. I explained that my daughter had died and that I wanted to do a DNA test. They ordered a police officer standing nearby to get my blood. I supplied my blood, and they said they'd contact me in 40-50 days."
We were finally able to bury my daughter
The family, who was waiting for the DNA test results, didn't hear from the authorities for two years. Despite numerous visits to Erzurum, they were unable to get any answers.  They were continually being misled. They were informed that the last body might be held at Gever and they were sent them but in vain. They were then told that the files were lost due to an intra-state struggle in 2016. When the family contacted the ATK and the prosecutor's office, they were asked questions such as "Are you the terrorist's father?"
The family's struggle to find their daughter's body finally yielded results and on 11 November they were able to get her remains retrieved from Erzurum Cemetery of the nameless and to bury Navda in Lice (Amed).