Qamishlo first cycling team for women and girls celebrates its first anniversary
For a year now, Qamishlo has had its first cycling team for women and girls - a novelty, and as more and more women get on a bike, a taboo is finally broken.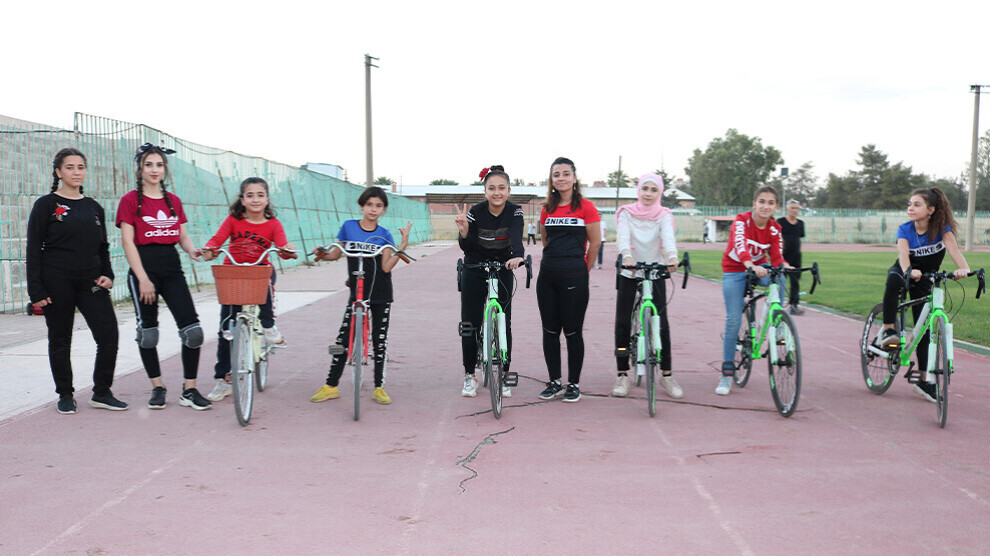 Almost a year ago, Medya Xanim initiated the Ez bisiklêtê dixwazim ("I want a bike") campaign in her column for the Kurdish newspaper "Ronahî". The journalist's appeal prompted the first cycling team for women and girls in Qamishlo. The team now consists of twelve enthusiastic female cyclists between the ages of nine and 22 who are busy training several times a week in the "Stada Şehîdên 12'ê Adarê" stadium in order to prepare for future cycling events. Medya Xanim is not only the founder of the team, but also the coach. There is now a cycling team in Kobanê as well.
"The main goal of this campaign is to make cycling possible for women in public not only in Rojava, but in all cities in the autonomous region of Northern and Eastern Syria, and thus to break a social taboo," says Medya Xanim. In Islamic countries like Syria or Iraq, cycling is taboo for women. Women on the bike are not part of the usual picture. The pressure comes from a society which is still partly patriarchal. Especially in rural regions, where traditional structures are still very dominant.
So it was not surprising that Medya Xanim's breach of a taboo also prompted hostility and she had some negative experiences. As a young girl, her enthusiasm for cycling was still accepted in her family environment, but that changed as she got older. For many women, cycling in public is still considered a "shame".
Fight against the conservative mentality of society
Medya Xanim has remained true to her passion and has not been intimidated. Every day she cycles through the streets of Qamishlo to work. At the beginning, she was often insulted and confronted with negative prejudices. Drivers even tried to prevent her from cycling. But at the same time, people in the multi-ethnic city got used to the young woman riding a bicycle, and the hostility is fading away.
"Cycling should be possible for women everywhere in Northern and Eastern Syria, regardless of their age. And that means fighting against the mentality of society," says Medya Xanim. Such initiatives are met with great opposition, especially in the Arab regions. The aftermath of ISIS rule is palpable.
It was therefore particularly very important to appear in public a year ago, for example at the bicycle marathon in Amûdê organized by the 'Ez bisiklêtê dixwazim' campaign. A week ago, the team also took part in the sports and young people festival of the northeast Syrian youth movement in Qamishlo. And there are plans for the near future: a bike marathon in the town of Dêrika Hemko and bike courses for women.