Racist attacks against Kurds: 5 dead in 7 years and many wounded
Considering the historical background, racist attacks in Turkey seem to be a current issue. Sometimes they were planned with direct involvement of the state and sometimes by subcontracting paramilitary structures.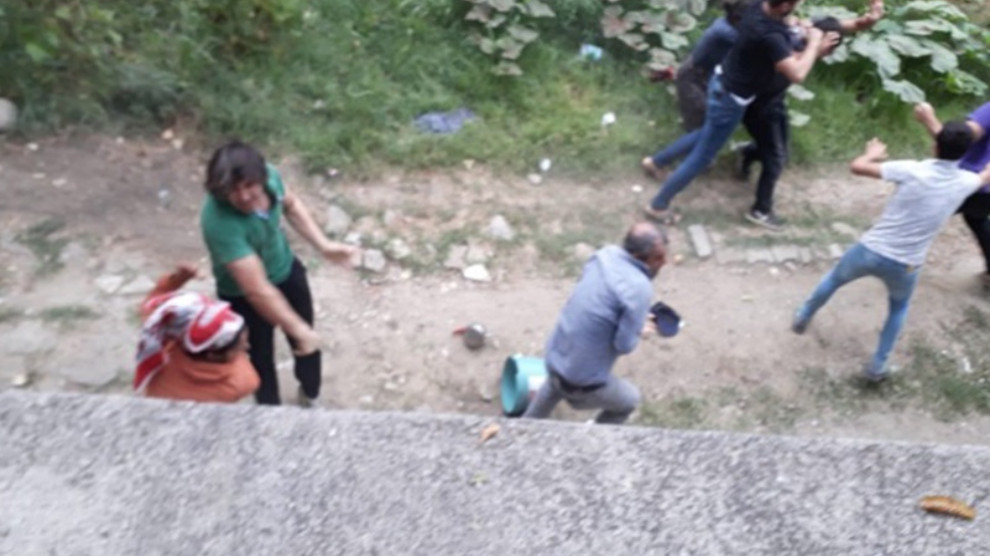 The Armenian Genocide, the 6-7 September Incidents, Maraş, Çorum and Madımak, are perhaps the most well known attacks. But in addition to these, there are many others and racist attacks against Kurds have been increasing in recent years.
These attacks became more evident after the 7 June 2015 elections. During a 5-month period, nearly 400 provincial and district organizations, including the Headquarters building of the Peoples' Democratic Party (HDP), were attacked through various methods. Party buildings were burned, stoned, and items inside were destroyed.
A long list of hate attacks
In the last 7 years, 4 people were killed, while more than 10 people were injured, as a result of racist attacks, according to press records.
Killed in racist attacks
Those killed in the attacks have been listed in the press as follows:
* Sedat Akbaş, 21, who spoke Kurdish on the phone while waiting for a bus at the bus stop in Istanbul, Kagithane in September 2015, was attacked by 6 racists with a knife and stabbed to death. As the AKP municipality did not provide a funeral vehicle for Akbaş, his remains had to be sent to Batman by bus.
* On 16 December 2018, 43-year-old Kadir Sakçı, was attacked by racists in the district of Hendek, Sakarya, and lost his life, while his 16-year-old son B. S. was seriously injured in the same attack. As father and son were speaking Kurdish H. U. asked, "Are you Kurdish or Syrian?" Sakçı answered 'Yes, we are Kurdish' and the man said 'I don't love you anyway', took out the gun and shot.
* On 23 August 2019, Şirin Tosun, an agricultural worker in Sakarya, was attacked by 6 racist people. 19-year-old Şirin Tosun was lynched by six people for speaking Kurdish in Sakarya's Adapazarı district and then shot in the head with a gun. She lost her life after 54 days of struggle in hospital. Şirin Tosun worked as an assistant at Öz Diyarbakır firm and went to Adapazarı to collect hazelnuts with her family.
* On 31 May 2020, a young man named Barış Çakan, living in Etimesgut, Ankara, was stabbed in the heart for listening to Kurdish music. Although Turkish Interior Minister Süleyman Soylu spoke to Çakan's family after the incident, he said in publica statements that what happened was not a racist attack.
* 13 September 2020 Erciş construction workers who went to work in Afyon's Dinar district were attacked with guns. Construction worker Özkan T. lost his life in the attack, Fırat T. and Emrah Ö. were wounded.
Wounded in racist attacks
The press also reported the following racist attacks resulting in people being injured:
* Rıdvan Işler was attacked by a group of racists because he spoke Kurdish in a bus in Istanbul in 2013. Işler was treated at Köroğlu State Hospital and him and his relatives had been under threat for a long time.
* A Kurdish soldier was attacked by racists on 10 November 2018. Fikret Aydemir, who was a soldier in Ağrı, was harassed for a long time by some racist soldiers because he spoke Kurdish and was threatened. Aydemir was finally attacked and wounded and had to be treated at the hospital for a long time.
* In November 2019, Ekrem Yaşlı, 71, who was undergoing an eye surgery in Çanakkale Onsekiz Mart University Research and Practice Hospital, was attacked for speaking Kurdish with his wife. Yaşlı was attacked by another patient. This incident attracted great public reaction.
Sakarya once again
The Demir family was attacked by racists in the Ortaköy district of Sakarya, where they had gone to collect hazelnuts. The family is from the village of Yücebağ in Mardin's Mazıdağ district and had gone to Sakarya as seasonal workers. On 4 September when the attack took place, the Demir family had to quickly return to their village.
Once back in their village, the family, told the press: "17 of us went to work in Sakarya. Field owners cursed and insulted us. So we wanted to quit the job. They attacked us with sharp tools by informing the surrounding villages as well. We have been attacked for being Kurds."