Sêvê Demir, Pakize Nayır and Fatma Uyar were murdered on 4 January 2016 by Turkish special forces
The Kurdish women politicians Sêvê Demir, Pakize Nayır and Fatma Uyar were murdered on 4 January 2016 by special forces.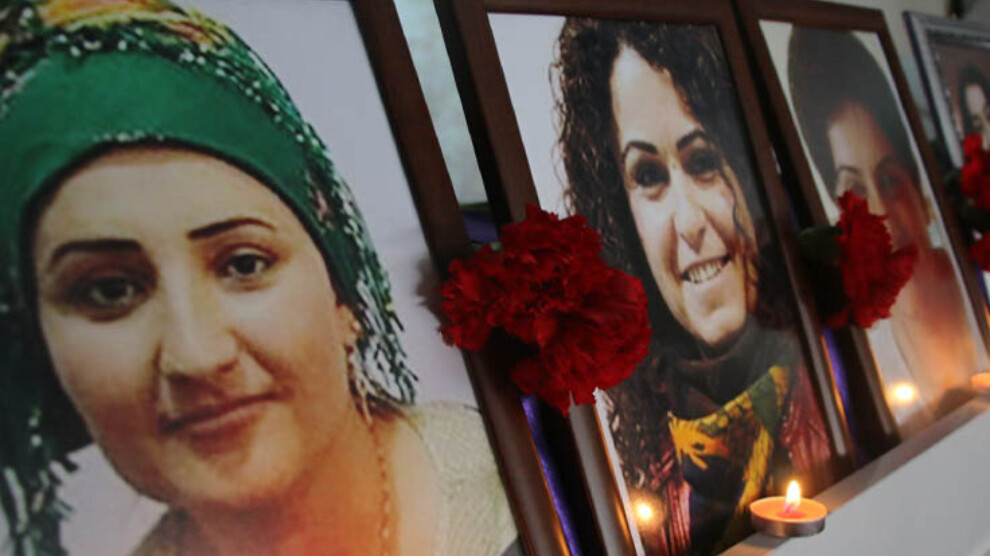 On 4 January 2016, during the curfew in the Silopi district of Sirnak, three Kurdish women politicians were murdered. Sêve Demir of the DBP (Party of Democratic Districts), Fatma Uyar of the KJK (Congress of Free Women) and Pakize Nayir (President of the Silopi People's Assembly) were executed in cold blood. These women had planned to move from the "Karsiyaka" quarter to the "Yesilyurt" quarter in order to actively help the civilian population there. A Turkish tank targeted these women and their bodies waited for hours for an ambulance to pick them up. The ambulance did not arrive and they died as a result of serious injuries.
Current legal situation
In recent years, a "restriction decision" has been taken on the file that was established. It is reported that there are photographs and recordings of it, but the lawyers have been forbidden any access to the file, so it is always unclear whether a legal development is taking place.
Pakize Nayir
Pakize Nayir was born on 13.04.1989 in the Silopi district of Sirnak. She spent her childhood and her whole life in Silopi. Pakize took over material as well as moral responsibility in the parental home at an early age. She started working in the textile industry at the age of 12 and accompanied her parents for seasonal work in the spring months. On the one hand, Pakize took care of her family and, on the other hand, she could not ignore the resistance struggle and was part of the Kurdish freedom movement. At a young age, she took part in women's work and political activities. She supported her family by opening a hairdressing salon and at the same time, she took over any duties as co-chairwoman of Silopi.
Sêvê Demir
Sêvê Demir was born in 1974 in the village called Sute in the district of Savur in Mardin, Southeastern Turkey. She had to emigrate to Manisa, Turkey, in the 90s due to the intensified repression of the state. Here she worked as an agricultural worker in fields for cotton, pepper, tomatoes and grapes. Later, Sêvê decided to leave Manisa as well, because she could not withstand the racist discrimination against her Kurdish identity. In her political work, she was first actively involved in women's work and carried out political work in Ankara, then in Diyarbakir, Konya and Mardin. She was also involved in the foundation of Tevgera Jinen Azad û Demokratik (free and democratic women's movement) in 2005. She was arrested in Nusaybin in 2009.
Sêvê, who was taken to the E-type prison in Diyarbakir, was also involved in the hunger strikes of 2012. These were initiated to improve the conditions of the chairman, Abdullah Ocalan, on the prison island. After her release from prison, she took an active role in political affairs as a member of the DBP in 2014. Also in this process, she took women's work and political struggles very seriously. During the self-government processes, she was also involved in party activities in the Silopi district of Sirnak.
Fatma Uyar
Fatma Uyar was born on 28 August 1988 in the village of Duhok on the outskirts of Gabar as the second child of a family of 7 children. After Fatma's birth, her family moved to the centre of Sirnak, where they still live today. In the 2000s, Fatma got to know the political resistance movement there and joined it. She initially continued to work as an active member of the youth movement. In 2009, Fatma was arrested and sentenced to 5 years imprisonment. One year after her arrest, her father Resit Uyar was also arrested and sent to prison. Fatma and her father Resit were in the same prison in Mardin until Fatma was transferred to Siirt prison after a year and a half spent there. Until her release, she spent 3.5 years in Siirt prison. After her release in 2010, she returned to political work and was most recently involved in the work of KJA.