Stories of Roboski victims
The pain is still fresh in Roboski and the smiles are still partial. The walls with photographs of the deceased are decorated as if to complete the lives that are lacking.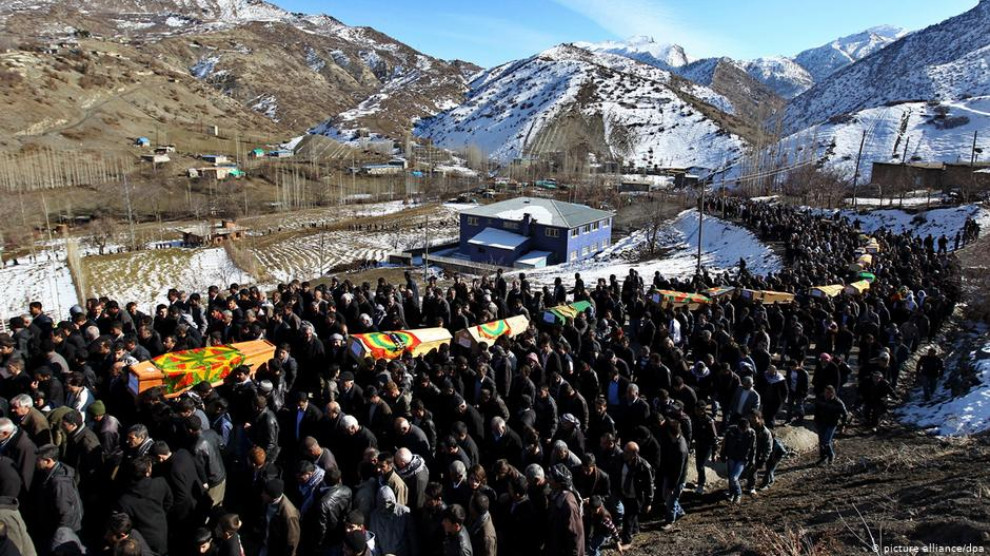 On December 28, 2011, 34 people from Roboski and Bujeh villages in Şırnak's Uludere district, 28 of them from the same family, were murdered by the bombs from Turkish jet fighters.
At the eight anniversary of the massacre, the perpetrators are still left in the dark. At a time when deaths are reduced to mere numbers, we in the ANF would like to remind everyone of the people who were murdered in Roboski and their stories.
ŞERAFETTİN ENCÜ
Şerafettin Encü was born in the green valley that is the embrace between Beyaztepe and Mount Düğün on a summer's day. He is the eldest in a family of 7 children. Şerafettin grew up in poverty, and was orphaned when he lost his mother when he was 12. He did so well in school that his teachers were proud of him. He had dreams beyond his years. He wanted to be a teacher with many students, or a principal for a village school with a playground. He wanted to raise new life. He was young but his dreams were as big as his heart. Şerafettin was the proud son of a poor family. He left his childhood behind and started dealing in border trade with his father to take care of his six brothers. The story of 18-year-old Şerafettin, born on a summer's day, ended on a smuggling route on a winter's day. The snow turned red with the blood of Şerafettin the Orphan, one teenager among 34 people.
ŞİRVAN ENCÜ
Second of nine siblings, the first boy, Şirvan Encü was 19 years old. He loved sleep, so he wasn't all that into school. He dreamed of being a truck driver like his father. He was the apple of his father's eye and was told constantly that "driving a truck is taking on long distances, you can't do it if you love sleeping. You have to give up on your sleep or driving." Şirvan gave up both. One morning when his father wasn't home, he pushed hard and convinced his mother to go on the border trade with his cousin Nevzat. Şirvan had a soulful voice and sang klams (ballad) to his companions all the way through. He was one of the 34 people massacred in that night with the white earth and the black skies. His mother says, "I still hear his voice in my head".
FADIL ENCÜ
Newly turned 20, Fadıl Encü was the eldest in a family of 8 children. He lived a life of poverty with his family, so he took on the border trade to maybe enable the dreams of his 7 siblings. When his father was in the army, the family went through a hard time when he fell ill. Just for that, every time he left for work, he somberly said farewell to his mother and his family. The villagers described him as very humble and genial. He still had the football jersey on him from the football match they held among friends before going out for trade. He took the road with his friends Celal and Serhat, as if going to a wedding. In the pitch black night, the colors of his jersey disappeared. His 20 year old young body was so deformed that his father walked across his body four times before he recognized him.
VEDAT ENCÜ
His family lived abroad for a long time but returned to Roboski eventually because they were too homesick. His father loved Vedat Aydın so much that he named him after him. Vedat was 17 and his favorite topic in school was math, he held on to math because his mother tongue isn't recognized in schools - you don't need language to solve math problems. He thought of himself as the doctor character in Apê Musa's Brina Reş novel. The son of a poor but proud family, Vedat wanted to be a doctor just like the character in the book. He would go on to be a great man and take care of his mother and siblings so well. He was murdered along with 34 people in that fateful night.
ORHAN ENCÜ
He was the youngest in a big, poor and grieving family. 13-year-old Orhan was a joker, a cheerful boy and the source of joy in the home. He was very smart, so he started school early. He always had good grades. Ten months earlier, he had lost his mother. Orhan wanted to be a computer engineer and started going on border trade with his brother Zeydan to buy a computer. He loved nature and animals and kept a few puppies in the front yard of their home. His dogs ran to the field of death alongside his father when the news broke in the dark night. He and his brother Zeydan were two out of the 34.
ŞİVAN ENCÜ
Şivan Encü was orphaned at a young age. He searched for his mother's scent in dreams for years. And then three years earlier, he found out his mother was alive and came to Roboski to be with his mother and siblings. Şivan became the eldest male in a family with 4 children. He supported his family for three years, working as a shepherd, a porter, a digger, or a smuggler - whatever he could find. One day he came home after working the full day as a shepherd for 15 liras, tired and his hands, nose and ears frostbitten. Before he could rest, his cousin Berdan came: "Come on!" They took to the smuggling path. On their way back, bombs bigger than them were dropped on them.
ZEYDAN ENCÜ
Zeydan was a child of a big and poor family. He was only able to study until high school. He did all he could so his brother Orhan could study. He was a porter, a field hand and a smuggler. As if smuggling and poverty are fate for that land, he never was able to let go of the mule's leash. He looked tough, and had the softest heart. Shortly after he returned from the army, he lost his sick mom. He took the smuggling path that night so his brother Orhan wouldn't have to delay his dream of a computer any longer. All he wanted that night was to take his brother back home safe and lie down next to the roaring hearth. But he couldn't - both brothers died under the bombs.
ÖZCAN UYSAL
Özcan was 19 and he was a fan of Ahmet Kaya. He loved the herbed cheese, the smuggled tea and all soulful strans. His cousin was to get married after the smuggling, he was preparing for that in his last days. He never returned from the border. Everybody who knew him knew he wanted to get married.
OSMAN KAPLAN
Osman got married in 1999, and had 3 boys and 2 girls between ages 5 and 11. He started going to the border in 2002. Every time he went, his wife Pakize and his children waited up for him. His 5-year-old still thinks he's out in Şırnak, buying some things for the house. Pakize wasn't told what happened at first. But when people couldn't identify the bodies, they called her and asked what kind of clothes and shoes Osman was wearing that day. That was how Osman's wife and children learned he was dead.
NADİR ALMA
Nadir was the second child of a family with 13 children. Their life was also one of poverty. Nadir always had the seat of honor at the family table. He was shy and simple. His best friend's name was Hikmet. The two carried all the weight of the family. The only thing they could do in Roboski was to go out smuggling.
That night the mules were once more loaded with poverty and hope. Nadir had two brothers in the army and they had no money. He needed pocket money for them, and some supplies for the home. Then it would be time for him to get married, like his mother wanted for so long. Held up by poverty and fatigue, his body fell on the snow like so many shooting stars.
SALİH ENCÜ
Salih was born in a family of 7. He was barely 18, he went to border so his two brothers could go to school. His family was also poor, like the others. Salih's father had stepped on a mine 14 years ago, which left him disabled. His father's medical bills and the family's living costs in general were all Salih's responsibility.
He had followed his 37 friends. They marched toward the 38 bombs together. They were caught in the light his friends spoke of together.
"Everybody's fathers were there, except for mine. That was one time in the parent-teacher meeting in the school. I had forgotten that day, just like this day. My father had one leg, he couldn't come all that way."
SEYİTHAN ENÇ
Seyithan Enç was born in 1990. He used to do very well in school. He had gone to Istanbul to work, but couldn't stay there too long and returned to his village. He had a girlfriend in the next village. When her family pushed that he complete his military service before they can get married, he left for the army. Seyithan meant to get married when he came back, but there was no money and no chance. Now, all that's left of him are some kind words, one photograph, broken dreams and a mother and siblings all with their heads down.
MUHAMMED ENCÜ
Muhammed was the eldest son and the brother of 13 people. His family was also poor like the others.
He dreamed of becoming a vet. He loved the animals his father kept, especially the mules because they looked like horses. His biggest dream was to get a horse.
He was heartbroken when animals in the village injured themselves, and he did everything he could to treat them. He wanted to be a vet for the animals in the village, because he was affected deeply when they died of diseases in the winter.
CİHAN ENCÜ
Cihan was one out of the six boys in a family of 7 children. He was murdered 3 days before his birthday. He used to love school, but had had to quit before highschool.
There was a tumor in his father's brain and it was getting worse. Hospitals, doctors, tests, drugs... went on for 3 years, he was unable to get out of bed in the last year of his life.
Cihan turned 15 without a father. Then he lost his mother in a traffic accident. Cihan was left an orphan, with his brothers and sister. Cihan was left fatherless at 15, motherless at 18, and he was buried before he turned 20.
SELMAN ENCÜ
Selman was the youngest of six siblings. He was orphaned in the womb and his troubles started early. From the day he came into the world, he felt the loss of his father in his heart.
Surviving the '90s meant either migrating from Roboski or staying and becoming a village guard. Migration was a thousand-fold anguish. Even worse for a family without a father. So they couldn't go. They became village guards.
Selman's first daughter Esra was born with a mental disability. Around the same time his wife fell ill, she could barely walk.
He had built a home for the family, and he had some debts. What happens to people there who have debts happened to him too, soon he was taking off for the border.
A disabled mother with a child in her lap, two children with mental disabilities, and 11-year-old Ersin were left out in the cold after Selman Encü was murdered.
Ersin was in the 4th grade. He quit school after the incident, he kept on running back home.
MEHMET ALİ TOSUN
Mehmet Ali was born in 1987 in Roboski's sister village Gülyazı. He was the second among 11 children. Eleven siblings means eleven times the hope: If you fall short, there are ten others to cover up for you. After high school, he couldn't continue. He took to the border route to look after his family. Then the fateful day came. Mehmet Ali spoke on the phone with his father that day, he himself wasn't home. He followed Nevzat, Şervan and Osman into his last journey.
ERKAN ENCÜ
Erkan's father was a village guard, he stepped on a mine and lost both of his eyes. Erkan was only at the 7th grade. He dreamt of becoming a doctor to fix his father's eyes.
They had a football team, they named it Kartal (Eagle) Sports. Their jerseys were black, red and white, newly made. Erkan had the number 4.
The money his father made from the state wasn't enough. He used to insist for permission to go smuggling.
That night was Erkan's second time smuggling, along with two of his uncles. One of them, Hüsnü who passed away longing for his unborn baby. The other uncle was Savaş, they were the same age. His mother made him wear two pairs of gloves so his hands wouldn't get cold.
SAVAŞ ENCÜ
Savaş was one of 11 orphans. He was only just realizing he had been born in a war zone, and had hoped maybe he could change his name, which means "war" in Turkish, after the fate of these lands changed.
The poverty that killed so many dreams didn't let Savaş go either. He had to quit school in 2010.
His brother Vahit had bought him a pair of gloves that day, so he wouldn't be cold. He put them on and took the road following the 34. It's not easy to go for the border in winter, especially when it's snowy and muddy.
KARKER ENCÜ
Karker was a shepherd, an apprentice and a smuggler. What he has in common with the others is poverty. He left the village to work, but being away was too much for him and he returned home. He couldn't return from the border he left for either. We don't know much about him. But the mourning he left behind is heavy.
SELAHATTİN ENCÜ
He was one of the last to be buried. His story is also filled with poverty and suffering. He didn't even have a photograph.
NEVZAT ENCÜ
19-year-old Nevzat and his father bore the weight of a household on their shoulders.
He had one more year in school, then he was hoping to get into a good department in a good university. He wanted to learn a good profession to provide his family with a good life.
The weight of poverty and misery falls early on shoulders. Among the 34, there were those who should have listened to a bedtime story and slept. Five of them were 13-year-old boys.
MAHSUN ENCÜ
Mahsun was one of the people who made a living out of the border, which was defined by a single stone.
He was 17. His dreams were also cut short. He wanted to be a doctor because there were no doctors in the village clinic.
BİLAL ENCÜ
Bilal was the eldest of 7 siblings. He was 16. He carried the weight of the household. Bilal's father was blind, so he was everything to the family. He also wanted to be a doctor, because the closest doctor was 60 km from the village. He loved football and he played very well. He liked watering the saplings he planted in his garden. He spoke to his trees. He told them all of his secrets. When he left, one sack on his mule was filled with poverty and the other with hope.
HÜSNÜ ENCÜ
Hüsnü was one of those who made a living out of the border. He was born in 1981 as the 4th child of a family of 11 children. He was killed together with his brother. He left behind a family he used to take care of and his incomplete story.