Survivor of the KDP attack, guerrilla Haki Zilan tells his experience
Haki Zilan, one of the seven guerrillas who survived the ambush organized by the KDP against a group of guerrillas at the end of August, talked about his fallen friends.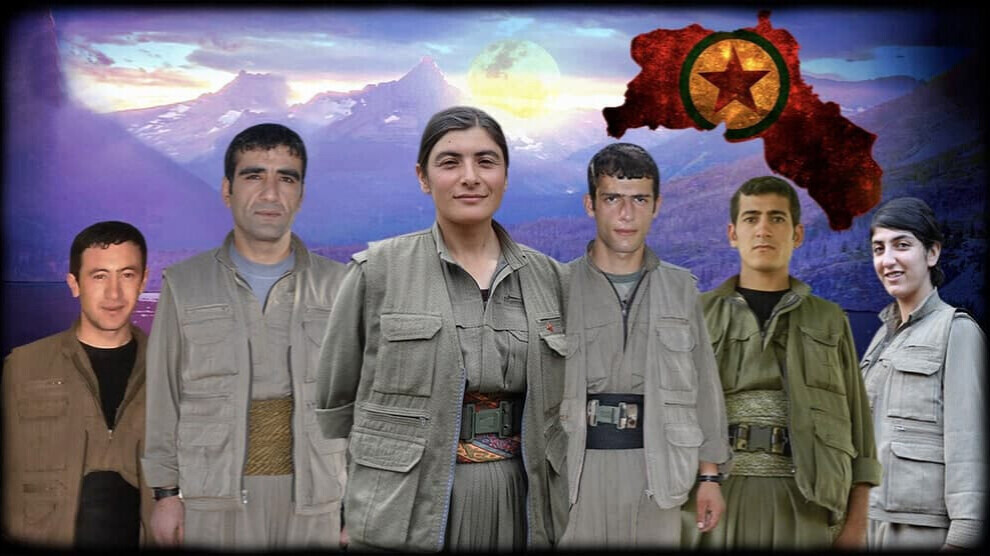 On the night between 28 and 29 August, a guerrilla group of seven was attacked on Zap Suyu by KDP forces while attempting to cross from the Qandil area to the Behdinan area. On 3 October, the HPG issued the following statement: "While our guerrilla group was crossing the Zap River, it came under heavy fire from four arms. The KDP used heavy weapons, with no warning shots. As a result of this attack, it became evident that 5 of our comrades had fallen, and that one of our comrades was most likely wounded and taken. Our friend Haki, who was part of a group of seven persons, witnessed this act firsthand and was able to flee the site after a short time. Our surviving comrade Haki reached us and clarified several details of the KDP forces' attack."
Haki Zilan, who survived the attack, reported that it took him 16 days to reach his comrades. The following is how guerrilla Haki Zilan described what happened: "I didn't know any of the friends in the group before I joined them to travel to Behdinan. I met them there for the first time. We stayed together for a bit before leaving. But in such a short time, we accomplished a lot. Our group had big aspirations, and we were all upbeat. Comrade Şoreş Mêrdîn was a family acquaintance of ours who had spent decades working hard in the Kurdish mountains. Comrade Şoreş spent a long period in the Black Sea region as well as in Dersim in Bakur Kurdistan. Comrade Şores paid a high price in the war. He wore a prosthetic eye after being injured in fighting training. We always asked him to tell us about his Black Sea memories. After all, he was often telling us about life's hardships, poverty, and problems. Whenever we stopped for a break on the walk, comrade Şoreş began to tell us about his memories.
Our group's guides, meaning the couriers, were comrades Serdem and Şoreş Colemêrg. Comrade Serdem was a cheerful person with high morale. He was very active. Comrade  Serdem was a hardworking person. For example, he was carrying the heaviest stuff on the road. Despite our efforts to assist him, he refused to let us carry his stuff. Serdem was always thinking of his comrades and approaching accordingly. Serdem was constantly walking in front of us.
Comrade Şoreş Colemêrg was also a courier. Both Serdem and Şoreş wished to see the battlefields of Bakur Kurdistan. They often voiced their desires. However, they saw serving as couriers to their comrades as a crucial responsibility. Comrade Şoreş Colemêrg was also enthusiastic. During the march, Comrade Şoreş's job was to walk at the back of the group and protect it.
Comrade Brûsk Munzur was a very hard working comrade. We got to know each other right before we embarked on our journey. Indeed, he was immediately active and leading wherever he went. Comrade Brûsk would not waste a single minute. He was always building something, doing things, and putting forth effort.
Our group also included two female friends. Comrade Axîn was well-known for her love for life. She was born in Bakur Kurdistan but grew up in Bashur Kurdistan, where she joined the struggle. The idea of visiting the Dersim appealed to her. Axîn enjoyed dancing halay. Before we left, we had one more halay.
On this journey, I also met comrade Tolhildan. The lights of cities could occasionally be seen in the distance while driving. 'I believe that when people gaze from the city towards these mountains, they do not see the travellers of the mountains,' said a friend of Tolhildan. 'How will anyone know that seven guerrillas are watching them from these mountains right now?' 'It is not just a group of guerrillas passing by, there is a history going on here,' said comrade Şoreş Merdîn and comrade Tolhildan. How could the eyes looking at those mountains have known that three days later, a group of guerrillas would fall as martyrs there? How could they have known that the guerrillas, who were invisible in the darkness of the night, were constantly with them from the depths of their hearts?
The recollections of all six of my comrades kept me up and made me walk. I had the impression that those comrades were with me and helping me throughout the journey. I was going on the pathways and imagined a nice talk with Comrade Tolhildan. When I was drowsy at night, I could feel Brusk by my side. Feeling those comrades next to me gave me the strength to fight and to walk. My gaze was continuously drawn to the old pathways, where I was hunting for old items from friends, such as a gabardine or mekap shoes. I walked the land for days. After days of wandering, I came across something that reminded me of my friends behind a rock. This gave me a lot of optimism, and I knew I was pretty close to familiar places. I was now searching for comrades from valley to valley and stone to stone. Memories told by comrade Şoreş Merdîn, who had stayed on the Black Sea, came to mind at this time. Because our friends in the Black Sea have been resisting for days and months, bandaging their own wounds, starving and dehydrated, but still fighting. I was using my friends' wonderful experiences as a model for myself. I was looking for my comrades in between the trees.
I plunged myself into the woods. This forest was crossed by a path. Following this trail, I came across two female friends seated under a tree. Meeting my comrades gave me incredible and enormous joy. I felt as though I had been reborn and joined the group. I was overjoyed to be invited. I cried out to my comrades and asked; 'Are you heval?' They said, 'yes, yes, we are heval'. I was repeatedly asked them the same question. I told my comrades about what had happened to us. When I arrived, both of my comrades were taken aback. When I asked about the day and date, I discovered I had been on the road for 16 days. It could be a significant coincidence, but one of the two female comrades I met was called Hêvî (Hope), and the other Roj (Sun). For me, it meant I was walking towards the sun, towards the party, with immense hope."