Ten years ago today, The first Paris massacre
Sakine Cansız, Fidan Doğan and Leyla Şaylemez were brutally executed in the heart of Paris on 9 January 2013.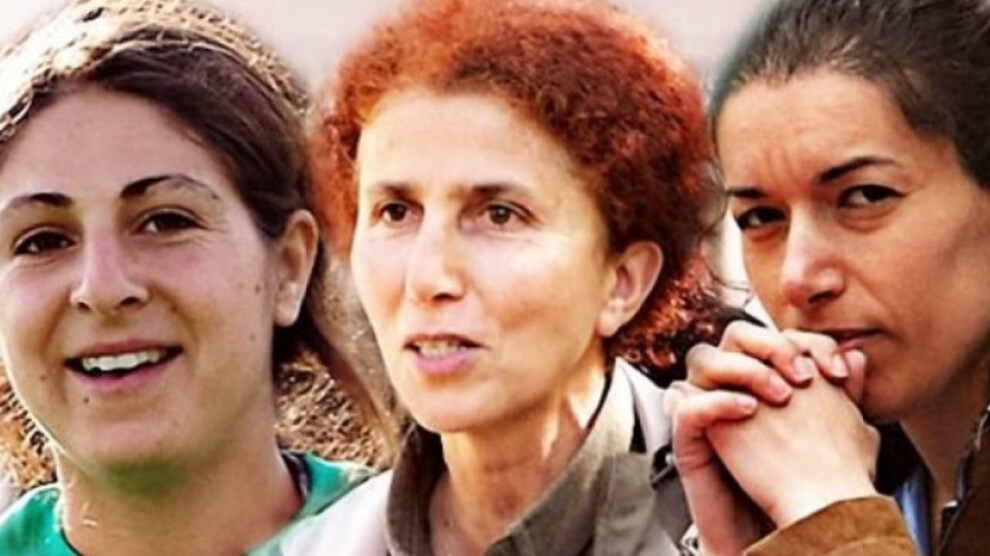 Ten years ago today, Sakine Cansız, Fidan Doğan and Leyla Şaylemez were brutally murdered. They were hit in a place they considered safe, the office Fidan was going to every day to do her job: meticulous, diplomatic work to get French politicians aware and informed on the crime and repression against Kurds.
Sakine Cansız, a co-founder of the PKK (Kurdistan Workers Party), Fidan Doğan, KNK (Kurdistan National Congress) Representative in Paris, and Leyla Şaylemez, a member of the Kurdish Youth Movement, were brutally executed in the heart of the French capital Paris on 9 January 2013. Light is yet to be shed on the murder of the three Kurdish women and the powers behind the killings.
Three women, three generations of Kurdish women, committed at different levels and in different fields, tirelessly working both to denounce the persecution of Kurds and for a path toward a just and lasting peace through dialogue.
Both issues (exposing the violence against a people of 40 million and working for peace) were the target of those who ordered the murder. The hand which pulled the trigger may well have been that of the "suspect" arrested two days after the killings. Ömer Güney was the last who saw the three women alive. He was with them in the office. French investigators accuse him of being the killer. If this indeed were the case, the trial would show.
After the completion of the investigation into the murder of three Kurdish woman politicians in August 2015, the case was sent to court.
A document on the massacre had pointed at arrangements in Ankara, and this document helped further the investigation. On January 12, 2014, 3 days after the first year anniversary of the massacre, the shooter was heard in a voice recording leaked online as he spoke to two people from the Turkish intelligence on assassination plans. Two days after this recording's dissemination, the written document instructing the shooter to assassinate Sakine Cansız became public. This document carried the signatures of MİT Branch manager O. Yüret, Department manager U. K. Ayık, Vice president S. Asal and President H. Özcan. The document was originally issued on November 18, 2012, and emphasized that 6 thousand Euros were paid for the massacre.
However, Turkish officials have refused to cooperate with investigators and did not share the information MİT had on the massacre. The French government only publicized a few documents that had already been known by the public, and has been hiding the information it has on Ömer Güney. Investigators note that Güney was an MİT agent who infiltrated into the Kurdish movement for espionage and assassinations. French prosecutor Jeanne Duyé decided to close the case in May, 2015, two years after the massacre.
The details cannot be checked without help from Turkey, Antoine Comte, a lawyer for the Kurdish victims in France, previously said. The reality is, nothing seems to have moved as to a precise line of inquiry aimed at answering vital questions: who ordered the killings ? How could such a murder be carried out in a city like Paris, on a busy road such as Rue Lafayette ?
More, to which extent (if any) is Turkey "collaborating" to the inquiry, especially since, as Comte said, records of Güney's phone activity with Turkey were placed in the investigations file in July, five months after his arrest. Who was he meeting during his trips to Turkey ? Who was he talking to ? Why ? Who is Güney ?
All these questions remain unanswered and justice remains far and so does truth. Three years have gone by since that sad 9th of January.
Kurds are preventing this vicious murder from ending up forgotten or being put aside. They cannot be left alone because this is a murder which concerns the very democratic and justice values professed by Europe. This is a murder which concerns Europe not just because it was committed in an European city, but also because it proved that there are those who - in Europe - feel safe to act knowing they would benefit or some kind of impunity. This is something Europe should reflect upon very seriously and act very quickly.
SAKİNE CANSIZ (SARA) 
Sakine Cansız was born in the province of Dersim in 1957. Having been active in the student youth movement in Elazığ for long years, Cansız joined the Kurdish revolutionary movement in 1976.
Cansız, a leading figure in the struggle against fascist circles in Elazığ, was mainly active in the neighborhoods of Fevzi Çakmak and Yıldızbağları. By joining political works in and around Dersim in 1978, Cansız became fully involved in the revolutionary movement after that time.
After attending the PKK Congress on 27 November 1978, Cansız was arrested in Elazığ and sent to prison together with a group of friends. She was subjected to heavy torture in the period of the 12 September military coup in 1980. She was released in 1991.
Soon after her release, she continued to take an active part in revolutionary activities in West and South Kurdistan.
After many years of struggle in the Kurdistan mountains, Cansız went to Europe where she started to lead the Kurdish women's organization. She was one of the inspiring and prominent women who made great contributions to the association and organization of Kurds in the diaspora.
FİDAN DOĞAN (ROJBİN)
Doğan, one of the two other Kurdish women killed in Paris three years ago, was born in the district of Elbistan (Maraş) on 17 January 1982. As a daughter of an immigrant family in Europe, she grew up in France.
Doğan, who took a strong interest in the Kurdistan Freedom Struggle since her childhood, started to take an active part in revolutionary works in Europe as of 1999. Besides her works which mainly focused on youth and women, Doğan also took part in diplomatic activities in Europe as of 2002. She was both a member of the Kurdistan National Congress and Paris representative of the establishment.
LEYLA ŞAYLEMEZ (RONAHİ)
Leyla Şaylemez, daughter of an Êzîdi family from Diyarbakır's Lice district, was born in 1988 in the southern province of Mersin. She spent her childhood here until her family moved to Germany in the 90's.
She had been studying at the Department of Architecture for one year when she joined the Kurdistan Freedom Struggle. After 2006, she started to take an active part in many European cities, particularly in Berlin, Cologne, Hannnover, Frankfurt and the Swiss city of Basel.
After spending one and a half years in Kurdistan in 2010, she returned to Paris, where she had been conducting work since then.