The corpse in the bag
Hakan Arslan's father fought for six years to have his son buried with dignity. The fact that his mortal remains were handed over to him in a bag was shameful for humanity, says the Kurdish family father.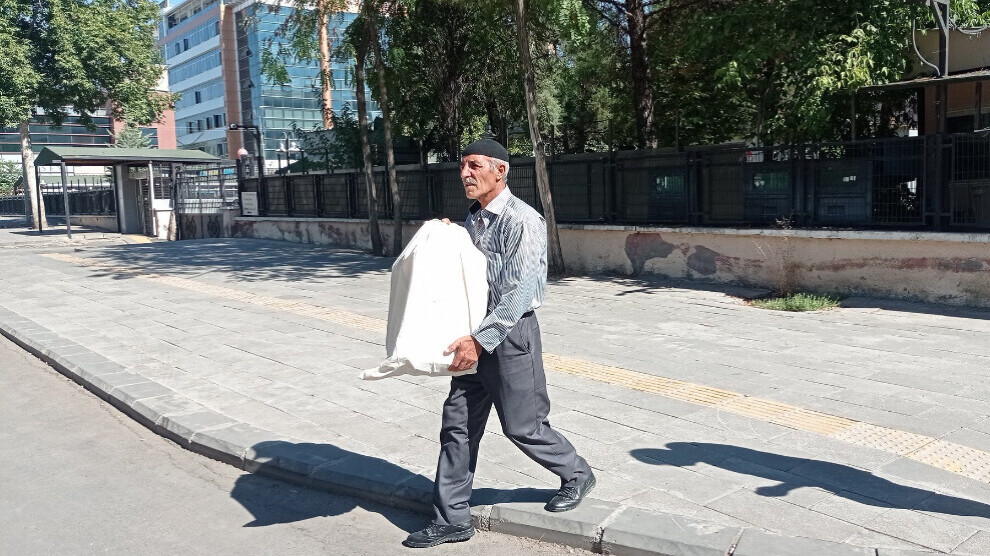 In recent years, the Turkish state's war against the martyrs of the Kurdish liberation struggle and their relatives has intensified. Graves are systematically destroyed, bodies are desecrated and the bereaved are denied the right to mourn. The case of Hakan Arslan is another highlight in a chain of incidents that violate human rights and traumatise people.
Hakan Arslan died in 2016 during the siege of the old district of Sur in Amed (tr. Diyarbakir). Friends buried him next to a church, where his bones were found in 2021. Despite DNA matching, it took almost another year for the state to release the body. The Diyarbakır Chief Prosecutor's Office handed Ali Rıza Arslan his son's mortal remains in a bag on Monday. That same evening, the burial could finally take place in a cemetery in his home village in Erzurum province.
Ali Rıza Arslan told ANF in Erzurum about his struggle for a dignified burial for his son over the last six years. The family lives in Çavuşköy in Karayazı district. Hakan had six siblings with whom he got along well, his father says. He was very respectful of other people and helped him with his work in the village. In 2015, he told him that he wanted to join his big brothers in Istanbul to work there.
"His brothers worked in construction, then he himself was employed in the textile industry. At that time, I thought he would get engaged this year. When his mother talked to him about it, he wanted some more time. We agreed. Eight days after that conversation, contact with him broke off. Seven months and twenty days later, it was reported on TV that our son had bled to death in Sur. I had already had a bad feeling for some time and a vague suspicion that something might happen to him. A day before, we had seen on the news that there had been a violent explosion in Sur. I told my friends in the village about it and said that I had the feeling that something had happened to my son. Then in the evening the news of his death came on TV."
Every single day was an ordeal
When the news arrived, it was deep winter, snow was everywhere, Arslan continues: "Nevertheless, I immediately went to Amed. There I was confirmed that my son had fallen. A friend showed me around near Sur. It felt like I was following in Hakan's footsteps everywhere. For the next six years, I fought to get the body from my son. Every single day was an ordeal. I waited all this time for a phone call, for a message from Hakan. I hoped for news every day until February 2021. Then I was told by phone that Hakan's body had been found in Sur. Before that, we had tried again and again to get the public prosecutor to conduct an investigation in the neighbourhood. However, the police claimed that investigations had already taken place and there was no body there."
Ali Rıza Arslan gave a blood sample for DNA matching, which showed a match of less than sixty per cent. "This was not enough and three months later a DNA match was requested from his mother. The sample showed a 95 per cent match. After that, the body was sent to the Forensic Medicine Institute in Istanbul for an autopsy. It stayed there for nine months. On 25 August, my lawyer called me and said that the body had been released. On Monday I was able to pick it up."
"I tied the bag shut and took it in my arms"
He did not expect that his son's mortal remains would be handed over to him in the courthouse and in a bag, says Arslan: "I thought that the body would be handed over in the forensic medicine institute and that only official matters would have to be settled in the courthouse. We had not been told that the handover would take place there. They brought the body and opened the bag, took out a CD and handed it to me. I was very sad when I saw the bones. I asked if this was how they handed me the body. They said that it had come like this from the Forensic Institute in Istanbul. I tied the bag shut and took it in my arms. Then I left the building."
Arslan says he had very mixed feelings at that moment. He was happy because he had finally received his son's body. However, the way it was handed over hit him hard: "Anyone with a bit of humanity would have been ashamed. When a person dies, his body is handed over in a coffin, not in a bag. When I got back home, I saw the photo of me in front of the court building. I felt like I was dead. The photo tears me apart. My sister wanted to delete it, but I want it to be preserved somewhere.
After the handover, I put the body in the car. On the way, we opened the shroud and put the bones in a coffin. We buried him in the cemetery in the village. We were followed all the time by the gendarmerie (military police). The secret service has been observing me. We were also not allowed to be condoled at the house of mourning. We are only allowed to mourn in our own house. This was to prevent many people from coming together."