Tied to vehicle and sent to SDF position as suicide bomber
It has come to light that ISIS, trapped in Deir ez-Zor due to SDF operations, had tied the gang member at the wheel of the explosive laden vehicle which was destroyed by SDF fighters.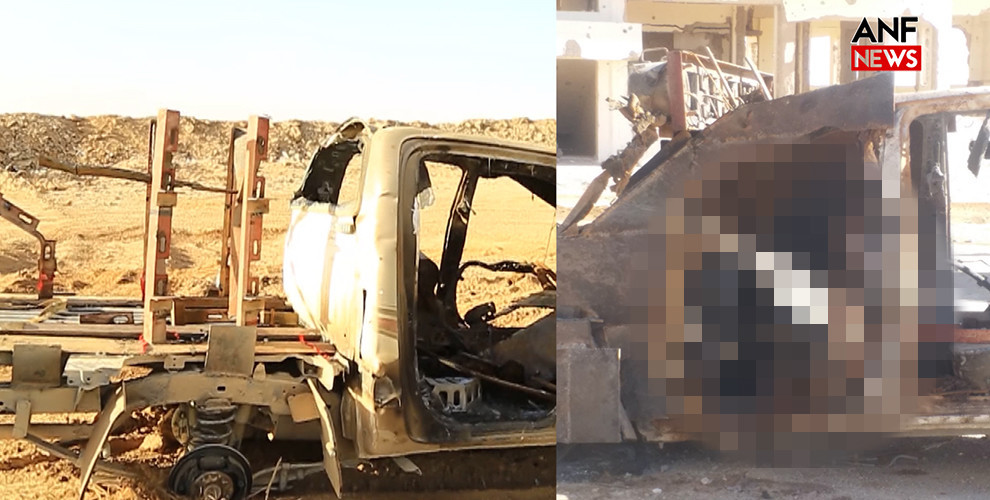 The operation launched by the Syrian Democratic Forces (SDF) against Hajin and the last areas ISIS gangs hold to the east of Deir ez-Zor along the Iraqi-Syrian border continues on its 50th day.
The operation dubbed the final phase of the Operation Cizire Storm Offensive to Defeat Terrorism will have cleared all ISIS presence from eastern Syria when completed.
The region hosts all ISIS members fleeing various areas in Syria and Iraq, and is a last haven for ISIS. The operation the SDF launched on September 10 has cleared many villages from ISIS to date, but the gangs have been attacking from the Hajin and Baghouz fronts taking advantage of the sand storms in the last two weeks.
The car bombs ISIS sent out have been eliminated by SDF fighters mostly. One of the densest points of attack was the train station in the Hajin front, where SDF fighters neutralized an explosive laden vehicle. The fighters later discovered in inspections that the driver was tied to the steering wheel, showing the extent of the gangs' atrocities.
In photographs fighters took, the driver is seen with his arm tied to the vehicle. It is assumed that ISIS does this to keep persons used as suicide bombers from escaping.
It had previously come to light that ISIS put two sets of detonators on suicide bombers used in various regions and remotely detonated the explosives if the persons they used failed to do it.
It is believed that the switch from two detonators to tying drivers to the vehicles is because it is difficult to follow the car bombs in sand storm and that the drivers could drive off and not be seen.
SDF fighter Shervan Azad spoke to the ANF about the intense clashes of the last 3 days in the Hajin front and said the gangs carried out extensive attacks from four sides but they were forced to retreat due to their many casualties.
Azad said a car bomb and a military vehicle were destroyed and dozens of gang members were killed, adding that the SDF has control in the area.