16 journalists in Amed spend their 220th day in prison
The 16 journalists arrested in Amed on 16 June 2022 because of their journalistic activities are still in prison. 220 days have passed and no indictment has been prepared yet.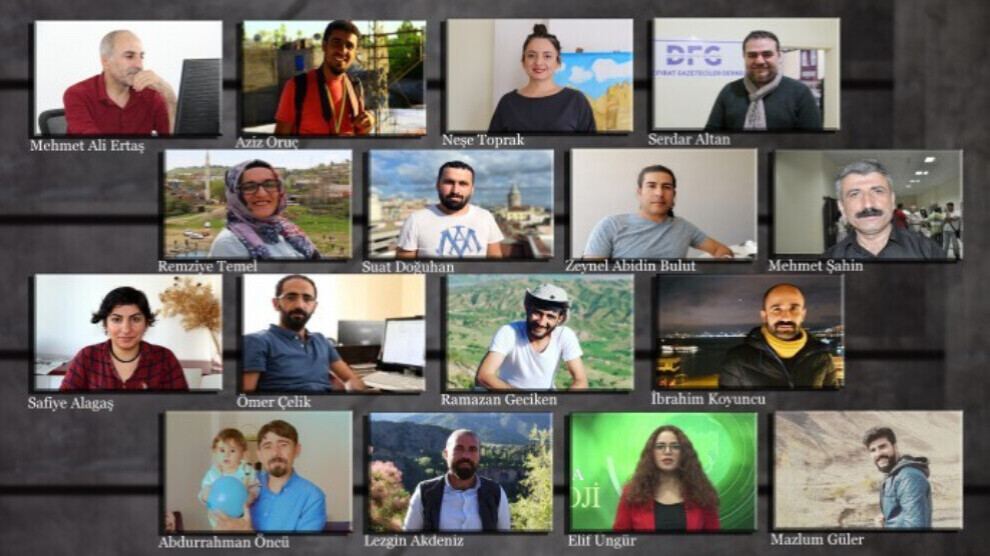 On 8 June, Diyarbakır Chief Public Prosecutor's Office carried out two separate criminal investigations. As a result of raids on several houses and media outlet offices, 22 people were taken into custody. Among them were 20 journalists working for Mesopotamia News Agency, Jin News and Xwebûn daily. The co-chair of the Dicle Fırat Journalists' Association was also taken into custody, as were a media employee and a citizen who gave an interview to one of the journalists taken into custody.
The offices of Pel Production, Piya Production and Ari Production were also raided by police and after a 3-day search, police confiscated cameras, computers, news equipment, archives and many documents. 
Custody period extended
On 12 June, the Criminal Judgeship of Peace accepted the prosecutor's request and extended the custody period by 4 days on the grounds that the examination of the digital material confiscated by the police may take time. 
During the 8 days the journalists spent in custody, they were kept in solitary cells at the Diyarbakır Security Directorate. Exercising their right to remain silent, the journalists refused to give their statements to the police on the grounds that both the investigation and custody were unlawful. The journalists were denied their basic personal needs.
Arrested for doing their job
The journalists were eventually brought to the Diyarbakır Courthouse after being held in police custody for 8 days. The prosecutor questioned journalists about the news articles they published and the programs they produced. The prosecutor asked journalists why they produced these programs (and in one instance, the prosecutor asked why the journalist stopped producing that program), why they used such language in their news reports and if they published these news articles and produced these programs upon orders from the PKK and the KCK. The journalists were also asked if they know the other journalists in custody and why they work at these production companies.
No indictment
220 days have passed and no indictment has been presented yet. The Dicle Fırat Journalists Association (DFG) said that there are 87 journalists in prison.