16 journalists sent to prison
16 journalists out of 22 people detained in Amed on 8 June were sent to prison.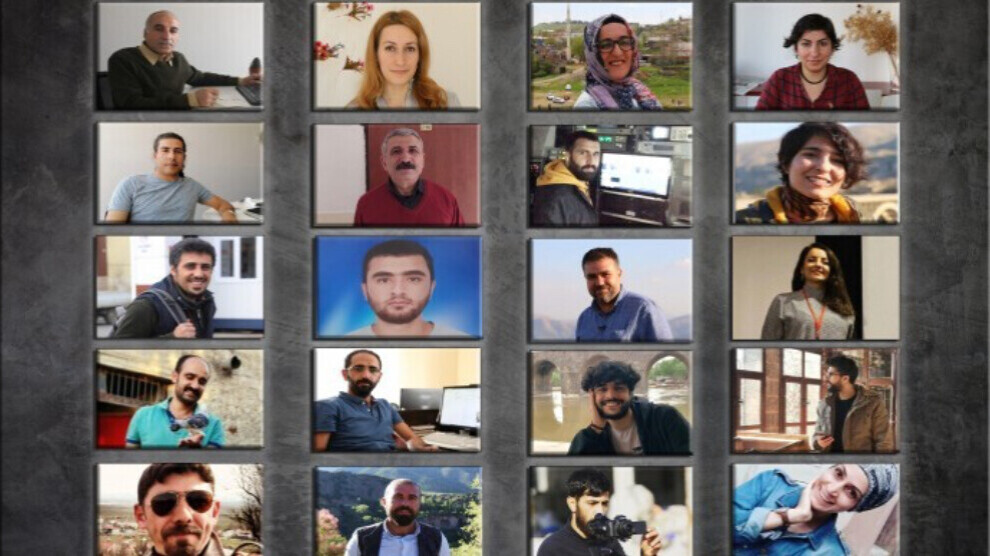 As part of the investigation conducted by the Diyarbakır Chief Public Prosecutor's Office, 16 journalists out of 22 people detained on 8 June were remanded in custody.
Jornalists JINNEWS editor Safiye Alagaş, DFG co-chair Serdar Altan, MA editor Aziz Oruç, Xwebûn Editor-in-Chief Mehmet Ali Ertaş, Zeynel Abidin Bulut, Ömer Çelik, Mazlum Doğan Güler, İbrahim Koyuncu, Neşe Toprak, Elif Üngür, Abdurrahman Öncü, Suat Doğuhan, Remziye Temel, Ramazan Geciken, Lezgin Akdeniz and Mehmet Şahin were sent to prison by the judge on duty.
Journalists Esmer Tunç, Mehmet Yalçın, Kadir Bayram, Feynaz Koçuk and İhsan Ergülen were released under judicial control.
Dicle Müftüoğlu, co-chair of the DFG, said: "You have not succeeded with all the methods of repression you tried since the 90s to silence the free press. You will not succeed with these operations either. You will not be able to deprive our colleagues of their freedom with copy-paste decisions. As we did not accept this decision, we will continue the protests until our friends are released."
Müftüoğlu added that they will protest the decision in front of the DFG at 1pm today and called for "everyone who supports freedom of the press" to join the protest.
Journalists and families waiting in front of the courthouse protested the decision with the slogans "Free press cannot be silenced", "We will win by resisting" and "Bexwedan jiyan e".