241 journalists put on trial, 115 attacked in Turkey in 2021
According to a report by the M4D project on press freedom in Turkey, 241 journalists were put on trial in 2021, 73 were arrested, two were killed and 115 were physically attacked.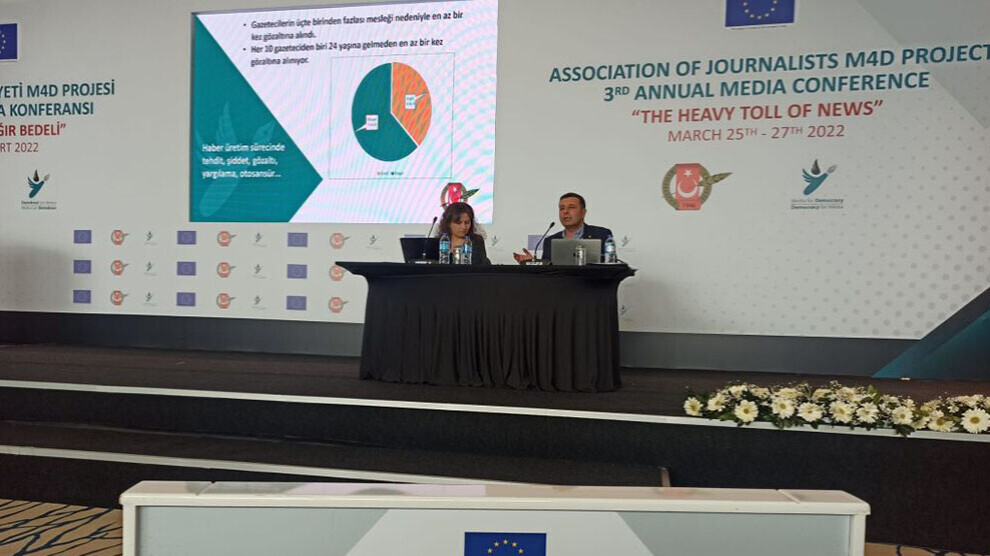 Prepared by the Association of Journalists as part of the Media for Democracy / Democracy for Media (M4D) project, the findings of the 2021 Report on Job Satisfaction have been shared with the public.
According to the report, in 2021, no steps were taken to remove the obstacles to freedom of press and expression in Turkey. On the contrary, the deterioration of fundamental rights and freedoms continued.
Last year, 241 journalists were put on trial, 73 journalists were detained, one radio presenter was killed; 155 journalists were physically attacked.
The report has shown that as of the end of December 2021, 44 journalists were behind bars in Turkey, 115 convicted and 21 arrested.
While the number of jailed journalists increased to 158  following the failed coup attempt on July 15, 2016, this number was 72 in 2020. Despite the marked decrease in the number of jailed journalists, taken together with the journalists released after serving their prison terms, Turkey is the second worst jailer of journalists after China, where 50 journalists are jailed.
214 journalists put on trial
According to the report, 241 journalists were put on trial and 28 journalists were given a sentence in Turkey in 2021. Journalists were mostly detained while following the social incidents and street protests. At least 73 journalists, press workers and broadcasters were detained last year.
While 20 of the detained journalists were women, the journalists were mostly detained while covering the protests against the government's policies. Over one third of the journalists were detained or put on trial due to their profession. One out of every 10 young journalists were taken into custody at least once before they reached the age of 24, the report has shown.
Physical attack against 115 journalists
The report has also highlighted that 115 journalists were subjected to physical attacks in Turkey in 2021. Radio presenter Hazım Özsu was killed in Bursa by a person who didn't like his religious comments and journalist Güngör Aslan was killed in Kocaeli due to his writings.
66 percent of local journalists and 60 percent of the journalists working for national media outlets said that they were threatened.
Referring to the continued "smear campaigns" against journalists and the people who expressed their criticism by the pro-government media and social media, the report has raised concerns that journalists faced accusations of being "terrorists, putschists, fifth column, anti-nation, traitors."
60 percent of the journalists said that their news were censored while 73 percent said that they could not do their job freely.
RTÜK and BİK fines
In 2021, 80 of the 103 fines imposed by the Radio and Television Supreme Council (RTÜK) targeted the TV channels making broadcasts critical of the government. Halk TV, Tele 1, KRT, Fox TV and Habertürk were fined 23 million 743 thousand Turkish Lira in total.
According to the reports of the Press Advertisement Institution (BİK), the public ads of newspapers were cut for 639 days in total.
Women journalists discriminated against
The study has also focused on journalists' perception of their profession. According to the results, almost all women journalists said that they are subjected to gender-based discrimination while working. 24.5 percent said that they are frequently discriminated against while working.
While one third of the journalists work as part of press insurance, one fifth work as freelance journalists. Three fifths of the journalists said that they work for 9-12 hours a day, which is above the legal limit. One out of every 10 journalists work for 13 to 17 hours a day.
In these conditions, 38.2 percent of journalists received 3,000 TRY and less a month while 35 percent received 3 to 5 thousand TRY.