Altan: Journalism is considered to be a "crime" in Turkey
"The AKP-MHP government is putting pressure on the free media because they want to connect all the media to themselves," said DFG Co-Chair Serdar Altan, and added that journalism is considered a "crime" in Turkey.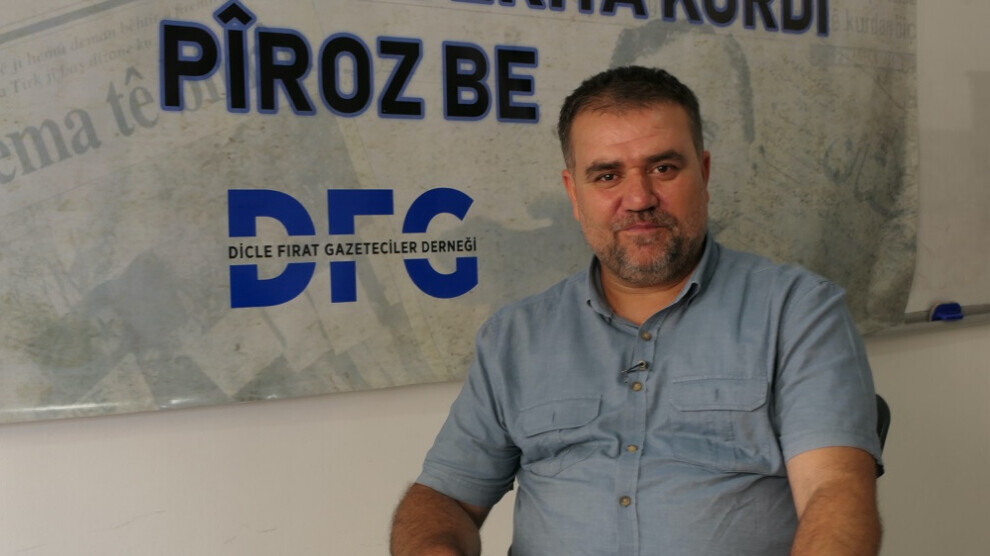 Journalists in Kurdistan and Turkey are under increasing pressure. Serdar Altan, Co-Chair of the Dicle Frat Journalists Association (DFG), assessed the pressure on journalists and the state of Turkey's mainstream media for ANF.
According to Altan, Turkey is in an unusual situation in which the government is attempting to neutralize society and conceal truths from the public. He said: "In countries run by a dictatorship, they first try to suppress the voice of the public, and they do this by putting pressure on the free press," Altan said, adding that the government always tries to silence the free press with various means. In the last 20 years, the AKP-MHP has made a concerted effort to keep the public away from the truth. They haven't allowed any other voices to come out in recent years."
"Digital media became important after the Turkish media was repressed and abolished. Citizens who wish to communicate information through digital media are also being pressured, and the government want sthe digital media to be silenced. New legislation has been enacted in order to fully control this area. Despite all of these constraints, there is one media outlet that the government cannot control: the free press. Because the free press does not support the government and always reports the truth, it causes the government to be disturbed and thus becomes a target," Altan said.
JOURNALISTS ARE EXPOSED TO ATTACKS IN EVERY AREA
"The government wants to connect all media companies to itself," Altan stated, emphasizing that journalism is considered to be a "crime" in Turkey. He continued: "Once it is unable to control the media, the government exerts even more pressure on the free press. This is something we see on the ground when there is an incident and the journalists who want to report it are exposed to police violence. Journalists are beaten, detained, their cameras are seized and blocked in every way. The government has issued an order banning journalists from carrying out their duties. Those who want to protest on the ground and in the streets, as well as journalists who want to report them, are barred from doing so. Even worse, journalists are persecuted and tortured.
This state violence has become more visible in recent days. On the 20th of July, journalists were targeted during the commemoration of the Suruç massacre. On July 31, journalists were detained and exposed to actual state violence during protests against racist crimes against Kurds. Racists have also targeted journalists. There is an attack on journalists in every field. This is clearly seen when we look at the reports of our association. Every month, dozens of events happen similar to this. Journalists are threatened with penalties and prosecution. They want to pacify journalists systematically."
THEY WANT TO CREATE AGENTS OUT OF JOURNALISTS
Pointing out that the attacks against journalists have reached the highest level recently, Altan said that people who introduced themselves as police in Ankara and Amed offered 2 female journalists to spy on others. "This is an illegal detention," Altan said, referring to journalists who were stopped on the street and forced into a police car. We know that these unidentified individuals are police and MIT personnel. They also identify themselves as such and say, "We are cops and MIT employees."
They don't feel the need to hide because they are not afraid and they have made it their duty, because they are not afraid of the law and constitutional laws.  What the government is doing right now is entirely against the law and moral compass. As an organization, we condemn the government's approach and urge them to keep their hands off the press. Whatever happens, the free press will not compromise on reporting the facts, and we will always provide the correct information to society."