Balloons to demand freedom of journalists
Journalists called on people to join the hearing of detained reporters next week in Istanbul.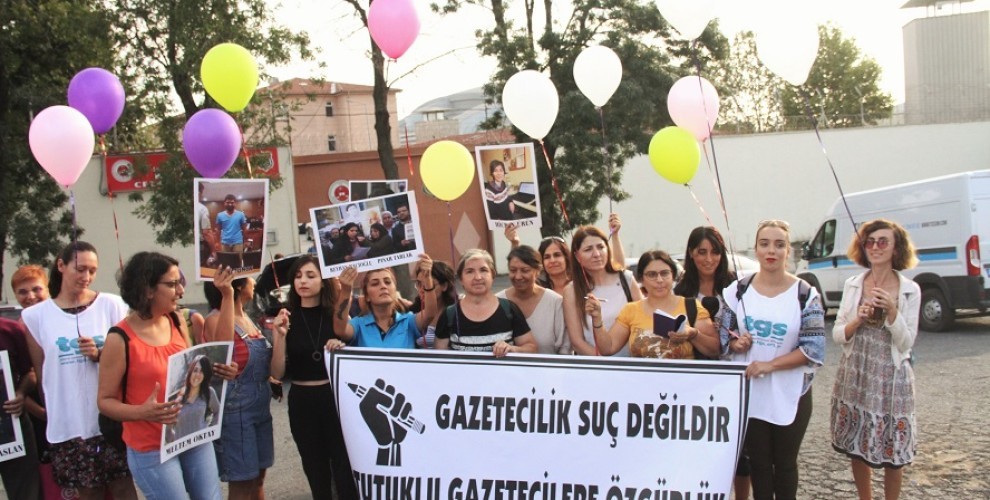 Journalists have been staging an action in support of jailed reporters from Etkin News Agency, Pınar Gayıp and Semiha Şahin and Libertarian Democratic Newspaper employees Reyhan Hacıoğlu and Hicran Urun in front of Bakırköy Women's Closed Prison.
Demonstrators from Mesopotamia Women Journalists Platform, Turkey Journalists' Union (TGS), Etkin News Agency, Mesopotamia News Agency, Evrensel, Cumhuriyet, Struggle Union paper called on people to attend the hearing of the journalist scheduled for next week. 
HDP deputies Züleyha Gulum and Dilşat Canbaz also brought their support. 
Police did not allow the use of the megaphone in the action. Demonstrators were holding photos of the detained journalists and opened a banner saying "Journalism is not a crime, freedom for imprisoned journalists". 
Turkey Union of Journalists (TGS) Women's Commission, Gülfem Karatas, said that they were underlining the problems faced by press freedom and especially women journalists. DISK press workers representative, Aylin Kaplan also called on people to join the forthcoming hearings at Çağlayan Courthouse.
HDP deputy, Züleyha Gülüm, reminded that everyone who spoke against the rulers, those who wanted to reveal the truth, was a target. 
Emphasizing that arresting journalists means preventing the right of people to receive news, Gülüm said: "The reason why journalists are so much under pressure is that they convey the facts to the public. We will always be with journalists. They will continue to write what is happening".
Taylan Öztaş read a press release on behalf of the journalists. "Pınar Gayıp and Semiha Şahin, editors of the Etkin News Agency, Reyhan Hacıoğlu and Hicran Urun workers of Libertarian Democracy are being held in Bakırköy Women's Prison for four months without any reason".
Öztaş said: "We hope and we want our friends and colleagues to get back to their stories and to be writing news as soon as possible".
Coloured balloons were thrown into the air and journalists demanded the freedom of the imprisoned reporters.