837 journalists and 62 institutions: We stand by our colleagues detained in Amed
837 journalists and 62 institutions issued a joint statement in solidarity with colleagues detained in Amed.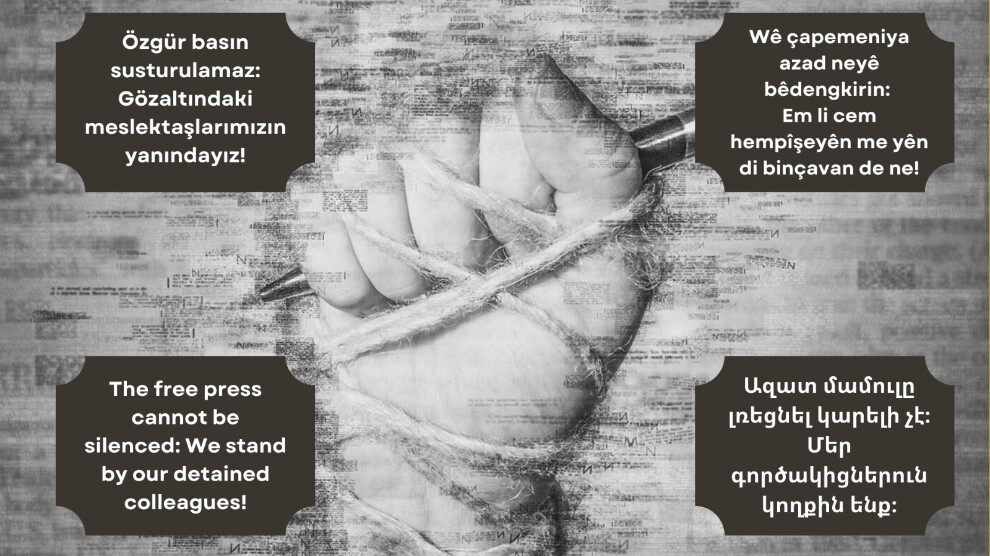 837 journalists and 62 institutions issued a joint statement in solidarity with colleagues detained in Amed.
The statement said: "We, the undersigned professional press organizations and journalists, condemn the ruthless detention of Kurdish journalists and press workers by police raids on Wednesday, June 8th.
We invite everyone, especially the opposition, which has claims about law, justice, equality, freedom and democracy, and who intend to prepare for the Turkey of the future, to stand in solidarity with our colleagues in detention and take a stand against the violence of the government."
The statement added: "We also call on the members of the judiciary not to become an instrument of the government's unlawfulness and tyranny, to act within the framework of universal law for the freedom of press and expression, and to release the detained journalists as soon as possible.
In addition, we expect international press organizations, journalists, rights organizations and defenders to show solidarity with us for the development of press freedom in Turkey and to take action against the oppression of journalists.
While the handcuffs on the freedom of press and expression are wanted to be reinforced with the new censorship law prepared in the Parliament; the detention of Kurdish journalists on the grounds of an investigation by the Diyarbakır Chief Public Prosecutor's Office is a blow to press freedom. 
We are the witnesses with our colleagues work. Although these policies of oppression and intimidation are known very well by the free press tradition, which works devotedly for the right of people to receive information, we will not get used to these operations and policies of intimidation. The detained Kurdish journalists should be released immediately!"
The journalists in custody are: Dicle Fırat Journalists Association (DFG) Co-chair Serdar Altan, JINNEWS Director Safiye Alagaş, JINNEWS editor Gülşen Koçuk, Mesopotamia Agency (MA) editor Aziz Oruç, Xwebûn Newspaper Editor-in-Chief Mehmet Ali Ertaş, Ömer Çelik, Suat Doğuhan, Ramazan Geciken, Esmer Tunç, Neşe Toprak, Zeynel Abidin Bulut, Mazlum Doğan Güler, Mehmet Şahin, Elif Üngür, İbrahim Koyuncu, Remziye Temel, Mehmet Yalçın, Abdurrahman Öncü, Lezgin Akdeniz, Kadir Bayram and Feynaz Koçuk.