Civil Society Organisations call for solidarity with detained Kurdish journalists
Civil society organizations in Amed (Diyarbakir) condemned the recent detention of the Kurdish journalists, urging the public to show solidarity with them.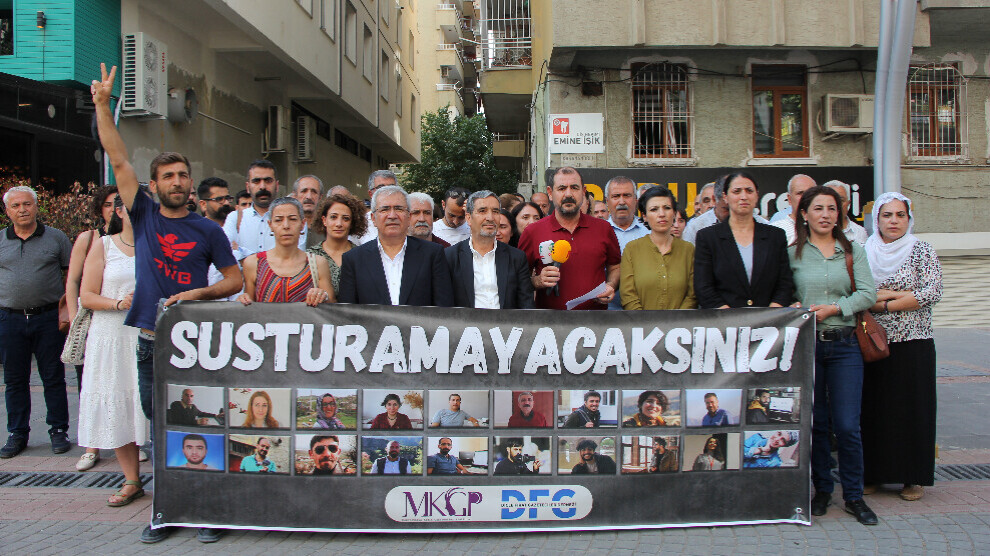 Amed's Medical Chamber, Union of Chambers of Engineers and Architects (TMMOB) Provincial Coordination Board (IKK), Turkish Human Rights Foundation Representation (TİHV), Confederation of Public Laborer's Unions (KESK) Amed Branches Platform, Lawyers Association for Freedom (ÖHD), Confederation of Progressive Trade Unions (DISK) Diyarbakır Regional Office, Human Rights Association (IHD) Branch and Rosa Women's Association released a written statement about 21 individuals 20 of whom are journalists who were detained on June 8 with police raids on their houses and institutions.
Titled as "Peoples' right to demand information cannot be prevented," the statement revealed that many Kurdish press agencies were raided, and the lawyers of journalists were not informed about the file. The statement asked authorities to release the journalists.
The statement added that the detention period of journalists was extended until June 16. "While no information about the reason for the detention of Kurdish press workers is revealed to the public and their lawyers, the allegations put forward by some press organs are a continuation of the campaigns to discredit Kurdish journalists and criminalization policies of the previous times".
The statement pointed out that the detentions are a violation of press freedom guaranteed by the Constitution and various international conventions, asking for the release of journalists as soon as possible.
TURKEY TAKES THE LEAD TO RESTRICT PRESS FREEDOM
The statement emphasized that Turkey is taking the lead among the countries that restrict the freedom of press and expression.
"Although an amendment defending that the criticism and publications for communication cannot be considered a crime was introduced following the 1st Judicial Package, it is an illegal arbitrary practice to detain journalists based on their publications. The detention procedures for Kurdish press laborers show that judicial harassment is maintained. We urge the authorities not to consider journalism as a crime or target them. We also urge non -governmental organizations and press organizations in Turkey to show a strong solidarity with the 21 Kurdish press laborers."