CPJ says at least 18 journalists arrested in Iran, calls for their immediate release
Iranian security forces step up arrests of journalists as anti-state protests spread.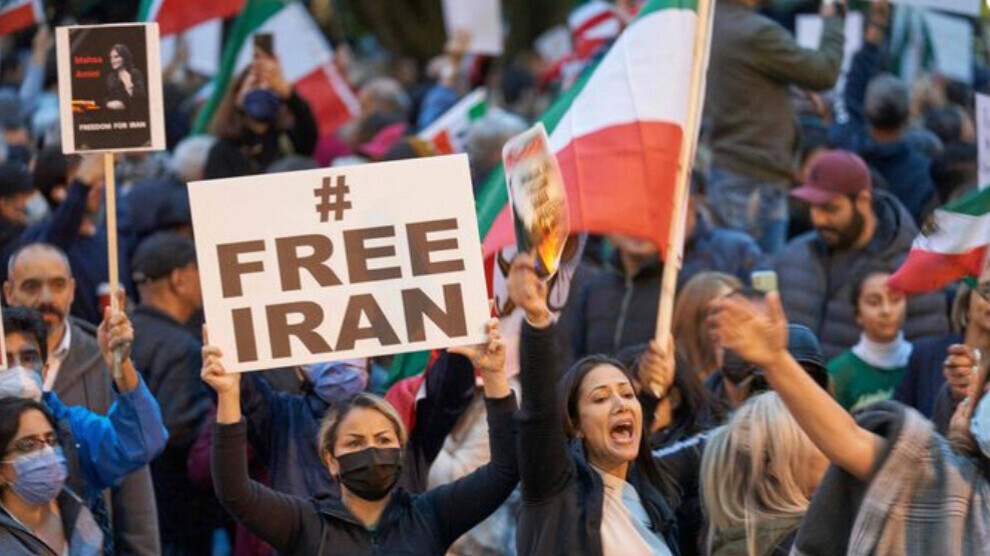 The Committee to Protect Journalists (CPJ) has called on Iranian authorities to immediately and unconditionally release all journalists arrested while covering mass protests around the country and restore blocked internet access.
CPJ has learned from multiple sources inside Iran that as of Sunday, September 25, at least 18 journalists had been arrested as clashes between security forces and protesters left dozens dead. Details of arrests are sparse amid an internet blackout and major disruptions to phone and social media networks, but CPJ's sources said that several of the journalists were taken into custody during post-midnight raids on their homes. The sources said that the security forces – who confiscated the journalists' electronic devices – did not identify which agency they represented or produce arrest warrants or explanation of charges.    
The protests began last week over the death in morality-police custody of a 22-year-old woman, Mahsa Amini, arrested for allegedly violating the country's conservative dress law.
"Iranian authorities must immediately release all journalists arrested because of their coverage of Mahsa Amini's death and the protests that have followed," said CPJ's Middle East and North Africa Program Coordinator, Sherif Mansour. "Iranian security forces must drop their repressive measures against the journalists telling this critical story and restore the internet access that is vital to keep the public informed."
Those arrested include photojournalist Yalda Moaiery on September 19, Shargh Daily reporter Niloofar Hamedi on September 21, and Iranian photojournalist Ahmadreza Halabisaz on September 22.  
Moaiery, writing on Instagram Stories from a van taking her to jail, said she was beaten and arrested while covering protests on Hejab street in downtown Tehran.
Hamedi, a reporter for the Tehran-based semi-reformist Shargh Daily, was among the first journalists to report on Amini's hospitalization, according to a report by the exile-run news website IranWire. Her lawyer, Mohammad-Ali Kamfirouzi, tweeted Sunday that Hamedi was able to make a phone call to her husband and say that she is in solitary confinement and being interrogated in Tehran's Evin prison. She had not been told of any charges against her.
Halabisaz was arrested in downtown Tehran on Valiasr Street while he was photographing the protests. A few hours after his arrest, he was permitted to call his family and tell them that he was taken to Evin prison, BBC Persian service reported. His Instagram page has since been deactivated.
The following list of journalists arrested as of September 25 is based on CPJ's sources, media reports, and the Tehran Journalists Association.
Yalda Moaiery, photojournalist
Niloofar Hamedi, reporter
Iman Behpasand, political commentator, columnist, and women's issues reporter
Behzad Vafakhah, cultural and political columnist
Ruhollah Nakhaee, foreign policy reporter
Alireza Khoshbakht, political reporter
Zahra Tohidi, political reporter
Fatemeh Rajabi, economics reporter, arrested in her home in Tehran
Mojtaba Rahimi, a political reporter arrested in his home in the city of Qazvin following tweets about several protesters killed in and around his hometown.
Majid Tavakoli, political commentator and columnist, arrested in his Tehran home.
Marzieh Talaee, a Kurdish reporter arrested in the city of Saqqez in Kurdistan province. 
Masoud Kordpour, editor-in-chief of the Kurdish Mukrian News Agency
Khosrow Kordpour, editor and reporter with the Kurdish News website Mukrian New Agency, brother of Masoud Kordpour
Elahe Mohammadi, a reporter with the state-run Hammihan Daily. According to a tweet by her lawyer, Mohammad-Ali Kamfirouzi, she was arrested on September 22. According to the lawyer, security forces broke the entrance door to her house and arrested her violently and confiscated her personal devices, such as laptop, books, phone and even her press card. 
Elnaz Mohammadi, political reporter with semi-state- state-run bi-monthly Andishepouya magazine; twin sister of Elahe Mohammadi
Vida Rabbani,  political commentator recently sentenced to ten years and four months in prison and banned from practicing journalism.
Hamed Shafiei, political and social reporter 
Ahmadreza Halabisaz, photojournalist