DFG's November report: Detention, violence, penalties...
DFG stated that six journalists were detained in November, and 136 of them were put on trial.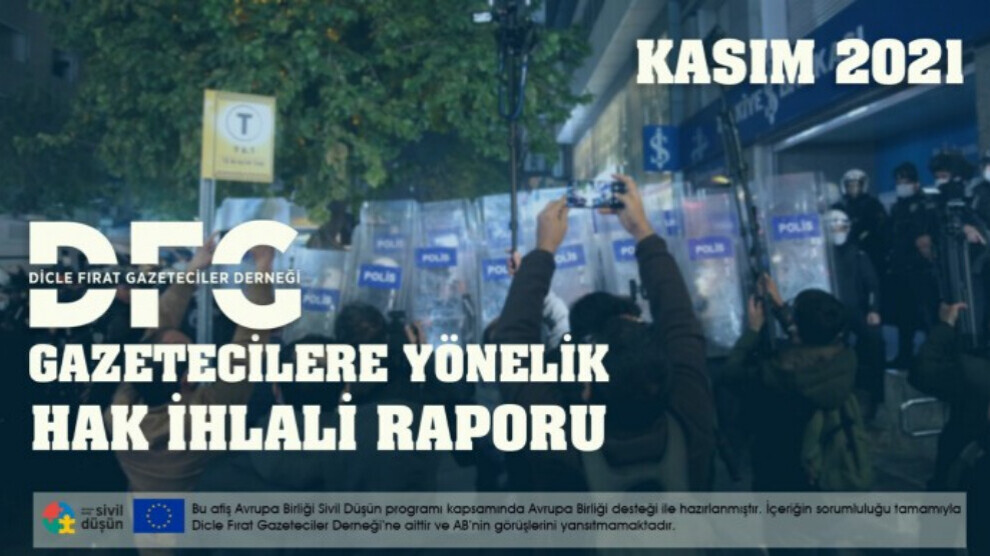 The Dicle Fırat Journalists Association (DFG) has announced the November 2021 Report on Rights Violations Against Journalists. According to the report, one of the most recurring unlawful practices in November was the prevention, arrest, and violence against journalists.
The report remarked that the house of JinNews Van Correspondent Hikmet Tunç was raided on November 18. "There was a bomb threat, but, of course, nothing was found during the house search.  In other words, this was an attempt to intimidate journalist Tunç." 
According to the report, Mesopotamia Agency (MA) Correspondent Emrullah Acar, whose home in Urfa was raided on November 19, was taken to Malatya and his computer, camera, and memory card were confiscated. He was released later on.
POLICE ATTACKS ON JOURNALISTS
The report, which stated that journalists were detained and subjected to violence during the news follow-up, continued:
"On November 23, while the Kocaeli Representative of Evrensel Newspaper, Gözde Meydan, was detained while following a social demonstration, Arti TV cameraman Bilal Meyveci was shot with a rubber bullet at close range while following the women demonstrating in Istanbul on the occasion of the 25 November International Day for the Elimination of Violence Against Women. In Ankara, police detained JinNews reporter Öznur Değer with a reverse handcuff and confiscated her camera after intervening in the "We Can't Earn our Lives" demonstration organised by the Labor and Democracy Forces.
They want to remove the journalist from the field by engaging in illegal tactics. However, journalists are not people who can be beaten and pushed around by governments as they wish. Journalists take responsibility for the public's right to receive information and follow the news to keep the public informed."
The report, recalling the bombing of the head office of Özgür Ülke in Istanbul Kadırga on 3 December 1994, said, "In the brutal bomb attack, newspaper employee Ersin Yıldız was killed and 23 employees of the newspaper were injured. Despite the fact that the attack occurred 27 years ago, the issue remains unresolved, and the perpetrators have not been held accountable. Unfortunately, this method has practically become the state's official policy and has been repeated in numerous similar cases. On this day, we once again condemn the bombing and pay tribute and appreciation to all the martyrs. It should be noted that the path they took and the values they established have enabled us to maintain free media today. Although they are no longer physically present, they will live on as long as fearless journalism is here.
 NOVEMBER REPORT
The report stated that 6 journalists were detained in November, 3 journalists' homes were raided, 4 journalists were attacked, 2 journalists were threatened. Journalists were blocked while following the news in 19 separate incidents, 4 journalists were prosecuted, and 6 journalists were sentenced to 7 years, 9 months, and 12 days in prison and a fine of 41 thousand 526 TL. Again, 136 journalists were put on trial, 2 journalists experienced rights violations in prison, access to 1 news site and 124 news articles was restricted, 10 journalists were fired, and a broadcast channel was banned.