Hulya Oruç: I expect everyone to support Aziz
The first hearing of journalist Aziz Oruç, who has been illegally held hostage in Patnos Prison for months, will be held in Ağrı 2nd High Criminal Court on 21 July.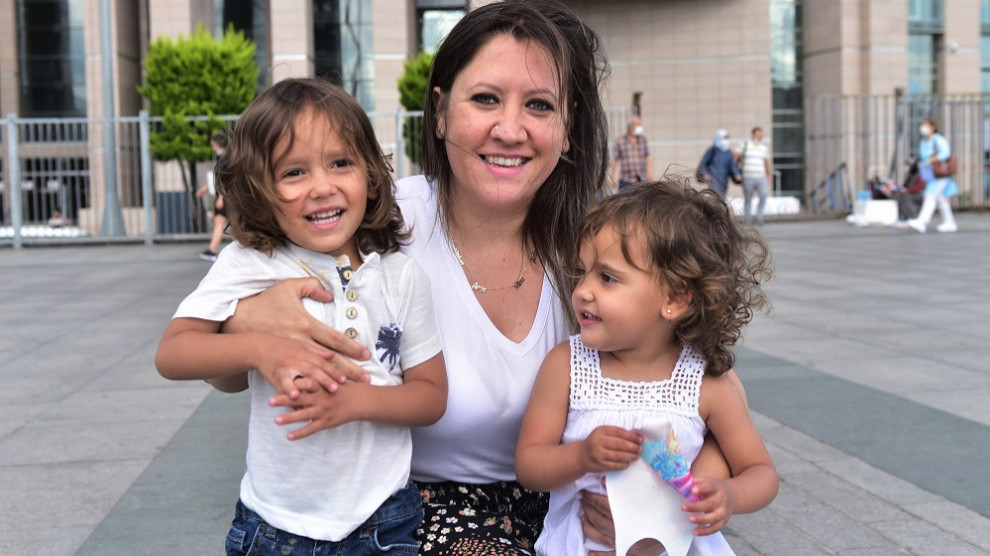 Aziz Oruç's story is that of a journalists working for the free press. A story common to many. The government has been criminalising systematically journalistic in Turkey and with the Decree Law (DL) has closed, among others outlets, also Dicle News Agency. Aziz Oruç worked as a correspondent for DIHA and was targeted for the news he wrote.
The journalist's wife, Hulya Oruç wants just one thing, that her husband be released. She talked to ANF about the journey of Aziz from Iraq to Iran and Turkey.
Stating that Aziz Oruç was constantly taken into custody while working as a correspondent and had cases opened against him, Hulya Oruç said that her husband was forced to go to Iraq as a last resort because he was overwhelmed by pressures.
When Oruç went to Iraq, he had a 5-month-old child and his wife was 3-month pregnant with their secondo child, so she could not accompany him because she had a very risky pregnancy. However, Hulya Oruç said that after giving birth, Aziz, who was working in Sulaymaniyah, started to come and see his family often. They eventually decided to go to Europe together.
Hulya Oruç said that they Aziz was planning to go to Europe through Armenia. "I was in Turkey with our children, while Aziz decided to go to Armenia. However, he was taken into custody and beaten. They said is passport was false. After being tortured in custody for one day in Armenia, he was handed over to the Iranian police. The tortures continued here too; he was repeatedly battered with sticks, stripping naked, handcuffed and out a sack on his head.
Despite the two days of painful detention, Aziz was released by the court, where his prison sentence was converted into a fine, but Iranian police did not release him. It was beaten again were put into a car and taken to the border crossing of Gürbulak at the border with Turkey. There he was kept naked in the snow for 3 hours. They continued to beat Aziz who was freezing. He was put in the car again and he told the Iranian police 'Do whatever you want'. He was beaten again. And after they threw him on the Turkish side of the border. But he crossed again into Iran and told the Iranians 'If you have to leave me, do it on the Iraqi side of the border, if you don't leave me there, notify the Turkish police that you are going to leave me in Turkey'. One policemen said to Aziz 'either you cross or we shoot you'. And Aziz started to walk towards Turkey, his bag on his shoulder. Fortunately, one of the police advised him to go down the line of the wires to avoid stepping on a mine.
Although he is now in Turkey nobody asked him anything. When he arrives in Doğubayazıt, he calls a friend over the phone and informs him. He knocks on the door of a house because he is wearing nothing other than underwear. A man who opened the door lends him shoes. His friend gave him direction and collects him by car and heal his wounds. He gave him to eat and drink, and let him stay with him. He told me he was very exhausted when he phoned me, he walked in the snow for hours, he probably got pneumonia, he would come home and then go to the police."
The next day Hulya learned that the police had detained her husband. The television said that 'a terrorist was captured entered Turkey from Iran'. Aziz and his friend had been taken into custody while going to Amed. They took Aziz and all the friends who helped into custody and kept them for eight days. Hulya Oruç said that her husband was framed. "From the very first day Iran had told Turkey that Aziz had crossed. They were aware of the situation when Aziz crossed the border naked, so they plotted against him. They made psychological pressure for 8 days in detention to make him say 'I came down from the mountain.'"
Pointing out that her husband, who was sent to Patnos Prison, has been kept in unlawful and inhuman conditions for 7 months, Hulya Oruç said that no measures were taken during the epidemic and that her husband's request to go to the hospital was rejected. Stating that he had been diagnosed with a cyst on his head before going to Iraq, Oruç added that he suffered from very heavy headaches, dizziness and loss of balance. Oruç, who has not been able to see her husband since March because of the coronavirus epidemic, said she is very worried about her health condition.
Oruç pointed out that in the indictment prepared despite the fact that Aziz is a journalist, he is accused of "membership of an illegal organization" and "making propaganda for an illegal organisation". Stating that her husband could only see his second children 4 times since she was born, Oruç added that her daughter doesn't know her father. "When I went to visit him in prison with the kids, and told the smallest one that we were going to see her dad, she said to me that she had no dad. It is very difficult."
Oruç said that it is a very difficult situation for the kids as well.
Oruç wants this persecution to end. Emphasizing that all journalists are criminalised and brought to court in the person of Aziz, Hulya Oruç added: "They have targeted journalists who do their job in this country. I have witnessed this before, but to live this situation made me realised how bad it is. Aziz has news and articles everywhere but I have to prove that he is a journalist. This is a terrible thing."
Ending her remarks Hulya Oruç called for participation in the first hearing on 21 July and added that the decision to be made for Aziz will be made for all journalists. "I expect everyone's support; I want to bring Aziz back home."