Hundreds gather at solidarity night for Yeni Özgür Politika in London
Hundreds of people gathered at the solidarity night held in London for Yeni Özgür Politika.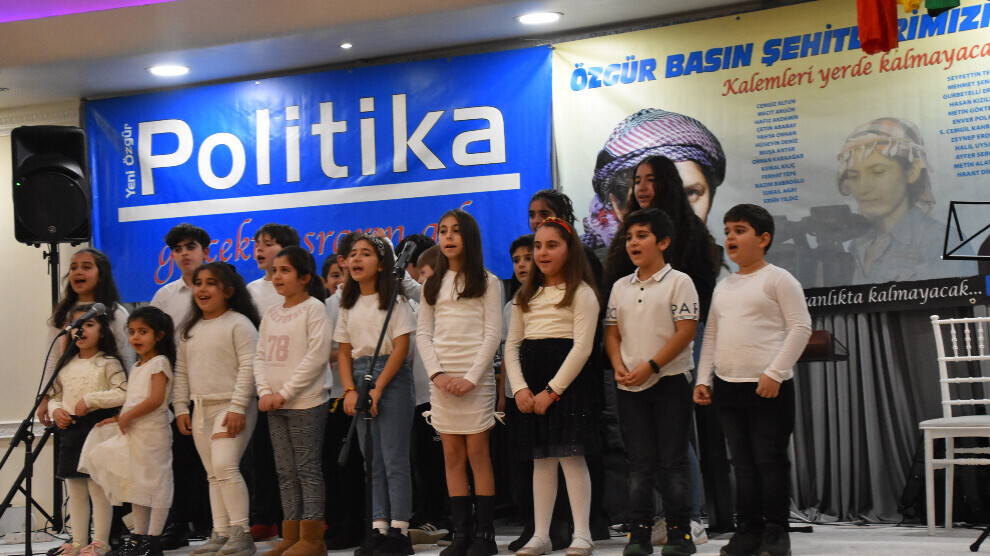 Hundreds of people gathered at the solidarity night held at the London Princess Wedding Hall in London for Yeni Özgür Politika. Besides Kurdish politician Osman Baydemir, representatives of Kurdish People's Assembly, Alevi organization representatives and co-chairs, left and socialist organizations, GİK-DER, Day-Mer, Dersim-Der, Partizan and local associations attended the night.
Free press is the voice of the denied people
The night started with a minute's silence in memory of the martyrs of the free press. Afterwards, Diren Dicle Erden made a speech on behalf of the organizing committee of the night. He said that the Kurdish free press tradition, which set out with the slogans "Truth will not remain behind the darkness" and "insist on the truth", is the language, is the voice and truth of a people who are denied. Erden underlined that solidarity with the free press is a stance against fascism.
After Erden's speech, the Firaz Dağ Children's Choir, founded in memory of Journalist Mehmet Aksoy, who fell as a martyr in Raqqa, took the stage. The public accompanied the song "Berxwedan jiyane" sung by the choir.
British Kurdish People's Assembly Co-chair Elif Sarıcan saluted the freedom guerrillas and Kurdish people's leader Abdullah Öcalan. Reminding that December 10 was also the World Day of Freedom for Öcalan, Sarıcan said: "We emphasize once again that we will not give up until our Leader's freedom is achieved." After Sarıcan's speech, a representative of the British Democratic Forces Union underlined the importance of a free press against fascism.
Artist Memo Zan sang songs while people danced halay.
'Our martyrs are our honour'
Making a speech on behalf of Yeni Özgür Politika Newspaper, Mahmut Seven said that the free press, which draws its strength from its people and its struggle for freedom, not only plays a role in exposing the enemy, but also in the construction of the new society. Noting that Yeni Özgür Politika has been the voice of the Kurds and the forces of democracy in exile for 25 years, Seven stated that the free press draws its strength from the values ​​and martyrs to prevent the truth and facts from being left in the dark. Seven, who read the names of the journalists who fell as martyrs by taking part in the tradition of free press, one by one, said: "We made them a promise: we will pick up your pen. The truth and facts you pursue will not remain in the dark. Our martyrs are our honour."
After Seven's speech, Kurdish Artist Zeynel Ali took the stage.
Kurdish politician Osman Baydemir drew attention to the importance of Kurdish national unity against the tricks of the forces that are hostile to the Kurdish people. Underlining the importance of the role of the Kurds in the diaspora, Baydemir said: "To protect the free press is to protect our culture, language and art. The tradition of free press has paid great prices. It also led the development of a people's language, identity and culture in Europe. Our media must also respond to the Kurdish people's demand for national unity. From now on, the Kurdish media should develop a common language for the unity of the people of Kurdistan."
Emphasizing that the insistence on isolation is an insistence on the policy of war, Baydemir said: "Those who insist on isolation are doomed to collapse. Believe that, the dungeons will be emptied and Mr. Öcalan will embrace his people."