Intellectuals and journalists call on everyone to stand up with arrested Kurdish journalists
A number of intellectuals, journalists and activists reacted to the detention of Kurdish journalists and called on everyone to take a stand against the AKP-MHP government.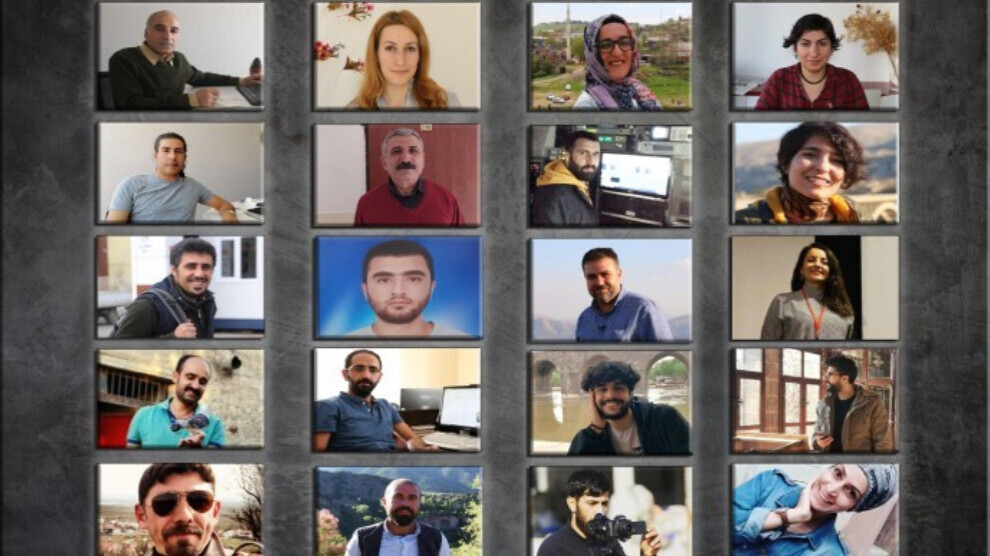 Reactions to the detention of 21 Kurdish journalists in Amed continue.
A number of intellectuals, activists and journalists said: "We condemn the government's pressure on journalists and invite everyone to take a stance against this pressure."
The statement said: "We condemn the government pressure on the press and call on everyone to take a stand against it!
The AKP-MHP Regime is increasing its pressure on journalists and especially Kurdish journalists as the election approaches. The detention of 21 journalists from Mesopotamia Agency and Jinnews, whose 'crime' is writing, and keeping them in handcuffs for hours is not only a violation of the freedom of the press, which is an indispensable part of democracy, but also a violation of basic human rights.
The Turkish regime, which is becoming more and more totalitarian, increases its hatred towards those who do not think like it. When evaluated together with the social media law, it appears clear that the main target of this pressure and intimidation is actually to prevent the public's right to receive information, as well as to prepare the infrastructure for the frauds planned to be carried out in the next elections. The government wants to prevent the flow of information and news about human rights and election violations, especially in the Kurdish region.
The fact that political parties and non-governmental organizations, especially the main opposition, remain silent about this pressure means that they ignore the oppression and persecution of the Kurds, as always. It is naïve to think that there will be free and fair elections in an environment where there is no free and independent press.
Regardless of their origin, belief or language, efforts to silence journalists must be resisted and countered. Those who are silent today will not have the right to complain tomorrow.
We strongly condemn this pressure on journalists and invite everyone to take a stand against this pressure from the government and support our friends."
The statement was signed by the following people:
"1) Abdullah Cetin – Journalist
2) Ali Çatakçın – Author
3) Alin Ozinian – Journalist
4) Amberin Zaman - Journalist
5) Aris Nalcı – Journalist
6) Ayşe Hür – Researcher Writer
7) Ayşe Yıldırım – Journalist
8) Can Dundar – Journalist
9) Celal Başlangıç – Journalist
10) Cengiz Aktar – Academic
11) Dünya Doğan – Lawyer
12) Elif Yıldırım- Poet, Writer
13) Erdoğan Aydın – Journalist Writer
14) Ergun Babahan – Journalist
15) Erk Acarer – Journalist
16) Erol Köroğlu – Academic
17) Ertuğrul Mavioğlu – Journalist
18) Fuat Ateş – Journalist
19) Hasan Töre – Politician
20) Hayko Baghdad – Journalist
21) Hüseyin Levent Köker - Academic
22) İsmail Özen – Athlete
23) Latife Akyüz – Academic
24) Leyla Uyar – Journalist
25) Mahir Sayın – Politician
26) Mehmet Ali Çankaya – AABK Organizing Officer
27) Murat Çakır – Writer
28) Neşe Özgen – Academic
29) Nevra Akdemir – Academic
30) Nikos Michailidis – Academic
31) Ohannes Kılıçdağı – Academic
32) Osman Okkan – Journalist
33) Ragıp Duran – Journalist
34) Selim Eskiizmirliler – Academic
35) Şehbal Şenyurt – Director-Writer
36) Tuncay Yilmaz – Politician
37) Ümit Kıvanç – Journalist
38) Yavuz Baydar - Journalist
39) Yektan Türkyılmaz – Academic
40) Yiğit Aksakoğlu – Civil Society Member."