Jailed Kurdish journalists defend their job
In a message through their lawyers, three Kurdish journalists who were arrested on 25 October said that they defend their job.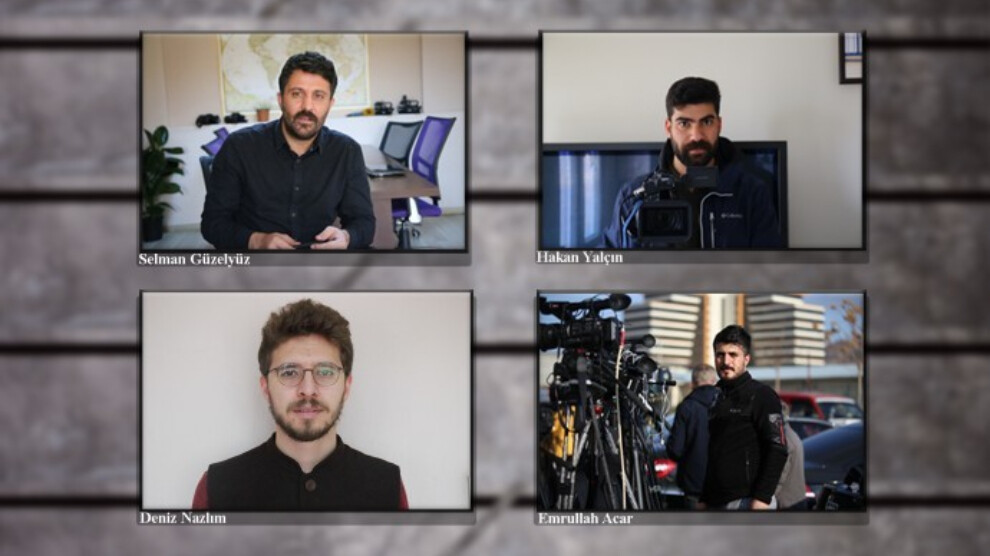 11 journalists were violently detained by the police on 25 October as part of an Ankara-based investigation.
Mezopotamya Agency (MA) Editor-in-Chief Diren Yurtsever, MA reporters Berivan Altan, Deniz Nazlım, Selman Güzelyüz, Hakan Yalçın, Ceylan Şahinli, Emrullah Acar and JINNEWS reporters Habibe Eren and Öznur Değer were remanded in custody on 29 October. The journalists are accused of "membership in a terrorist organization".
Journalists Deniz Nazlım, Selman Güzelyüz and Emrullah Acar, who are kept in solitary cells in Sincan No. 1 High Security Prison, sent messages through their lawyers.
Emrullah Acar: After 4 days of unlawful detention, I and 9 other colleagues were unlawfully remanded in custody. Media outlets revealed that there was no evidence that would constitute a "crime" in our cases. In fact, there was a reason why we were arrested. We were journalists doing journalism based on facts. Actually, what was surprising was that we were free. We were waiting to be arrested. However, we will continue to do our job, relying on facts, in prison. I had not been arrested before, but I have written numerous news about rights violations in prisons. Now, I have an opportunity to witness and write about these conditions more closely. We have just arrived in the prison, and in the coming days, we will report on the rights violations we have been exposed to. The Free Press will never remain silent.
Selman Güzelyüz: Even if the governments in Turkey try to keep us away from our profession, we, the Free Press, will never leave facts in the dark. The place doesn't matter to us. Every place we find ourselves in is a space for us to write about facts. We will continue to write from inside a prison cell. Long live the Free Press.
Deniz Nazlım: Being a journalist in contemporary Turkey is a problem. Currently, it is very easy to be put into prisons. Unfortunately, in this country, if you are a writer, intellectual, human rights defender or journalist, you end up being in a prison. We are accused of being a member of the Free Press. We are proud of it. We are journalists, the only job we do is journalism. Even if they arrest us, this fact will not change: we will continue to do journalism and defend the honour of our profession. We were arrested, along with many of our colleagues, for our pursuit of facts. However, we will continue to maintain the tradition of the Free Press and defend facts.