Journalist Nûjiyan Erhan killed by KDP mercenaries commemorated in Shengal
Kurdish journalist Nûjiyan Erhan, who was shot dead by the KDP-affiliated Roj mercenaries in Shengal six years ago, was remembered by her colleagues and friends at her grave.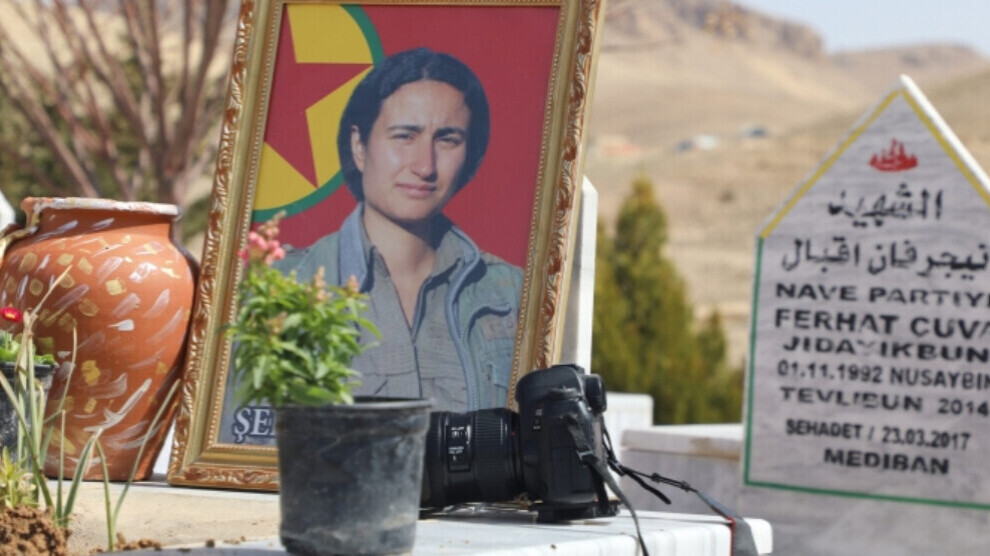 Journalist Nûjiyan Erhan, who was killed six years ago by a sniper of the Roj mercenaries affiliated with the KDP (Kurdistan Democratic Party), was commemorated in Shengal. The memorial ceremony organized by the Yazidi women journalists' association Ragihandina Jinên Êzdîxanê took place at the Şehîd Dilgeş û Şehîd Berxwedan Cemetery on Mount Shengal.

The association remembered Nûjiyan Erhan and all the women journalists killed in the course of their work and said: "When the ISIS gangs carried out the brutal attack on Shengal in 2014, our friend and colleague Nûjiyan came here and reported the events with great courage. Her entire life was built on the search for truth and freedom. On the frontline, she became the voice of Shengal with her camera, reporting both the betrayal and the resistance of the Yazidi women and freedom fighters."
"The KDP, in cooperation with the Turkish state, attacked Xanesor (Khanasor) on 3 March 2017 to complete what ISIS had not fully succeeded in doing. Comrade Nûjiyan stood up to the attacks as a journalist together with the Yazidi people. Because of her revolutionary stance, she was deliberately targeted by the KDP and succumbed to her injuries on 22 March.
As the Êzdîxan Women Journalists' Association, we have inherited a great legacy from Nûjiyan Erhan and continue her work with determination. Like our companion Nûjiyan, we report the reality of Yazidi women to the world public."
After the speech, flowers were laid at Nûjiyan Erhan's grave.