Journalists commemorate Musa Anter at the scene of his murder
Kurdish writer Musa Anter was commemorated on the street where he was killed 30 years ago.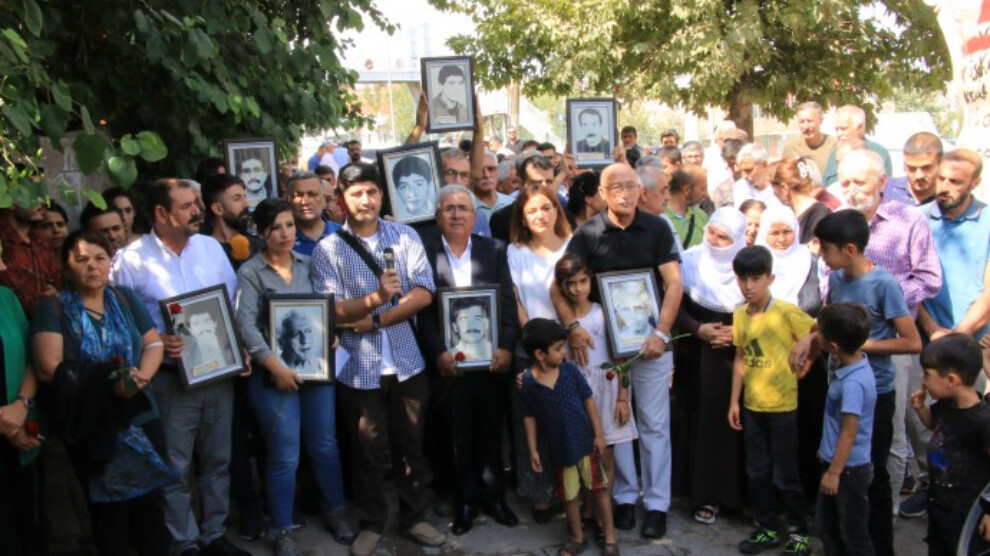 The Dicle Fırat Journalists Association (DFG) organized a commemoration event for Kurdish intellectual Musa Anter (Apê Musa) who was murdered in Amed's Seyrantepe district on September 20, 1992.
Dicle Anter, son of Musa Anter, the DFG, the Mesopotamia Women Journalists Platform (MKGP), the Democratic Regions Party (DBP), the Peoples' Democratic Party (HDP), deputies Imam Taşçıer and Gülistan Kılıç Koçyiğit, relatives of sick prisoners, the Association for Solidarity with Families of Detainees and Convicted (TUHAY-DER), the Diyarbakır 78'ers Initiative, journalist Hüseyin Aykol and many others attended the commemoration event.
'BULLET SHOT AT THE KURDISH LANGUAGE'
DFG Co-Chair Dicle Müftüoğlu delivered a speech during the event and said, "Musa Anter, a wiseman of the Kurdish people and a teacher of Kurdish journalists, was murdered on this street 30 years ago. The bullet fired at him also targeted the language of a people and their search for the truth. With the murder of Apê Musa, it was aimed to silence this people and leave them without a pen. Some thought that the Kurdish people would be reduced to silence if the master of their press was killed. Right, our master, Apê Musa, was killed on this street and his pen was covered in blood. But his successors have taken over his pen and continued to write the truth. Cengiz Altun, Gurbetelli Ersöz, Ferhat Tepe, Deniz Fırat, Nujiyan Erhan took over that pen and bequeathed it to us."
Müftüoğlu recalled that newspaper offices were bombed, and distributors murdered and arrested after Apê Musa's murder. "16 Kurdish journalists, successors of Apê Musa, were detained on June 8 and jailed on June 16 for revealing the truth to the public. The police, unable to find criminal evidence against Kurdish journalists, displayed our cameras and photos as evidence. We say it once again here; those who were killed while trying to reveal the truth to the people are our honour. We say this to those who think that they could intimidate us with operations and arrests; we are the pen of Apê Musa, we are his underfellow generals, we are his successors, we will not renounce this struggle for truth."
'WE CONTINUE TO GROW'
Journalist Hüseyin Aykol recalled the attacks against free press workers in the past years and stated, "There were arrests, but we kept going. I didn't come here to express my hate towards those who murdered Apê Musa, I came here to pay my tribute to him. We have come a long way since the murder of Apê Musa. Since then, we have established nearly 50 newspapers and we have radios. Currently, we have television channels broadcasting to the whole world. Every nation has its own news agency. We were martyred or put in prison for promoting our news agencies. Our agencies were closed just like our newspapers. However, we will report what the Kurdish people are going through as long as we are alive. I have been here for 33 years. Young people at my kids' and grandkids' age have joined the free press. We continue to grow."
'MILLIONS INSPIRED BY APÊ MUSA'
HDP Amed Deputy Imam Taşçıer remarked that the Kurds have been subjected to multiple genocide attempts throughout history. "Apê Musa objected to the persecution of the Kurds. He wrote articles for the Kurdish people. For this very reason, he was murdered on this street at the age of 70. As long as this regime is maintained, there will be people like Apê Musa. Maybe he was the only one that day, but there are millions today," he said.
After the speeches, the crowd marched to the scene where Anter was murdered by chanting the slogan "The free press cannot be silenced". The commemoration was concluded by leaving carnations at the scene where the Kurdish intellectual was murdered.